The Role of the Student & the Instructor
Chances are, most of your learning experiences, up until recently, have taken place in a traditional, teacher-directed classroom.
As a student in this model, you learn directly from an instructor who, most often, is the central figure from whom you take direction. In these type of classrooms, you might spend your time taking notes from an instructor's lecture, or memorizing concepts in preparation for an exam. You also (for the most part) have direct and immediate access during class time to ask the instructor questions. Most of us are familiar with this model of learning so anything new, like online learning, can be daunting at first.
Online courses are different - the instructor is no longer the central figure in a classroom. Instead, you (the student) become the central actor as you assume control for your own learning - this is sometimes referred to as self-directed learning. In this model of learning, you work within a learning community made up of fellow students, online resources, and online support that, ultimately, help lead you towards your learning goals. Your instructor is also part of this learning community, and they serve as a guide with their knowledge and expertise to help support your learning experiences.
So the big question to ask yourself is "how do you learn best?"
When students become the center of their learning, new skills and responsibilities are required of them. You will noticed that this guide is organized according to a few key skills that are essential to successfully learn online.
As a student, your role involves:
Knowing where to access all your courses, registration information, and support
Familiarizing yourself with the learning technologies set out by your instructors
Organizing your coursework - what is expected of you for each of your courses?
Managing your workload and due dates
Participating in online learning spaces as instructed
Effectively and respectfully communicating, whether it be in Zoom or through email
Staying motivated
The Role of an Online Instructor
Although all of us have had experiences with teachers and instructors, the role of an instructor in an online environment looks slightly different then you may have experienced in a face-to-face setting. As we outline some roles that an online instructor will play, it is important that we take a moment to recall why a TWU education is so valued. At TWU, great value is placed on creating an learning environment that focuses on inquiry so that students graduate with meaningful experiences that place them at the forefront of their pursuits. As you read on, you will see that this objective continues to serve as a cornerstone in online learning environments, even if it looks a little different then what you are used to!
So what is the role of an online instructor?
Your instructors at TWU have worked hard to design significant learning experiences that align with the objectives that make a TWU education so meaningful. Not only has your online instructor thoughtfully designed the content you will be exploring, but they will also serve as a teaching presence and facilitator, through the duration of your course. Much like the experiences you had in a face-to-face classroom, your online instructor serves to support student learning in the online learning environment by answering questions and challenging assumptions as they help broaden your understanding of the world in which we live while also helping you develop the skills need to excel in your field of study.
To better understand what you can expect from your online instructor, see below.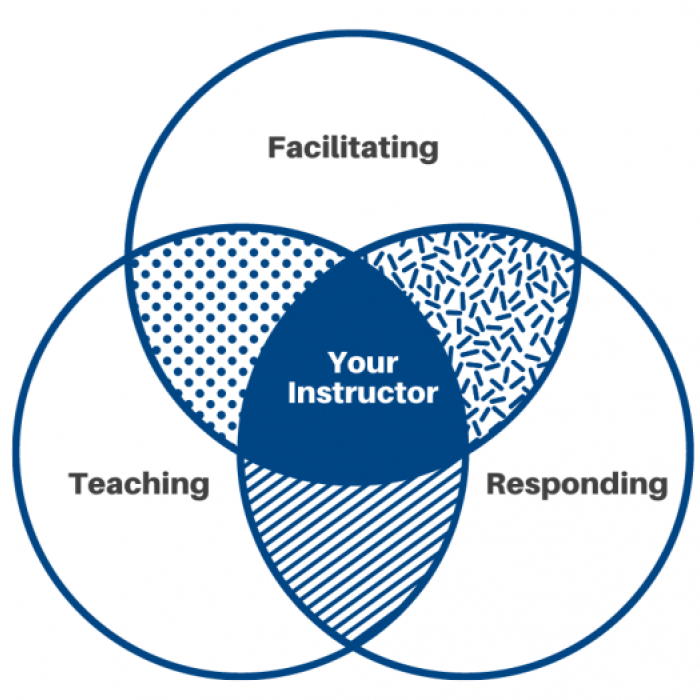 Teaching
In an online learning environment, your instructors take on the role like that of a teacher as they design the course. A primary role that they will provide is guiding you towards resources that will help cultivate your understanding of the subject matter. As you work through the course, you will notice that instructors will focus your attention on learning materials that are relevant, accurate, and meaningful based on their extensive experience in the field. Like any good teacher, your online instructor will work to ensure that these resources are provided with meaningful context so you have a sense of why it will be important to your own experiences in the field.
Facilitating
Throughout your study, you will notice that your online instructors have included learning activities and assignments that are intended to challenge you in an manner that supports your intellectual and professional growth. As you work through the activities of the course, take a moment to reflect upon why an instructor included these specific components in the course - think about how they might contribute to your understanding of the subject.
Responding
Just because you are learning in an online environment does not mean that your instructor will be unavailable. Just like your face-to-face experiences, all students will have questions along the way - your instructor will be with you to answer those questions! Throughout the process of learning, you may find some areas are unclear, or you would like more clarity on a certain topic. Your instructor is a valuable resource who can provide guidance and direction so that you can resolve any issues that might arise. It is, however, important that you communicate effectively with your instructor. This might include asking specific questions or seeking out specific clarity during a live session or through email.
How do I connect with my instructor online?
Your instructors are available to answer questions through email and office hours or by appointment. Review the course syllabus to find their details. Also, don't be afraid to ask questions in any of the synchronous learning session, and you may find that many instructors will leave some time at the end of these to help students. Please review the etiquette guidelines in before you send an email.