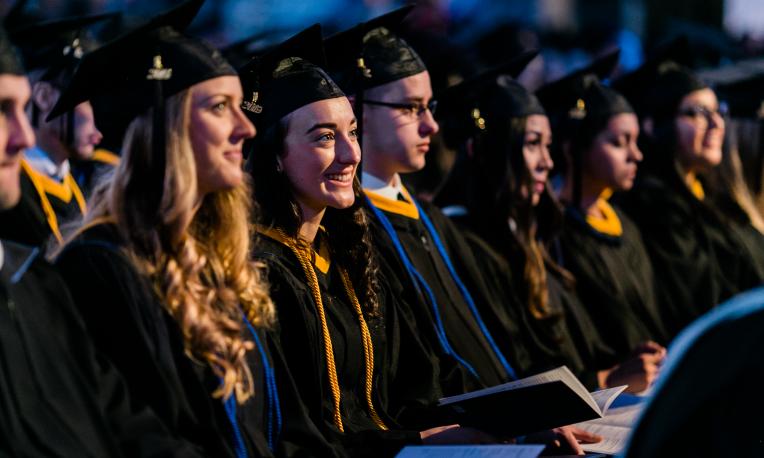 Congratulations on your recent graduation and welcome to a community of 20,000 other Trinity Western graduates who are serving God all around the world.
We celebrate all of your hard work, sacrifices, and achievements during your time at TWU.
Although you are no longer a student at TWU, we are here to provide opportunities for you to be continually equipped, both personally and professionally. Your journey with Trinity Western does not end when you graduate, and we would like to invite you to partner with us as you enjoy the richness and fullness of depth that lies before you as a Trinity Western alumni.
---
Centre for Calling & Career Development
The Centre for Calling and Career Development is committed to helping TWU students and recent graduates explore personal, educational, and career opportunities that are unique to them. Our hope is that you as an alum feel supported as you continue on in your journey of discovery in life after graduation. In partnership with faculty and employers, we look forward to working with you as you explore your calling and develop your career. Services include coaching sessions, job searches, interview skills, resume and LinkedIn support, etc.
---
Enriched Academy
Enriched Academy is an educational program specifically designed to teach Canadians how to take control over their personal finances and build confidence to achieve financial success in a way that is easy to absorb. Normally valued at $500, we are offering the course to TWU alumni for free. Contact us to learn more about the program and to find out when the course is being offered next.
---
First Step Networking
Connect one-on-one with alumni, professors, staff, and friends of TWU who share similar interests, goals, and experiences. This is a low-risk opportunity to find out more about different areas of work, to practice telling your story, and to learn from people who have gone before you. Participate in a 20-minute virtual coffee each month to start building your network and better prepare yourself for life after TWU.