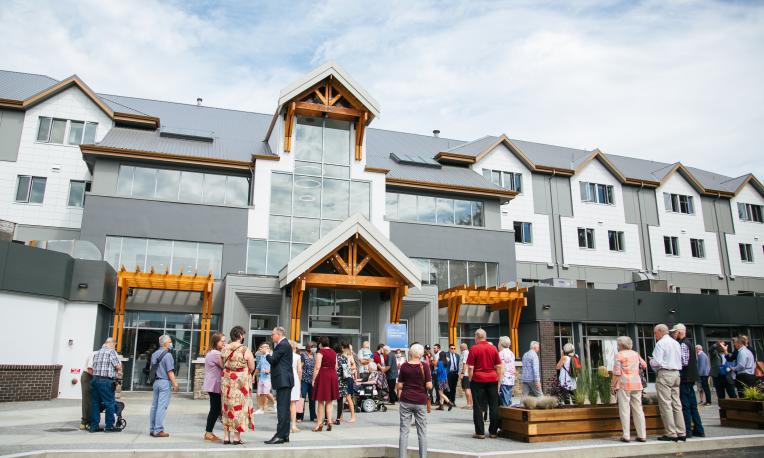 DeVries Centre is known around campus as having a "family" atmosphere and provides a home to first- and second-year students on its third and fourth floors.
Its setting offers incredible bird's eye views of campus to the south and west, and local mountain ranges to the north and east. Housing in DeVries Centre is "suite-style," where two double-occupancy rooms share an adjoining bathroom and shower. Having the most lounge space on campus per student DeVries Centre is the ideal place for studying, building relationships and experiencing the TWU community.
The first and second floors of DeVries Centre are home to the TWU School of Education, including classrooms and faculty offices. The main floor lobby supports a small café called Rooted that offers healthy, plant-based bowls and local teas.
---
DeVries Centre Amenities
FIRST & SECOND Floors
Elevator accessible
Wireless internet
Easy access to School of Education classrooms and faculty offices
Rooted Café in the main floor lobby
Large laundry room on main floor; card or app-operated, large-load-capacity washers and dryers
THIRD & FOURTH Floors
Two common floor lounges fitted with large screen TVs, comfy couches, and coffee tables
Enclosed study rooms in two common lounges fitted with individual tables and chairs for study
Wireless internet
One lounge per hall area fitted with whiteboard, coffee tables, and couches
One common lounge per hall fitted with small kitchen (microwave, fridge, and sink), coffee tables kitchen table, and couches
Two small patio areas on the fourth floor
---
Dorm Room Floor Plans