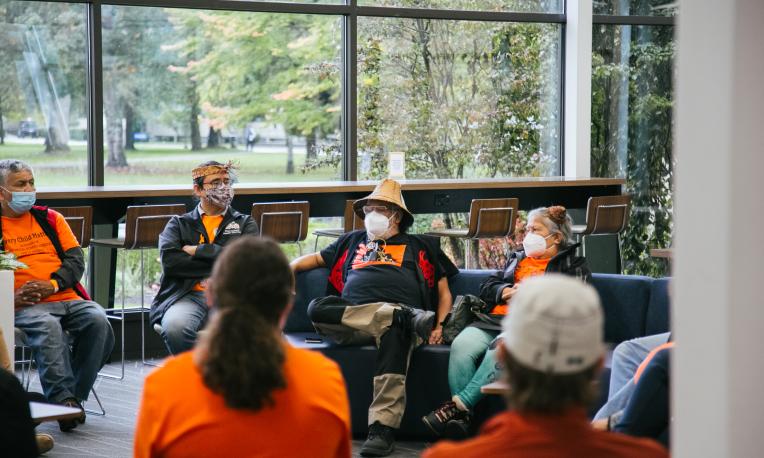 The Trinity Western University community continues to come together, to learn together, and to walk together in a good way—learning of our shared history, living in truth and reconciliation by understanding contemporary injustices, and committing to work towards a future that honours God through respect and dignity for all peoples.
TWU has responded to the Truth and Reconciliation Commission's calls to actions in several ways:
---
Community Day of Learning
In response to the Call to Action #80 which says: "We call upon the federal government, in collaboration with Aboriginal peoples, to establish, as a statutory holiday, a National Day for Truth and Reconciliation to honour Survivors, their families, and communities, and ensure that public commemoration of the history and legacy of residential schools remains a vital component," TWU hosted an inaugural Community Day of Learning on September 30, 2021.
The day's events began with Stó:ló protocol and ceremony, "Open the Circle for Truth Telling," which featured a panel of Indigenous speakers. Educational activities in the afternoon included a Blanket Exercise, which is an interactive historical learning opportunity, followed by focus groups to study TRC calls to actions relating to faith communities (actions 48 and 49), church & reconciliation (actions 60-62), education (actions 6-12), and health (actions 18-24). Additionally, there were presentations of research projects, which followed research methods from Indigenous ways of knowing and being, as well as an opportunity for artistic reflection.
Faith Communities
TWU continues to partner with Indigenous churches and church leaders. The keynote speaker for the National Day of Truth and Reconciliation on September 30, 2021 was Stó:lō Pastor Andrew Victor, Chief of Xwchíyò:m First Nation.
In June 2021, Rev. Bruce Brown and his wife Adeline Brown spoke at a campus-wide two-day Prayer Vigil for victims of Indian residential schools. The Browns are Haida and are survivors of Indian residential schools. Rev. Brown and his wife have pastored at Vancouver Native Pentecostal Church for over 30 years.
In April 2022, Stó:lō Pastor Andrew Victor and his daughter Annelyn Victor participated in TWU's graduation ceremonies. They opened the baccalaureate service and the graduation ceremony with land acknowledgements and a Stó:lō welcome.
Education
Since the change to B.C. K-12 curriculum in 2012, the School of Education has been diligently integrating Indigenous ways of knowing and being into curriculum, content, pedagogy, learning outcomes and assessment in all courses. Local independent Band schools have provided opportunities for students from the School of Education to experience teaching and learning through a Stó:lō worldview by hosting their visits to Indigenous schools.
Health
TWU's School of Nursing has provided opportunities for students to fulfill their practicums within Stó:lō communities. Starting in 2021, Nursing instructor Kathleen Lounsbury, who is Kwakwaka'wakw, is helping to transform the curriculum and teaching practices at TWU to better integrate Indigenous ways of knowing.