Science in the Valley
Interactive Science Workshops for Grades 3 to 7 Students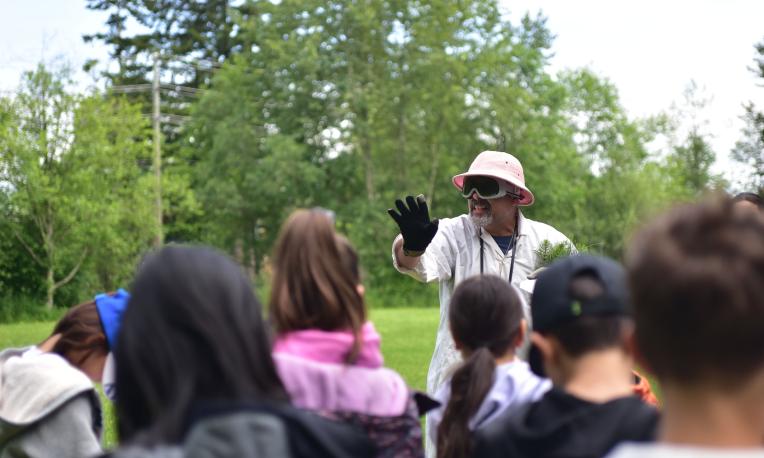 Registration for 2024 will occur at 9 a.m. on Wednesday, November 8, 2023.
Cost for each workshop is $15 per student with a minimum class payment is $300. Once registration is confirmed via email, a non-refundable deposit will be required.
Full day workshops, outdoors in the Ecosystem Study Area, (9:30am – 2:00 pm) for Grade 3 or 4 students (Salmon) and Grade 5 students (Ecosystems and Human Impact) Two-hour workshops in a Science Lab, (9:15-11:15am OR 12:15-2:15pm) Grade 6 Students (Biology), Grade 7 Students (Chemistry).
Since 2005, in late Spring, the Biology, Chemistry, and Geography & Environment Departments of TWU host hundreds of students through the Science in the Valley Program. The program offers workshops to classes in the GVRD School Districts and home-schooled students. Science in the Valley helps to encourage and excite students towards further study of Science. All activities are taught with an emphasis on student "hands-on" participation and a "can do" attitude. With only one class per session, students receive personal teaching instruction from TWU's Undergraduate students! Upon completion of each workshop, students will receive a certificate of participation.
---
Parent Testimonial
"I just wanted to send you a quick note to say thank you for arranging for the grade 6's to go to the "Science in the Valley" program at TWU! It was wonderful, well organized and the TWU students were so enthusiastic and encouraging to the groups I observed. My daughter asked me almost immediately (before even leaving the building!) if she could please go to Trinity Western University when she is old enough."