Trinity Western University is honoured to welcome Hon. Justice Olufunlola Adekeye, CON, CFR, JSC (retd) on the week of International Women's Day.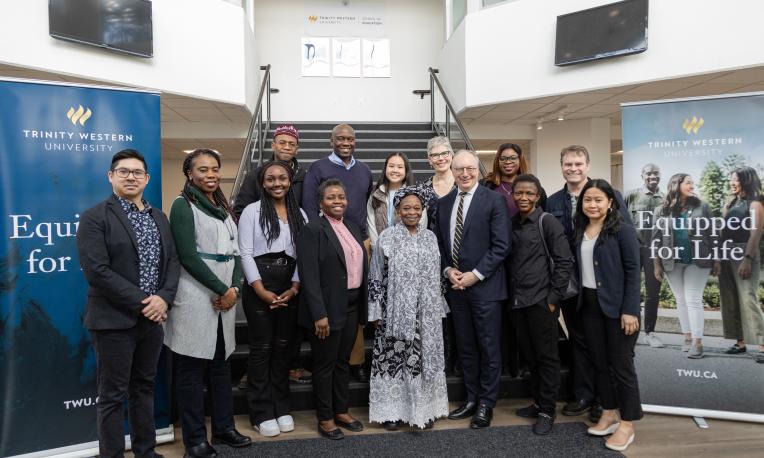 Widely regarded as a trailblazer and a role model for women in leadership, Hon. Justice Olufunlola Adekeye served as Justice of the Supreme Court of Nigeria from 2009-2012. She was the first woman to rise to the High Court of Ondo and Ekiti States, and the second woman (and first in Southern Nigeria) to rise to the Supreme Court of Nigeria, which is the highest court in the country.
Her accomplishments have inspired many others to pursue their dreams, advance in leadership, and serve society with their gifts, training, and potential.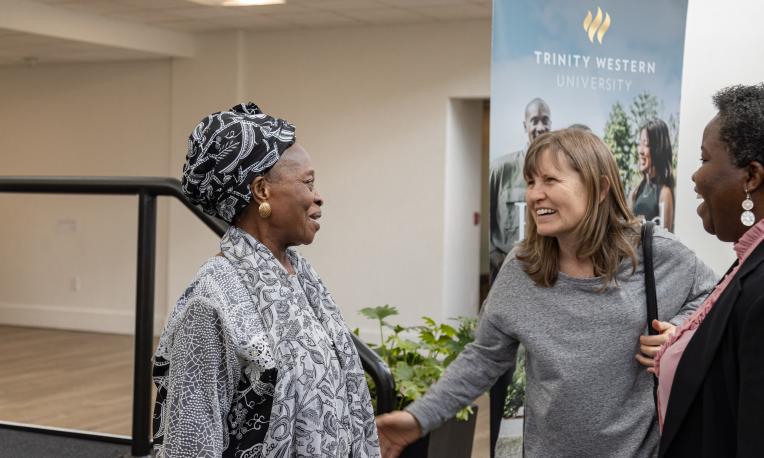 On March 7, Justice Adekeye spoke at Trinity Western's Langley campus, sharing with students, staff and faculty her personal experience as a Christian woman who helped to break the glass ceiling in the Judiciary of Nigeria. She provided insights to young adults seeking to advance in leadership and especially young women who are striving for excellence.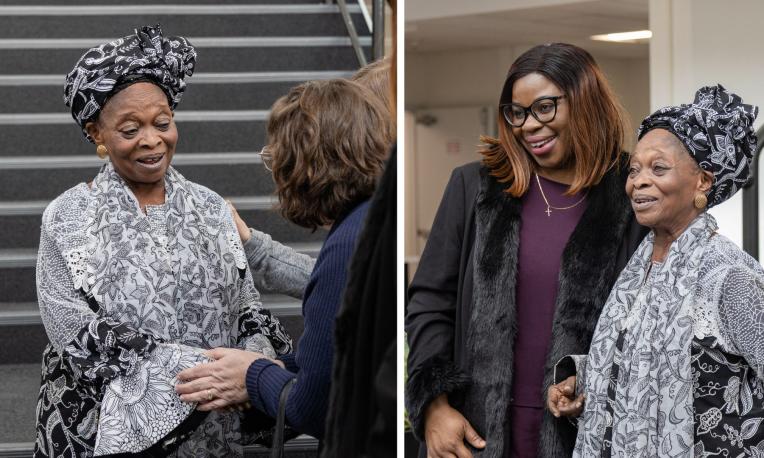 During her talk, Justice Adekeye expressed support for women's participation in society, "Bring out the women. They have the ability and the strength. They are able to excel." To the women in the audience, she offered, "It is for yourself [to act] now. Bring out yourself and let people know your worth."
To all aspiring leaders she encouraged, "Work persistently, excellently, to get to the peak."
"We are all together, creatures of God. We have a place in leadership," she affirmed.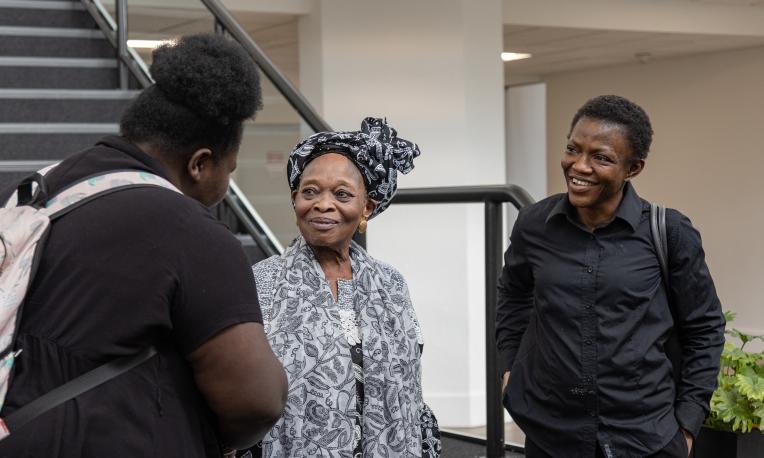 Justice Adekeye's talk also wraps up TWU's month-long celebration of Black History Month. Her speech addressed themes of education, persistence in the face of challenges, and applying one's training and talent for the benefit of society. 
Upon receiving an honorary certificate gift from TWU's President Mark Husbands, Justice Adekeye dedicated the gift to the United Nations, for its role in affirming the equal rights of men and women and in promoting the empowerment of women around the world.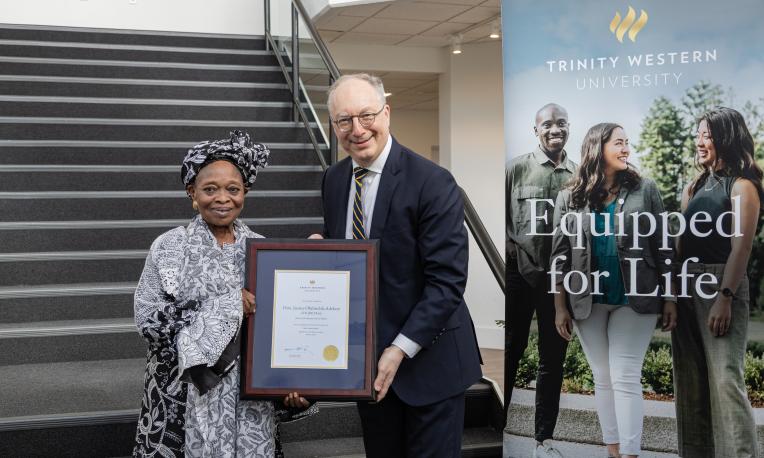 About Hon. Justice Olufunlola Oyelola Adekeye-Ogundare, CFR
Born 1942 in Ilesha, Osun State, Hon. Justice Adekeye-Ogundare attained her primary education in St. Andrews Primary School, Ondo State and her secondary education at St. Anne's School, Ibadan, Oyo State. She went on to Northwestern Polytechnic, Leeds University and Sheffield College of Commerce, in the United Kingdom before attending the Nigerian Law School between 1967 and 1968 when she was called to the Nigerian Bar and admitted into Legal Practice in Nigeria.
She commenced legal practice in the City of Ibadan between 1968 and 1970, following which she was appointed as State Counsel, Western State Ministry of Justice, Ibadan — a position she held until 1974 when she was appointed Chief Magistrate Grade II, Ondo State, one of the first women to hold this position and the first in the history of Ondo State. She was appointed as the first female High Court Judge in the history of Ondo State in 1987.  She later moved to Ekiti State in 1996, becoming the first woman to become a High Court Judge in that State's history.
In 1998, she was elevated to the Federal Court of Appeal as a Lord Justice of Appeal first in Ibadan Division, then followed by Enugu and Abuja Divisions. In 2008, she was made a Presiding Justice of the Court of Appeal, Ilorin, and in 2009, was sworn in as a Justice of the Supreme Court of Nigeria, becoming only the second woman in the history of Nigeria to ascend to the highest court in Nigeria.  Here, she was to serve from 2009 to 2012.  She also had the auspicious honour of following her husband to the highest Bench, thus making history as the first couple to serve at the Supreme Court at one time or the other, in African history.
Following her retirement as a Justice of the Supreme Court, she was appointed as a Commissioner, Police Service Commission in 2013 where she served till 2018, when she finally retired from public life after 48 years of public service. As a trailblazer, her Lordship was involved in the Unification of the Criminal Code and Penal Code in Nigeria from 1990-1992, and headed several tribunals for the determination of election cases and appeals from 1998 till 2008.
Hon. Justice Adekeye has been the recipient of numerous accolades and awards, including Distinguished Career Award, New York; International Federation of Women Lawyers Award; National honour of the Commander of the Order of the Niger (CON). In 2013, she became only the second woman to be conferred with the third highest national honour in Nigeria, which is the Commander of the Federal Republic (CFR). Her Lordship is a Fellow Chartered Institute of Arbitrators (United Kingdom) and a Fellow of the Nigerian Institute of Advanced Legal Studies. She is also the Chancellor of the Anglican Diocese of Jebba, Nigeria.
As a grandmother and great grandmother, Hon. Justice Adekeye's hobbies and interests include music, reading, travelling and Christian evangelism.
---
About Trinity Western University
Founded in 1962, Trinity Western University is a global Christian liberal arts university. We are dedicated to equipping students to discover meaningful connections between career, life, and the needs of the world. Drawing upon the riches of the Christian tradition, seeking to unite faith and reason through teaching and scholarship, Trinity Western University is a degree-granting research institution offering liberal arts and sciences as well as professional schools in business, nursing, education, human kinetics, graduate studies, and arts, media, and culture. It has four locations in Canada: Langley, Richmond-Lansdowne, Richmond-Minoru, and Ottawa. Learn more at www.twu.ca or follow us on Instagram @trinitywestern, Twitter @TrinityWestern, on Facebook and LinkedIn.