How did Bob Kuhn become the fourth president of Trinity Western University and to have served with such distinction that the University now has a beautiful new building bearing his name? Simply put, Bob's life story shows the dramatic and lasting impact that a TWU education can have on a young person's life. 
---
Before Bob Kuhn became the fourth president of Trinity Western University, he was a student on this campus.
As a young man, Bob Kuhn attended what was then called Trinity College, and his life was forever changed. Here he met people of noble character and deep spiritual faith. Here he was cared for and mentored by professors and staff, a number of whom became lifelong friends and colleagues. In fact, their confidence in the Gospel led Bob to develop an enduring living belief in Christ that would stand the test of time.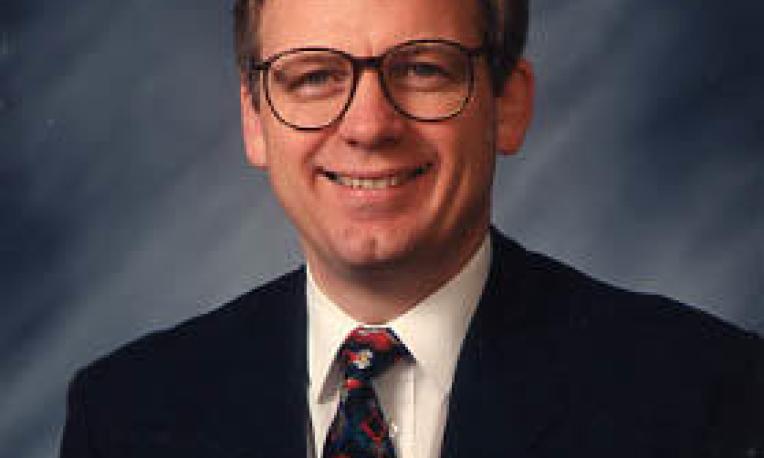 Strong foundation for a lifetime of leadership
At Trinity Western, Bob became president of the student body, setting the foundation for a lifetime of leadership. He experienced competition as a goalie for the Spartans soccer team, and he met his lifelong best friend Renae to whom he's been married for 48 years. At the end of his student journey, Bob graduated at the top of his class, with an Associate of Arts degree. 
Bob's TWU education gave him a strong foundation upon which to complete a law degree at UBC. After years of practicing law in downtown Vancouver firms, he went on to build a successful law firm of his own, with offices in Vancouver and Abbotsford. In 2001, Kuhn led a legal team all the way to the Supreme Court of Canada and successfully defended TWU's School of Education.
Resilience in the face of challenge
In the midst of a tremendously successful career, in 2006, Bob received a life-altering diagnosis of Parkinson's. This diagnosis led him to re-imagine the trajectory of his life. In short, he decided to do all that he could to remain productive in the face of the challenge and redoubled his efforts to make the most of the life that God has given to him. In 2013, when TWU president Dr. Jonathan Raymond resigned due to poor health, Bob Kuhn was asked to serve on the search team. The Board eventually invited Bob to serve as interim president and then soon, as president.
---
"My time at Trinity Western University has, for more than 40 years, represented a major turning point, a metamorphosis, in my life. It provided an incomparable environment for me to grow and flourish. ...I learned invaluable and lifelong lessons in virtually every area of my life."

— Robert G. Kuhn
---
Out of a deep sense of duty and gratitude for the impact that Trinity Western had made upon his and Renae's life, Bob graciously accepted the challenge and agreed to step into the senior leadership role as president of Trinity Western University, serving from 2013-2019.
Leading TWU to new heights
As the fourth president of TWU, Robert G. Kuhn helped the University significantly reduce debt. He was instrumental in establishing several new buildings on campus including two new dormitories: Skidmore Hall completed in 2017 and Jacobson Hall completed in 2018. During his tenure, the University experienced significant development, including meaningful, important and necessary renovations to the gymnasium and the Robert N. Thompson building, and a wonderful gift and development of an old growth forest in the Glen Valley now called the Blaauw Eco Forest, which is home to over 200 species of mammals, birds, reptiles, amphibians, and plants.
Further under Bob's leadership, TWU developed a strategic Richmond campus with two locations, one in Minoru and one in Lansdowne. With his deep love for Trinity Western, first-hand knowledge of the transformation that occurs in the lives of students, strong leadership ability, personal integrity, and the blessing of a wide network of friends — he found a way to garner strong confidence in the mission of this University.
Bob wrote on his personal blog, "My time at Trinity Western University has, for more than 40 years, represented a major turning point, a metamorphosis, in my life. It provided an incomparable environment for me to grow and flourish. In the space of two years (that was all that was offered at the time, being a junior college), I learned invaluable and lifelong lessons in virtually every area of my life. Spiritually, intellectually, athletically, relationally, and in matters of leadership, through its professors, staff and my fellow students, Trinity gave me transformative encouragement that endures to this day."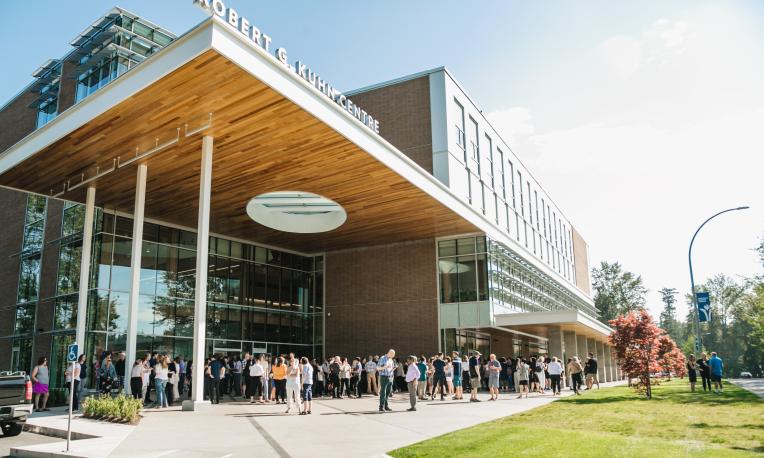 New building honours Robert G. Kuhn
In recognition of Bob Kuhn's lifetime of learning, discovery, leadership, and positive impact at Trinity Western, the University has named its newest facility in his honour. In May 2022, two years after first breaking ground on the building project, the Robert. G. Kuhn Centre was completed. Students, faculty, and staff began teaching and learning inside the Kuhn Centre's classrooms this past summer.
On September 12, 2022, TWU officially dedicated the Kuhn Centre through a ribbon-cutting ceremony and celebration.
At the ceremony, President Mark Husbands remarked, "This is by all accounts a wonderful day, a day to express our heartfelt gratitude for the remarkable contribution of Robert and Renae Kuhn. We pray that this building and all that will be accomplished through this facility will be a fitting and lasting recognition of their enduring commitment, sacrifice, and dedication to Trinity Western University."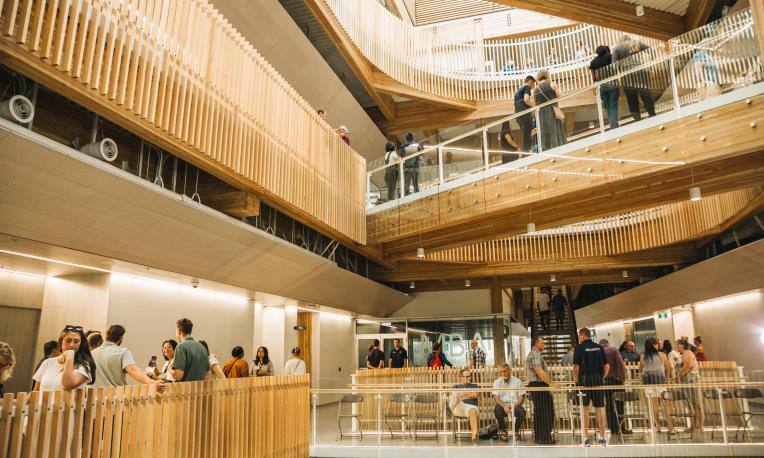 'Learning and discovery on display'
The Robert G. Kuhn Centre tells a beautiful story.
"As you walk or drive past the building, you can't miss the fact that classrooms seem to be entirely open to nature and the world," President Husbands shared, "That is a wonderful metaphor."
"What you see is learning and discovery on display. Not locked up in an ivory tower, but on the ground, inviting, active and present."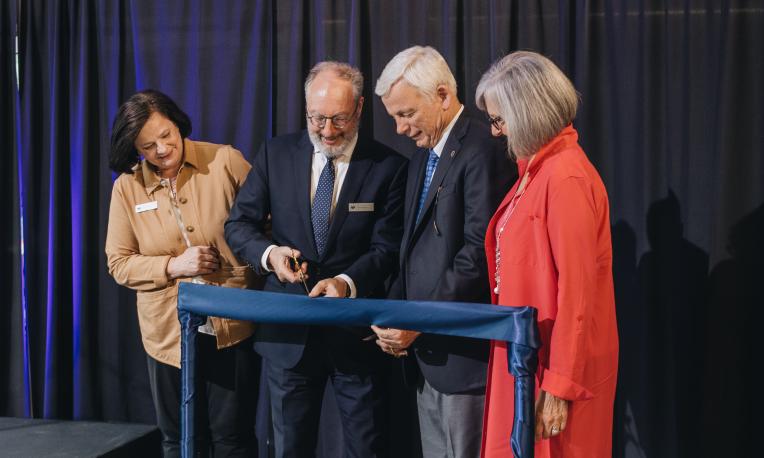 The Kuhn Centre also reveals a key feature of this University. Rather than being dedicated to one school or division, it is a dynamic centre that houses three key areas of the University's mission and life.
The Global Engagement Office on the first floor reflects the intentionally global nature of TWU's student body, which welcomes learners from over 70 nations. Learning how to successfully build bridges and relationships—across cultural, linguistic, ethnic, and geographical difference—is a tremendous gift for all Trinity Western University students.
This is also the new home of TWU's School of Business. In today's global knowledge economy, innovative business education is key to equipping students with the skills, ability, and insight to thrive in a dynamic, digital, global economy. Trinity Western University's School of Business provides students with the knowledge, leadership skills, international experience, and faith formation necessary to flourish amidst disruption. As a result, TWU graduates go on to make vital contributions to the economic development and growth of organizations here in Canada and beyond. 
In addition to Student Life's Global Engagement Office, and the School of Business, the Kuhn Centre is home to a division of the University called GLOBAL, an acronym that stands for Global learning connections, Leadership programs, Online learning support, Branch campuses, Adult learning support, and Leading innovation. This facet of the University is responsible for the vast majority of TWU's global partnerships, innovation, and leadership programs. As befits an area of the University dedicated to leading innovation, TWU GLOBAL sets the bar for student-focussed education, by leveraging and celebrating the dramatic potential that all students have to become master learners.
Today, TWU is a growing institution that is globally engaged and committed to Christ and to student success. As the University dedicates the Kuhn Centre, we hope that all who serve and teach within its spaces will acquire the knowledge, experience, character, and faith to live out servant leadership. And may the institutions, businesses, communities, and nations that TWU graduates will come to lead and serve be positively transformed because of the education, care, mentorship, and wisdom that graduates have acquired while learning at Trinity Western University.
---
See also — Trinity Western University's Richmond campus welcomes its first Executive MBA (EMBA) cohort
 
TWU News
---
About Trinity Western University
Founded in 1962, Trinity Western University is Canada's premier global Christian liberal arts university. We are dedicated to equipping students to discover meaningful connections between career, life, and the needs of the world. Drawing upon the riches of the Christian tradition, seeking to unite faith and reason through teaching and scholarship, Trinity Western University is a degree-granting research institution offering liberal arts and sciences as well as professional schools in business, nursing, education, human kinetics, graduate studies, and arts, media, and culture. It has four locations in Canada: Langley, Richmond-Lansdowne, Richmond-Minoru, and Ottawa. Learn more at www.twu.ca or follow us on Twitter @TrinityWestern, on Facebook and LinkedIn.