Just as the spring semester was wrapping up at Trinity Western, student-athletes on the Spartans rugby teams and women's volleyball team were preparing to embark on an international trip to Paraguay.
This was not, however, a typical post exam season trip.
The athletes had prepared, prayed, and fundraised in advance of joining the 2023 Paraguay Impact Trip in partnership with the non-profit TeamUp Canada.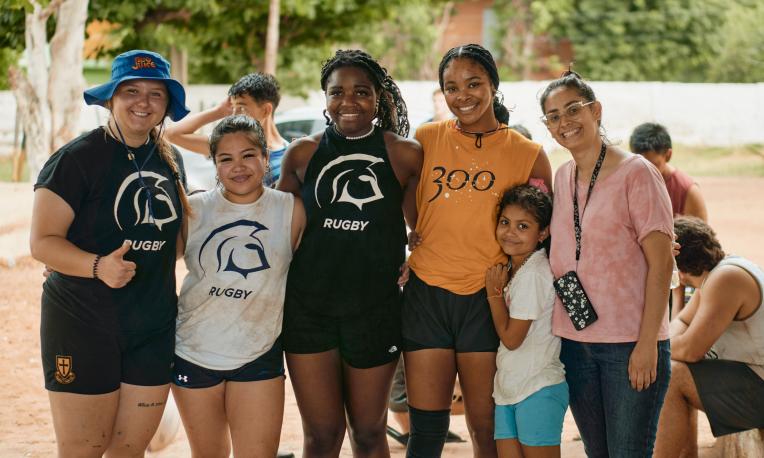 "We had 70 Spartan athletes and coaches serving in Paraguay in many different communities and in many ways," women's soccer head coach Graham Roxburgh, who is founder and executive director of TeamUp, describes.
---
---
Upon arrival in Paraguay on April 29, the teams began training and orientation, and building friendships with the local community through sports. Alongside their service initiatives, the Spartans athletes played several sports tournaments with local Paraguayan ruby and volleyball teams.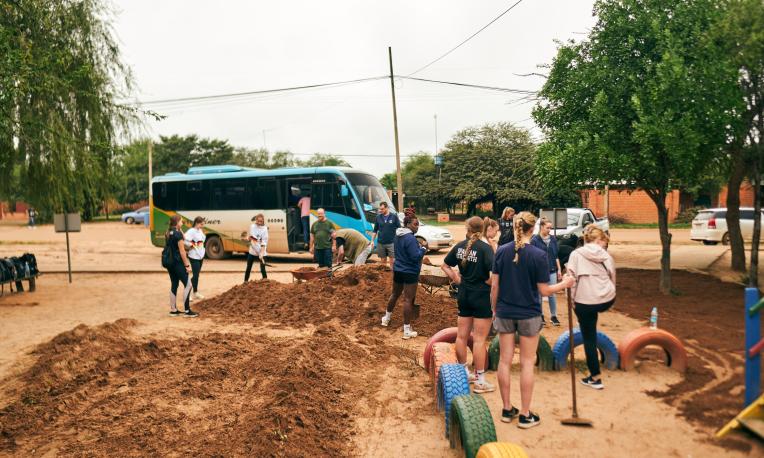 Spartans athlete Jayda Harder was grateful for the opportunity to help build a soccer field in Paraguay, and impressed to watch people of different nationalities and cultures come together to serve the local community. She reflects, "It's really rewarding work, knowing that what we're doing is going to make an impact on this community."
---
---
She and her TWU teammates played soccer and volleyball with the local children, bridging the language barrier through sports. "Getting to know another culture, and relating within the sports of volleyball and soccer has been really cool," Jayda commented.
The women's volleyball team also helped to build the foundation for two new classrooms at a local school and ran a volleyball clinic for youth.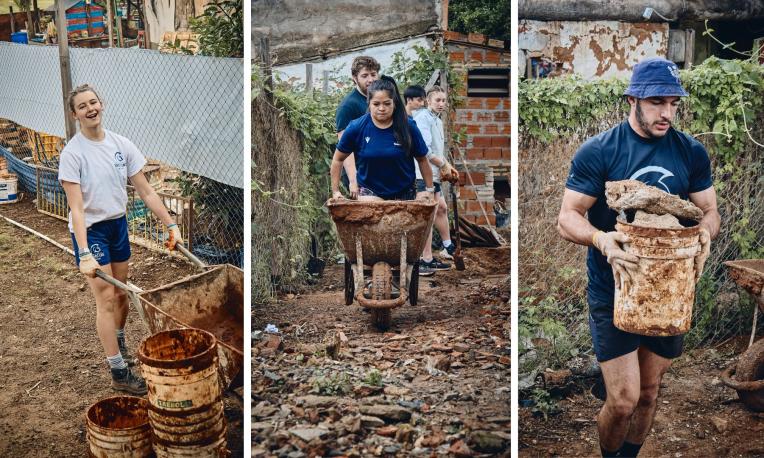 Sarah Friesen, chaplain for the women's volleyball team, was part of a work crew that helped a local church and school upgrade their playground.

In addition to the physical work of digging and shoveling, Sarah and the athletes also spent time to invest relationally with the local children.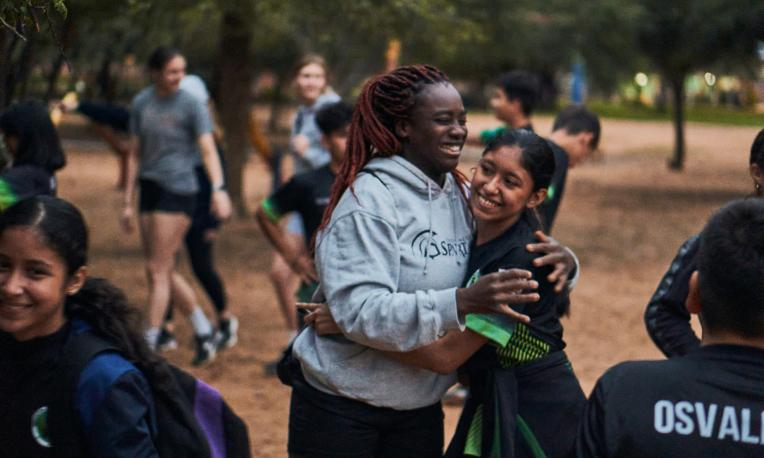 "When these kids come to school and have some young adults play with them, and receive some instruction, they come to understand the concept of team," Sarah says in describing some of the positive outcomes.
---
---
Sarah adds, "A lot of kids have not been involved in organized sport at all, so they haven't had any leadership development. Having a team here to model that and give of their time, relationship, and energy is making a huge impact here for the local community."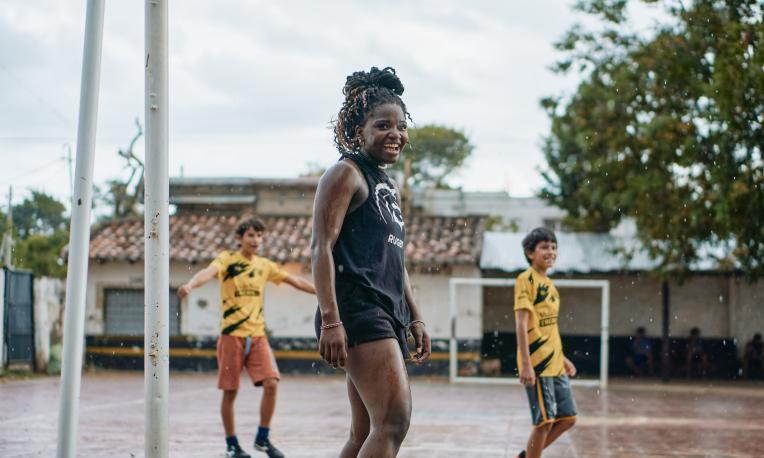 Ella Jimenez and her rugby teammates helped to build a foundation for a home to house a family with four children. Although they worked in the rain, Ella commented that "the smiles were still there," and recalled that a highlight for her was "the teamwork between the townspeople and us to build a house."
Ruby athletes also visited a local church-run nutritional centre where roughly 80 children are given access to warm meals several times a week. The centre is located in an area that experiences flooding every year, and the athletes served by cleaning debris to make the place cleaner and safer.
Johannes Regier, managing director of TeamUp, noted how the athletes' volunteerism benefits the long-term work of the nutritional centre. "It's becoming a meeting place for the community where kids have access to warm and healthy meals. Where they can be together and play sports, feel belonging, be a part of a team, and have a sense of identity. Where they have access to coaches and mentors… [who] inspire them to live a different life and change their mindset."
Thinking of the impact on the local Paraguayan youth, he said, "We trust that their lives will be transformed for a better future."
---
About Spartans Athletics at TWU
The Spartans compete in 13 sports in the Canada West conference, including women's and men's soccer, volleyball, basketball, hockey, cross country and track & field, as well as women's rugby sevens. TWU also competes as an independent team in men's rugby and women's and men's disc golf. Learn more at TWU Athletics and Trinity Western Spartans.
---
About Trinity Western University
Founded in 1962, Trinity Western University is a global Christian liberal arts university. We are dedicated to equipping students to discover meaningful connections between career, life, and the needs of the world. Drawing upon the riches of the Christian tradition, seeking to unite faith and reason through teaching and scholarship, Trinity Western University is a degree-granting research institution offering liberal arts and sciences as well as professional schools in business, nursing, education, human kinetics, graduate studies, and arts, media, and culture. It has four locations in Canada: Langley, Richmond-Lansdowne, Richmond-Minoru, and Ottawa. Learn more at www.twu.ca or follow us on Instagram @trinitywestern, Twitter @TrinityWestern, on Facebook and LinkedIn.