In honour of Canada's National Day for Truth and Reconciliation, Trinity Western University is, once again, announcing a campus-wide Community Day of Learning on September 30, 2022 to foster greater knowledge and understanding of our shared history and Indigenous culture, and to commemorate the history and legacy of residential schools.
TWU's Day of Learning on Sept. 30 is for students, staff and faculty. We encourage you to attend, as we foster greater knowledge and understanding of Indigenous cultures and our shared history, and walk together in this reconciliation journey.
To provide students, staff, and faculty the opportunity to participate in the Community Day of Learning, morning and afternoon classes will not be scheduled on September 30 with the exception of those that are currently scheduled to be delivered Fridays in a 3-hour block. 
Note to participants: We encourage everyone to wear an orange shirt, and we encourage everyone to bring a pair of shoes (gently used or new) that we will use in ceremony during Opening Circle. The gently used shoes will be donated to a Christian organization that works closely with families in poverty, and the new shoes will be donated to a local Indigenous community.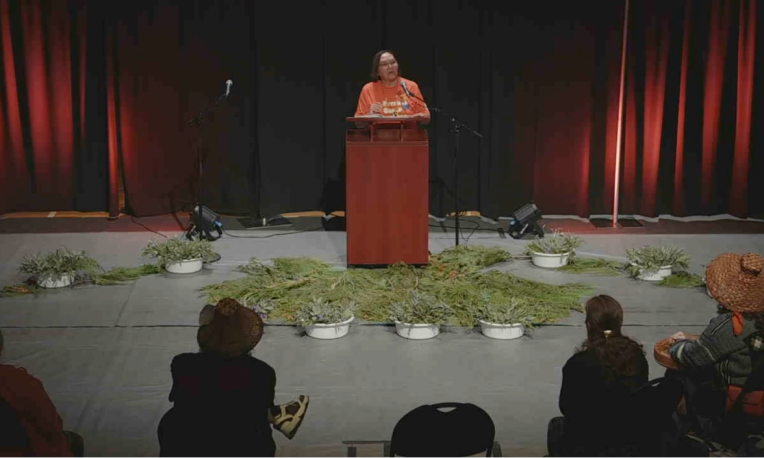 Please see below for the program.
---
Program
9:00 AM OPENING THE CIRCLE: CIRCLE FOR TRUTH TELLING

We will gather at 9:00 a.m. to start the day with Stó:lō protocol and ceremony. The purpose of gathering is to learn and grow in our understanding of the history and legacy of Indian residential schools, and to honour the survivors, their families, and communities. University Siya:m Patricia Victor, Stó:lō, will lead in remembering the children who did not return home from the residential schools, and Rev. Bruce Brown, Haida, will speak on "The Role of the Church in Truth and Reconciliation." This will be followed by small group discussion and prayer.
See the recording of Opening the Circle on Vimeo
Note that due to technical challenges, audio for the Opening the Circle recording begins at 25:44. We gratefully acknowledge Salish Society for the recorded music.
11:30 AM LUNCH BREAK
1:00 PM AFTERNOON ACTIVITIES AND WORKSHOPS
Activities and workshops will take place throughout the Langley campus. Activities run concurrently, commencing at 1:00 p.m. 
Movie: Indian Horse (DeVries Auditorium)
Indian Horse is the story of Saul Indian Horse, an Ojibway boy from northern Ontario who escapes his demons and rough childhood through hockey. Saul is taken to St. Jerome's Indian Residential School. It is a film adaptation of the story written by Richard Wagamese, Ojibwe.
 
Movie: We Were Children (Neufeld Science Centre, Block Hall)
We Were Children is the testimony of two survivors, Lyna Hart and Glen Anaquod. In 1958, Lyna was taken from her family to a school in central Manitoba, while Glen, who was orphaned, entered a school in Saskatchewan. Together, they are part of seven generations of children who were betrayed, broken and abandoned. Their voices were silenced for decades by force and by fear, and they now emerge, powerful and clear, preserved for generations to come. 
Blanket Exercise (Fraser Lounge)
This is an interactive educational program that teaches the history of Indigenous peoples in Canada. The program was created in response to the 1996 report of the Royal Commission on Aboriginal Peoples and is used as a teaching tool across Canada. Please bring a blanket and a family photo with you.
On the Land (Meet at the Norma Alloway Library bell tower)
This tour will focus on the Indigenous plants, trees, and medicines growing on TWU's Langley campus. It will be led by Dr. David Clements, Professor of Biology.
 
The Road to Reconciliation and Decolonization (DeVries 106)
Nina Pak Lui, Assistant Professor of Education, will share her journey of decolonization, and Annelyn Victor, Stó:lō, will share her journey of walking towards reconciliation. Annelyn comes from a long line of family storytellers. Stories are shared through protocol, songs, drums, and dance.
 
Kitchen Stories (RGK 204)   
Kitchen Stories is a research project to explore Kwakwa̱k'wakw women's traditional practices with pregnancy, birthing, and post-birth, and the important ceremonies, practices, language, and rituals during this time. Kathleen Lounsbury comes from the traditional Kwakwaka'wakw territories of Alert Bay, B.C. She is a Part-time Instructor, Consultant for Curricular Indigenous Integration, and a PhD student in TWU's School of Nursing. Dr. Kendra Rieger is a settler, registered nurse, an Assistant Professor in TWU's School of Nursing, and a Michael Smith Health Research BC Scholar.
 
Time to Heal (Norma Alloway Library 1st floor, SAMC Gallery)
Artist Bon Graham [b.wyse] of Stó:lō (Chilliwack) and Snunéymuxw (Nanaimo) ancestry is from Hope, B.C. She has created a Coast Salish inspired font, and has devoted her art and designs to preserve the language, culture and traditions of the Indigenous peoples, working closely with respected elders for guidance and inspiration. Alysha Creighton, Sessional Assistant Professor of Art & Design will facilitate this gathering.
 
Walking in Healing (RGK 203)
Rev. Bruce Brown, Haida, is an ordained minister with the Pentecostal Assemblies of Canada (PAOC). He will share his personal journey of his early years at Indian residential schools and his journey of healing and wholeness.
 
Tea with Elders (RGK 1st floor, Global Lounge)
A small group of elders will share stories from their heart and encourage interaction with all participants. Come and share conversations and tea with our dear elders.
 
Tree of Reconciliation (RSC 1st floor, Reimer Lounge, near the main cafeteria)
An opportunity to artistically express your own thoughts and feelings about the road to reconciliation and have conversations with others on this journey of learning and unlearning.
 
Learning from the Old Ones (RSC 2nd floor, President's Reception Hall)
Josette Dandurand and her son Luke from Kwantlen will share their family story. Gabriella Collins, TWU student and researcher, has been walking alongside Josette and Luke and is preserving their story through digital storytelling methods.
 
Family Story (RGK 221)
Joe Desjarlais is Metis and will share his family story, along with Dr. Bruce Shelvey, Associate Professor of History and Political Studies, who will share his story as a settler in this territory.
3:15 PM CLOSING THE CIRCLE 
Gym, David E. Enarson Gymnasium
Following the afternoon of learning activities, once again we will gather together in the Gym at 3:15 p.m., ending the day with Sto:lo protocol. The witnesses will share their reflections.
See the recording of Closing the Circle on Vimeo
---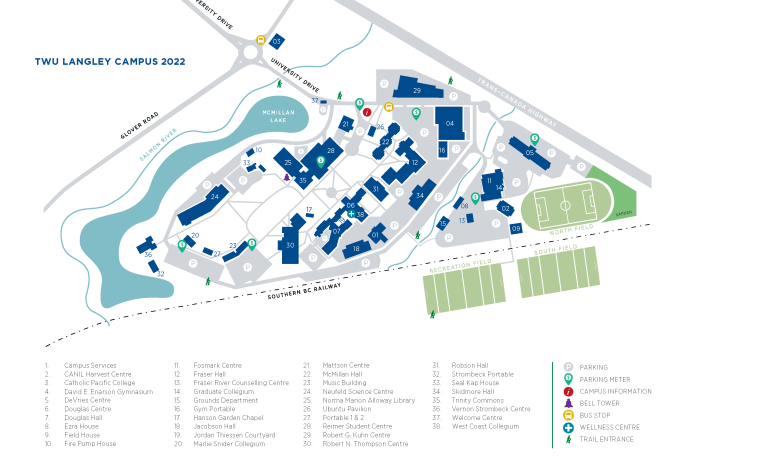 ---
About Indigenous Initiatives at Trinity Western University
At TWU, we seek to hear, understand and acknowledge our shared history with Indigenous peoples and the impact that it continues to have throughout the generations. As a global Christian university, TWU continues to foster greater knowledge and understanding of Indigenous cultures, worldview, and history among students, staff, and faculty. We do this by providing educational opportunities, engaging in community partnerships, and through caring for and supporting Indigenous students.
Learn more at TWU's Indigenous Initiatives.
---
About Trinity Western University
Founded in 1962, Trinity Western University is Canada's premier global Christian liberal arts university. We are dedicated to equipping students to discover meaningful connections between career, life, and the needs of the world. Drawing upon the riches of the Christian tradition, seeking to unite faith and reason through teaching and scholarship, Trinity Western University is a degree-granting research institution offering liberal arts and sciences as well as professional schools in business, nursing, education, human kinetics, graduate studies, and arts, media, and culture. It has four locations in Canada: Langley, Richmond-Lansdowne, Richmond-Minoru, and Ottawa. Learn more at www.twu.ca or follow us on Twitter @TrinityWestern, on Facebook and LinkedIn.