As a global Christian university, Trinity Western is a community of learners representing over 80 countries. This year, during Lunar New Year, a festival celebrated by many communities globally, Trinity Western's Langley and Richmond campuses are filled with activities.
On January 23, TWU's Intercultural Student Programs (ICP) kicked off a week-long series of events for students and the campus community, starting with a Korean Dinner hosted in the Global Lounge (Kuhn Centre) on Monday evening. Students shared laughs and good food while participating in dumpling wrapping and lantern making.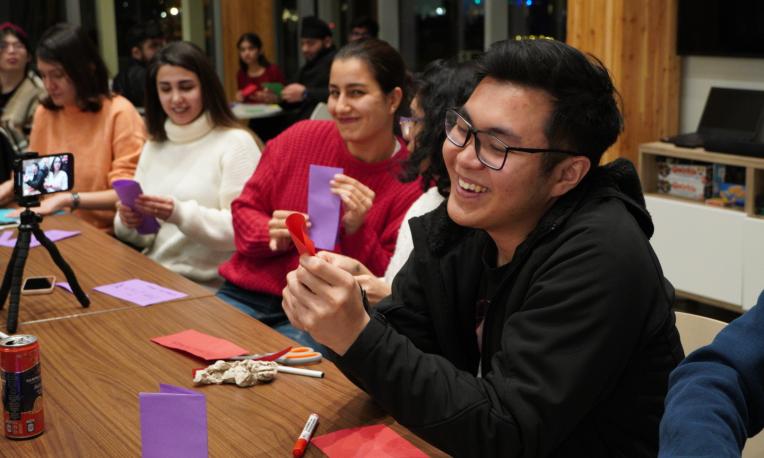 Wema Kibe is a student leader who helped coordinate Monday's community dinner. The third-year International Studies major explained that "Community dinners are a great place for people to not just learn about a culture but to also make new connections. Ushering in the new year with people from diverse places was a great way to do this." 
The first activity of the evening was making dumplings, and Wema reflected on the intercultural exchange, "It was fun to see people at different tables creating different shapes. I talked to someone from Japan who made a dumpling the way they do it in her culture, and it was interesting to see that integration."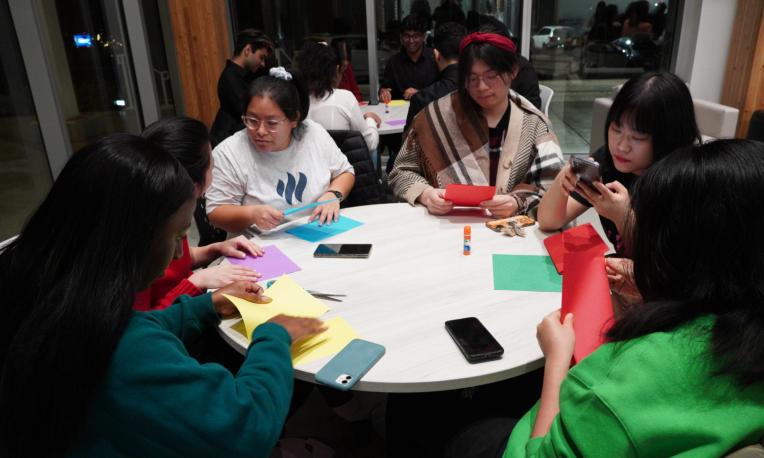 Student leader Anasthasia Anjanette led participants in making paper lanterns. The activity symbolized "letting go of our past selves" and getting ready for the new year. Wema explains, "Inside the lanterns, they wrote down their wishes for the new year." Prizes were given out to the maker of the best-looking lanterns. 
The campus Korean club, Manna, took charge of the cooking and cultural explanations of the food.
---
---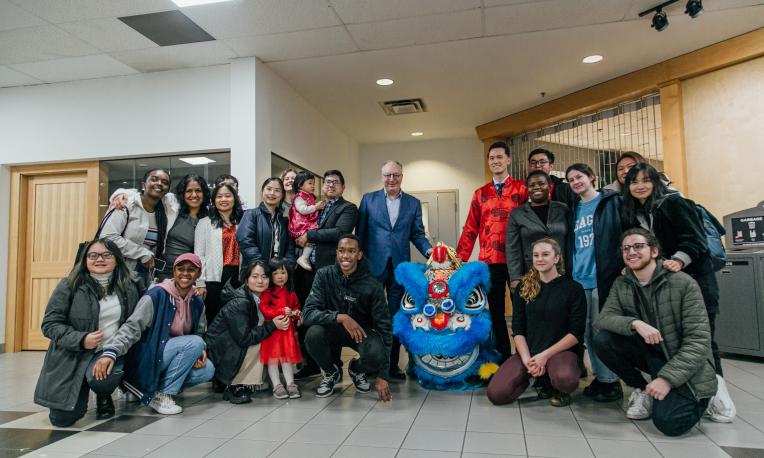 On Tuesday, a lion dance troupe graced the foyer of the Reimer Student Centre. Boisterous music and drum beats accompanied the traditional dance performance, which was enjoyed by students, staff, and faculty. Wednesday evening saw student dorms racing through a series of stations across the Langley campus—each station presenting a different game or challenge—in a cross-campus dorm night.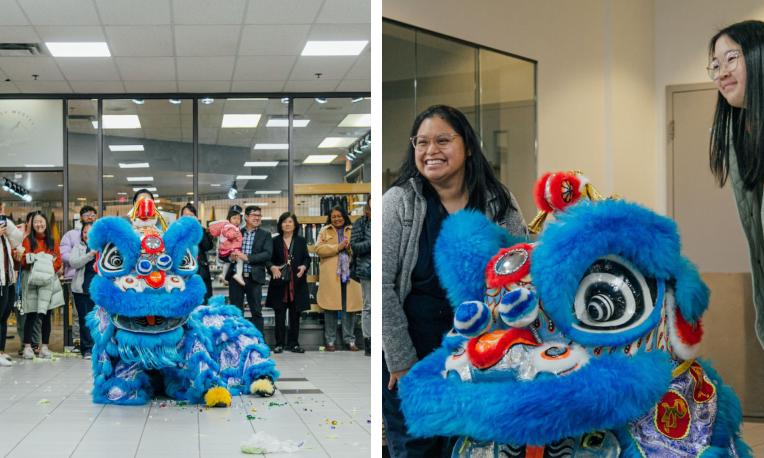 Thursday brought celebrations to TWU Richmond's two sites in Minoru and Lansdowne. Activities included calligraphy writing, trivia games, pastoral care and prayer, and a student dance performance. Dumplings and snacks were served, and red envelopes with a treat and a note of Scriptural encouragement handed out. The MLA for Richmond Centre Teresa Wat attended as well, to share new year greetings with the Richmond campus community.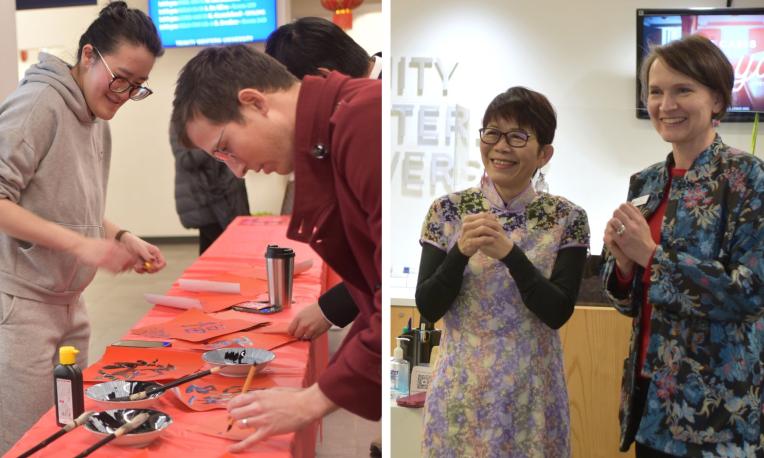 MBA student Merghani Ahmed expressed that he enjoys studying at TWU Richmond, where the community represents "a diversity of different faiths and nationalities." He also appreciates "the flexibility of classes, and good events, such as today's Lunar New Year event, which are good experiences for students from international backgrounds."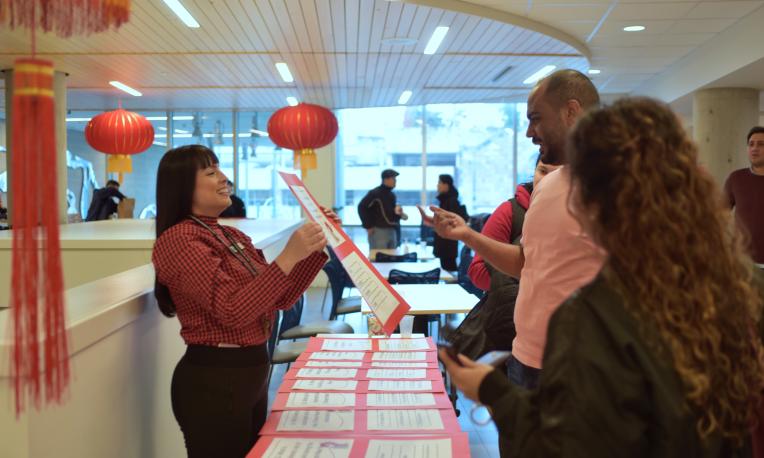 The festivities continued that evening in the Reimer Student Centre, where bubble tea was served by TWU's Student Association (TWUSA), and various booths offered games, conversation, gifts, and snacks.

A week of Lunar New Year events wraps up this Friday evening with a talent show at Block Hall.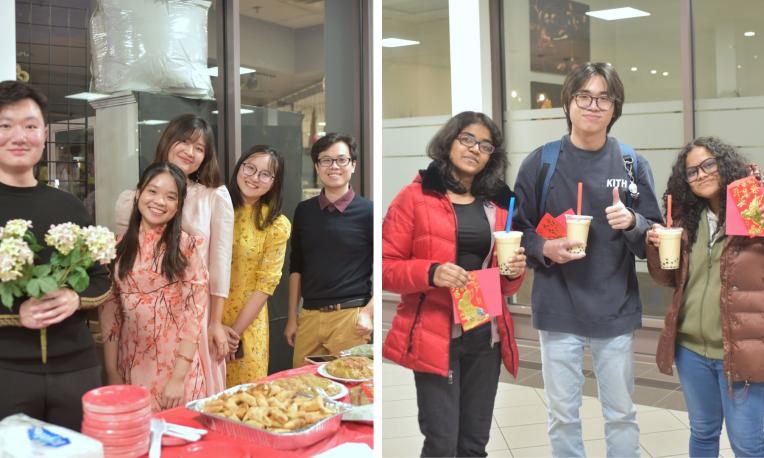 About TWU Student Life
Student Life has something for everyone—so, no matter where you are in your walk with God, you can thrive in community, explore a unique way to serve, and get much more out of TWU than a degree. Learn more at TWU Student Life.
---
About Trinity Western University
Founded in 1962, Trinity Western University is a global Christian liberal arts university. We are dedicated to equipping students to discover meaningful connections between career, life, and the needs of the world. Drawing upon the riches of the Christian tradition, seeking to unite faith and reason through teaching and scholarship, Trinity Western University is a degree-granting research institution offering liberal arts and sciences as well as professional schools in business, nursing, education, human kinetics, graduate studies, and arts, media, and culture. It has four locations in Canada: Langley, Richmond-Lansdowne, Richmond-Minoru, and Ottawa. Learn more at www.twu.ca or follow us on Instagram @trinitywestern, Twitter @TrinityWestern, on Facebook and LinkedIn.