When upwards to 20,000 people from 195 countries descend on the remote town of Sharm el-Sheik, Egypt this November for the COP 27 climate summit—the United Nations Climate Change Conference—two third year Biology students from Trinity Western University will be among them.  
Rea Klar and Sarah Demian's official status as COP27 Observers will allow them to help influence negotiators, report back to other students and constituents in B.C., and further mobilize for climate action.
Klar, originally from Williams Lake, and Demian, originally from Chilliwack, both have active roles in the Environmental Club at TWU and recently met with mayoral candidates in Langley to discuss local climate action.
As observers, both women will be officially representing the Christian Reformed Church of North America as part of the Christian Climate Observers Program (CCOP2022). This program brings emerging leaders from under-mobilized constituencies to the COP climate summits for an immersive experience of climate action.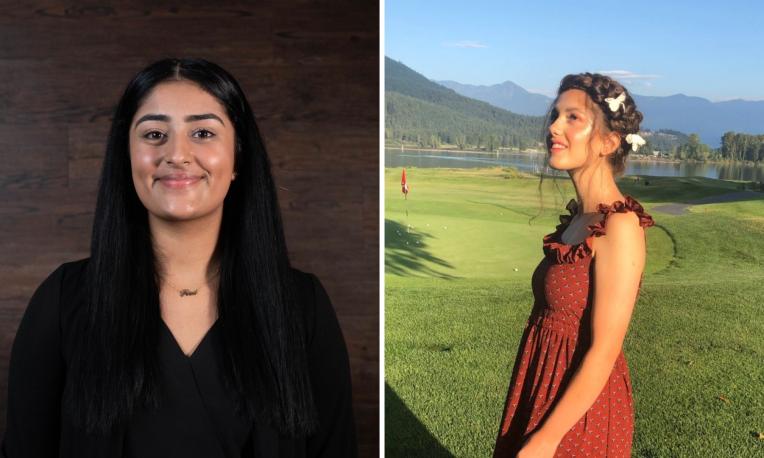 Motivated for creation stewardship
Klar says that she is attending COP27 because "my generation will face the worst of the repercussions of global warming and so, it's incredible that I get to educate myself through attending COP27. I get to build relationships of a lifetime with like-minded individuals from around the world and learn more about the direction we are heading globally regarding the climate crisis. Above all, I feel strongly called by God to be a steward of His glorious creations."
Demian's hope for COP27 is "to see some sort of global change to reach climate action goals. The climate crisis is serious and too many people don't realize that we need to act now. I'd love to see observers at COP27 share tangible steps for people to adopt in their own routines, but I'd also like to see world leaders making changes in their countries as a result of what was shared at COP27."
COP27, which runs November 7-18, 2022, will be the first meeting of the nations in which the Paris Agreement, adopted in 2015, has been in full effect. Important preparations will be made for the first "global stocktake" scheduled for 2023 when the nations will report on the progress of their carbon reduction targets. Other important items on the COP27 agenda include discussions on emission reduction plans, and a review of nations' commitments to finance mitigation and adaption projects in developing nations.
---
About Trinity Western University
Founded in 1962, Trinity Western University is a global Christian liberal arts university. We are dedicated to equipping students to discover meaningful connections between career, life, and the needs of the world. Drawing upon the riches of the Christian tradition, seeking to unite faith and reason through teaching and scholarship, Trinity Western University is a degree-granting research institution offering liberal arts and sciences as well as professional schools in business, nursing, education, human kinetics, graduate studies, and arts, media, and culture. It has four locations in Canada: Langley, Richmond-Lansdowne, Richmond-Minoru, and Ottawa. Learn more at www.twu.ca or follow us on Instagram @trinitywestern, Twitter @TrinityWestern, on Facebook and LinkedIn.