From Sydney to Canberra, to Melbourne and the Gold Coast—students on the Australia travel study explored the social, psychological, and cultural aspects of sports, experienced the Australian sports culture first-hand, and were encouraged to examine what they're learning through the lens of a Christian worldview.
Several students from the 2023 TWU travel study to Australia share their experiences.
---
For Anna Amate, seeing young girls cheer on female athletes during a netball match in Sydney was particularly inspiring.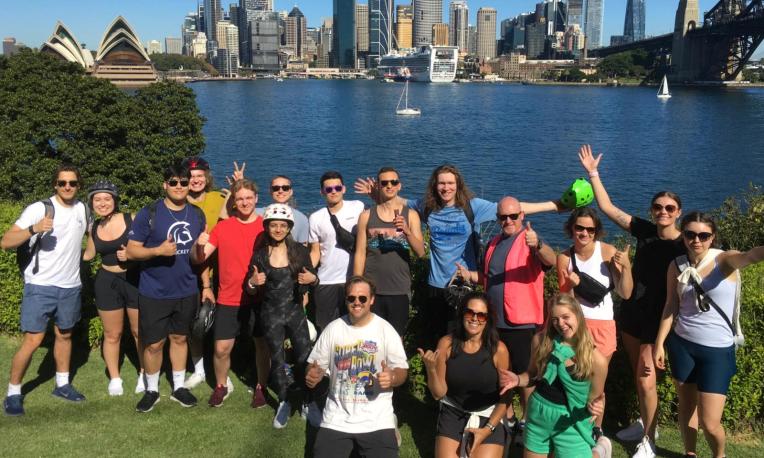 "Many young girls filled the seats to cheer on the female netball players," Anna recalls. "This showed the young girls that it was possible to pursue sports even past their youth, and the goal isn't too out of reach. Whether they aspire to go professional or not, maintaining health and fitness is incredibly important even from a Christian perspective."
Coming back from the trip, Anna, who majors in chemistry with a human kinetics minor, feels affirmed of the value of maintaining health and fitness throughout one's lifetime. She adds, "I am so grateful to have had the opportunity to go on this trip. It has made me grateful for what I have back at home but has changed the way I think and plan for the future."
---
---
Like many of the trip's participants, Anna joined the travel study partly to challenge herself.
Sports has had a strong influence on Anna's life since she was a youth. In joining the Australia travel study, she hoped to "not only re-ignite my passion for sports but my love for exploring and trying new things as well."

Anna and others on the travel study would not be disappointed.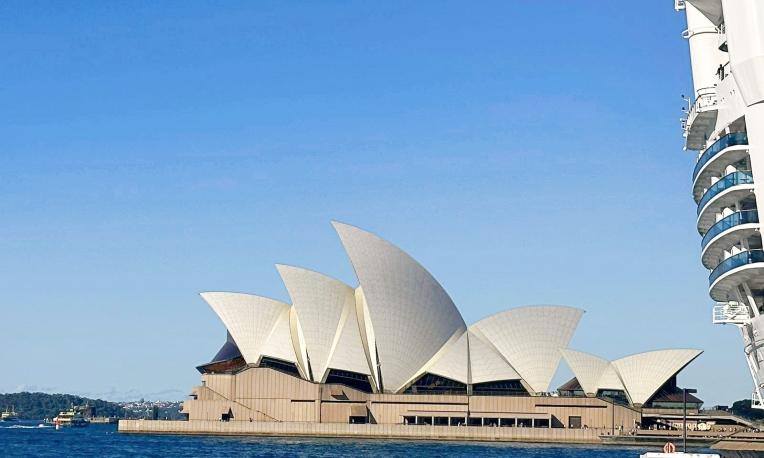 From Sydney to Canberra, to Melbourne and the Gold Coast—students on the Human Kinetics travel study explored the social, psychological, and cultural aspects of sports, experienced the Australian sports culture first-hand, and were encouraged to examine what they're learning through the lens of a Christian worldview.
Students toured the Olympic Games Facilities in Sydney, the Commonwealth Games facilities in Melbourne, and the Australian Institute of Sport in Canberra. They engaged with Australian sports experts such as coaches, athletes, and professors.
---
---
Trip highlights included attending Australian Football League (AFL) matches, a professional netball match, and a rugby match. There was even time to enjoy sightseeing trips to the Sydney Opera House, Sydney Bridge, and Manly Beach. Moreover, students gain academic credits during the Australia travel study, which is led by TWU School of Human Kinetics Dean Dr. Blair Whitmarsh and Director of Operations Lana Higginbotham, along with Australian sports psychologist Dr. Daryl Marchant.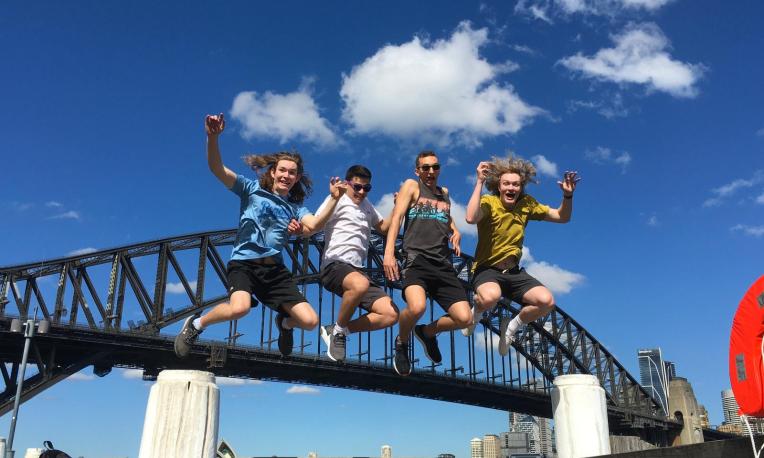 Like Anna, Jaden Ma was similarly impressed by watching the netball match, observing that "It was really neat to see how much of an impact netball has on these kids, and it's why I find netball to be such a cool opportunity for them!"
For Jaden, who is an education major, being at the Melbourne Cricket Ground AFL venue that holds up to 100,024 people was especially memorable. "The fans show a lot of passion for their team and love to show it by being rowdy all the time," Jaden recalls. "At the end of the game, the winning team's song will play and all of the fans stand up and sing along, which was super fun to participate in!"
Jaden adds, "I definitely have a much deeper appreciation for sports than I previously did, and definitely want to go back to Australia again someday!"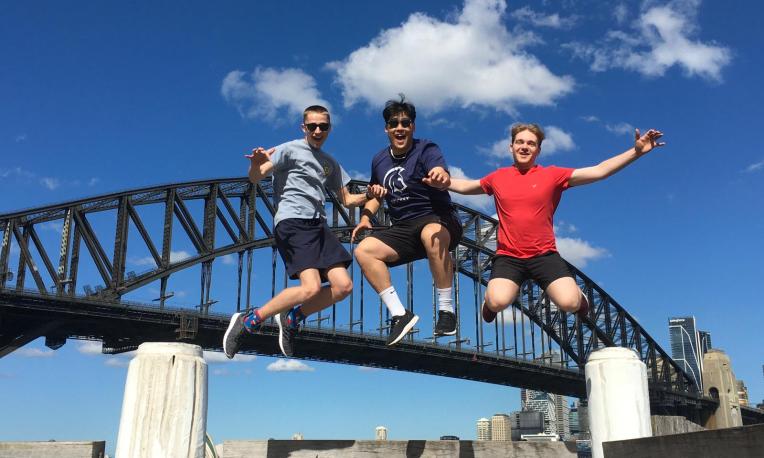 Paige Witt, an education major, shares, "I felt such a call on my heart from God to pursue this opportunity and step outside of my comfort zone and into this unknown." One of the most interesting experiences for Paige was visiting the Australian Institute of Sport (AIS) in Canberra and "witnessing the high standard their Olympic athletes must achieve."
"We got to ask Olympic athletes questions and walk through the facilities to see what a typical training day may look like," Paige recalls.
---
---
"It was also very interesting to learn about the difference in Australia's performance at the Olympics after the AIS was established in 1981 and how many other countries, including Canada, adapted this idea into their own training facilities to improve their own Olympic performance."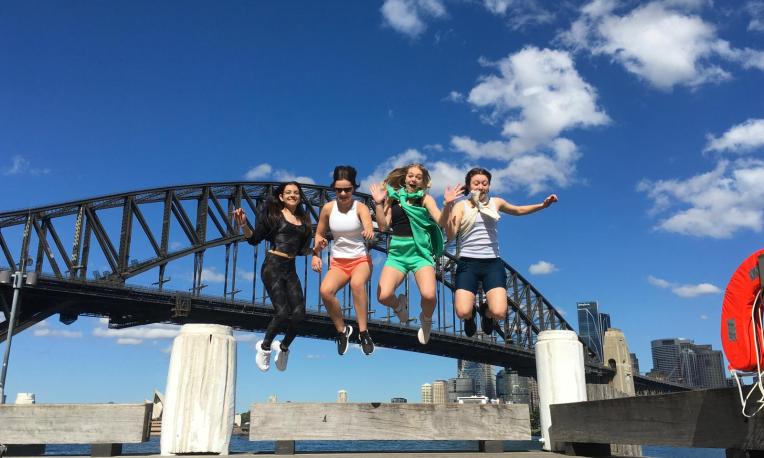 Human kinetics major Muskaan Arora also appreciated the opportunity to meet various professionals in the sports field.
"For my field of kinesiology, this travel study helped me gain both practical and theoretical knowledge of the courses provided," she reflected, adding an example, "I had a chance to talk to a physiotherapist during my free time, and I got to learn about her experience of being a part of the team that includes physiotherapists, kinesiologists, orthopaedic consultants, and an exercise physiologist."
---
---
Muskaan, who has lived in India and Canada, was further able to compare Australia's sports culture to those of other global regions. "I wanted to explore different places with a group of people," Muskaan explains. "Overall this travel study helped me gain new experiences and make great connections with people."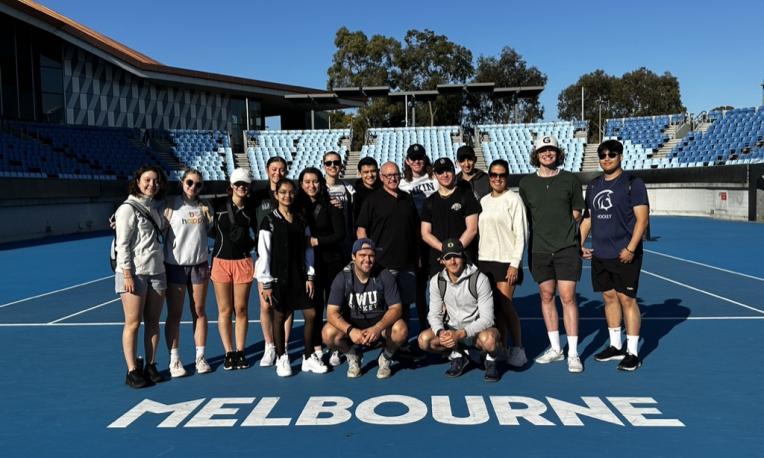 All in all, the students affirm the benefits of joining a TWU travel study. As Jaden encourages, "If the opportunity for you to go on one of these travel studies ever presents itself to you, I 100% encourage you to take it. I've been able to make new friendships and priceless memories through this trip and I wouldn't trade it for anything else!"
---
See also: TWU Ottawa travel study students gain fresh insight into government, public policy, and law 
---
About Human Kinetics at TWU

TWU's School of Human Kinetics is the largest faith-based program of its kind in Canada. Our professors are active members in their specialty communities and offer years of professional experience. They are trained to recognize their students' aptitudes and interests, helping you to develop personally and professionally throughout the program. Learn more at Human Kinetics at TWU.
---
About TWU Travel Studies
Travel studies allow students to be immersed in a different culture. TWU professors lead the courses, joined by guest speakers who provide a local perspective. For many students, participating in a travel study is one of the most memorable experiences of their entire major, if not a life-changing one. Learn more about Travel Studies at TWU.
---
About Trinity Western University

Founded in 1962, Trinity Western University is a global Christian liberal arts university. We are dedicated to equipping students to discover meaningful connections between career, life, and the needs of the world. Drawing upon the riches of the Christian tradition, seeking to unite faith and reason through teaching and scholarship, Trinity Western University is a degree-granting research institution offering liberal arts and sciences as well as professional schools in business, nursing, education, human kinetics, graduate studies, and arts, media, and culture. It has four locations in Canada: Langley, Richmond-Lansdowne, Richmond-Minoru, and Ottawa. Learn more at www.twu.ca or follow us on Instagram @trinitywestern, Twitter @TrinityWestern, on Facebook and LinkedIn.

For media inquiries, please contact: media@twu.ca.