Trinity Western University is delighted to honour the accomplishments of 599 graduands from our graduate studies and GLOBAL undergraduate programs.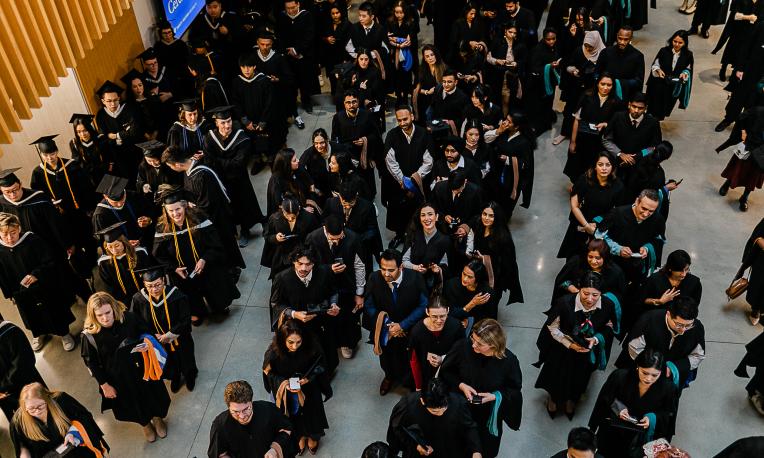 Milestone moment
It was a brisk fall afternoon on Nov. 4 when families, friends, staff, and faculty gathered at the Langley campus to cheer for graduands at TWU's fall 2023 graduation ceremony.
President Husbands expressed in the ceremony's program publication, "Graduation ceremonies are key transition points in life. As you graduate from a global Christian university focused on equipping graduates for life, we challenge you to continue to think truthfully, act justly, and live faithfully for the good of the world and the glory of God."
Equipped for positive and effective leadership
He continued, "At Trinity Western University, you have been given an intellectual foundation and moral framework upon which to build a life of positive and effective leadership. The world is in need of godly Christian leaders, capable of advancing the flourishing of people and institutions across the globe."

"As you offer your gifts, knowledge and expertise back to God, may you become a blessing and gift to others."
Embracing the future
This year's fall graduation commencement speaker was Director of MBA Programs Dr. Chen Liu. Since joining TWU's School of Business in 2014, Dr. Liu has taught and served students across multiple MBA streams, including MBA International Business, MBA Non-Profit Management, and the Great Wall MBA (China) programs. She has also spearheaded the launch of TWU's Executive MBA program.

In her commencement address, Dr. Liu acknowledged how graduands have successfully overcome many challenges in order to achieve their degrees. Going forward, she encouraged graduands to embrace new opportunities by saying yes. "It all starts with a yes," she remarked, "leading to conquering your own fear, humbling yourself, while knowing that there is a God that guides your way."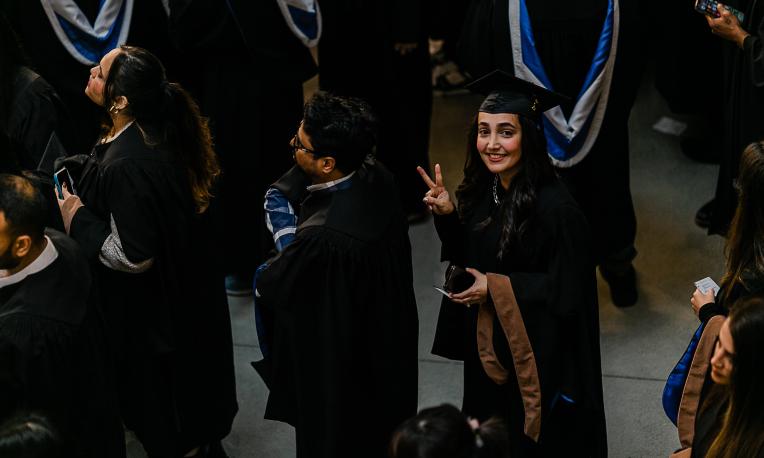 Global perspective and network
Dr. Liu congratulated graduands, "Class of 2023, you have excelled in your discipline. You have gained a global perspective by working with people from around the world, and you have developed an ethical, Christian framework to help you make the right choice. You have also gained this beautiful network of peers and supporters through your valuable classroom and out-of-class interactions."
"I pray that you will distinguish yourself as leaders of tomorrow, serving with excellence and leading with integrity. May you choose to be the salt and light in your family, community, workplace, and in the world. May you serve the world as men and women of high competency, high integrity, and great character."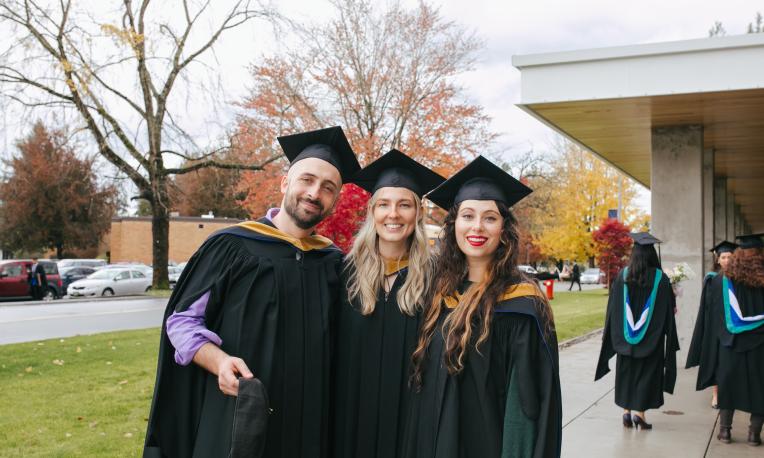 Human skills for a digital age
During the ceremony, Provost Martin affirmed that, in a digital age, it is human skills like leadership that will allow a person to stand out in their future vocations. The relational and human attributes sought after by employers cannot easily be replaced by technology, he observed. "As you leave with your degrees today, remember that your real worth is not in the parchment," he remarked, "but it is from being created in the image of God, and your real value to the world will be in how you live out what you have learned."
---
About Trinity Western University
Founded in 1962, Trinity Western University is a global Christian liberal arts university. We are dedicated to equipping students to discover meaningful connections between career, life, and the needs of the world. Drawing upon the riches of the Christian tradition, seeking to unite faith and reason through teaching and scholarship, Trinity Western University is a degree-granting research institution offering liberal arts and sciences as well as professional schools in business, nursing, education, human kinetics, graduate studies, and arts, media, and culture. It has campuses in Canada in Langley, Richmond, and Ottawa. Learn more at www.twu.ca or follow us on Instagram @trinitywestern, Twitter @TrinityWestern, on Facebook and LinkedIn.