Journalist, author, and educator Dr. Lloyd Mackey has close to half a century of experience in community, faith-based and leadership journalism, including 15 years working out of the Canadian Parliamentary Press Gallery in Ottawa.
In honour of Dr. Mackey's lifetime of service to Canada and to Canadian Christian communities, Trinity Western University is pleased to unveil a new digital collection of his works in the TWU Archives, the Lloyd Mackey fonds.
A launch celebration for the collection was held on March 16, 2023 at Trinity Western University.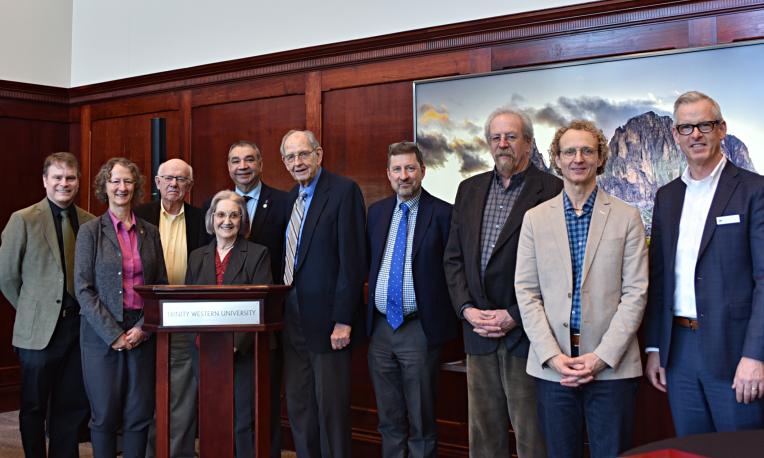 As the founding editor of Christian Info News (later BC Christian News), Dr. Mackey wrote extensively on living as a Christian within the political arena. He is the author of several books and many profiles of Christian leaders in public and political realms.  
The Lloyd Mackey fonds presents the legacy of Dr. Mackey's career in journalism and features important works produced during his time as a member of the Canadian Parliamentary Press Gallery. This fully accessible online collection consists of articles that highlight the "faith-political interface" as observed during Dr. Mackey's years working on Parliament Hill. It further highlights the collaborative governance through his reporting on the activities of faith-based organizations.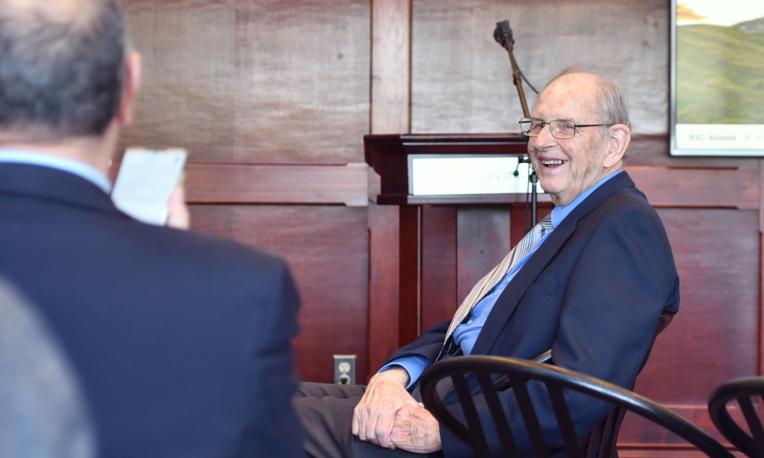 The Lloyd Mackey fonds at TWU documents an import part of the history of Christianity in Canada. The project was made possible through Dr. Mackey's relationship with TWU's Religion in Canada Institute (RCI), where he serves on the advisory board.
Political and International Studies professor and Director of the Religion in Canada Institute, Dr. Paul S. Rowe, helped to fulfill Dr. Mackey's desire to make his writing accessible and searchable for students, educators, and researchers seeking to observe and understand the interfacing of faith and politics in Canada.
On the occasion of the launch of the Lloyd Mackey fonds, Dr. Rowe comments, "Lloyd's journalism stood at the interface of faith and public life in Canada, and we are celebrating his legacy and the history of the Christian community media in Canada."
Dr. Mackey was present to give remarks at the launch event. He introduced his work and perspective on journalism. "My approach throughout my career and in Ottawa, has been community-based and, hopefully, collaborative," he remarked.
"There is much room for collaboration in a democratic setting where goodwill prevails."
Thinking of the legacy he is sharing, he expressed, "The hope of collaboration has been part of my DNA for 60 years. That hope provides clues for future faith-based politicians, philosophers, theologians, mediation lawyers, psychologists, journalists, labour and business leaders and ordinary thinking people to consider."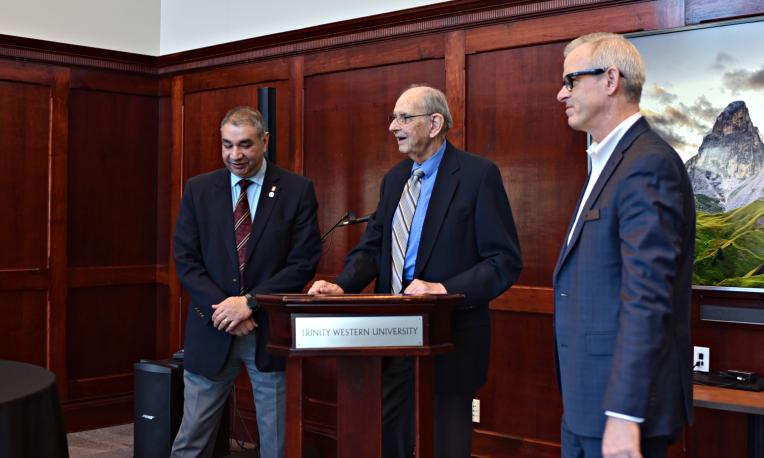 Trinity Western University is grateful to Dr. Lloyd Mackey for his generous contribution, and to the Religion in Canada Institute and TWU Archives for their participation in creating the Lloyd Mackey fonds. This significant journalistic collection will further the educational advancement and Christian faith integration at TWU.
See the the Lloyd Mackey fonds online, or visit TWU Archives and Special Collections online database to view other research and historical collections.
---
About Lloyd Mackey
An influential leader in Christian media, Lloyd Mackey is founding editor of BC Christian News. He began his journalism career as a reporter for Chilliwack Progress, where he later served as the editor. From 1998 to 2013, Lloyd was part of the Canadian Parliamentary Press Gallery. During his time in Ottawa, Lloyd wrote several hundred weekly columns, focusing on the faith-political interface in and around The Hill.
Books Lloyd has authored include These Evangelical Churches of Ours (Wood Lake Books, 1994), Like Father, Like Son: Ernest Manning and Preston Manning (ECW, 1997), More Faithful than We Think: Stories and Insights on Canadian Leaders Doing Politics Christianly (BayRidge Books, 2005), The Pilgrimage of Stephen Harper / Stephen Harper: The Case for Collaborative Governance (ECW, 2005/2006), and Church in Surrey & White Rock: The Untold Story (SWR Publishing Company, 2018). Further, he is founding editor and director of the Online Encyclopedia of Canadian Christian Leaders, an outgrowth of his Doctor of Ministry (DMin) studies, completed in 2015 through Tyndale University College and Seminary. Most recently, Lloyd served as Senior Editorial Advisor for Faith in Canada 150. During his long and full career, he also taught journalism part-time at Trinity Western University.
---
About Religion in Canada Institute 
The Religion in Canada Institute (RCI) at TWU is an interdisciplinary research centre and intellectual community of scholars at Trinity Western University committed to understanding the multifaceted role of religion in Canada for culture, individuals, and social institutions. Learn more at the Religion in Canada Institute.
---
About Trinity Western University
Founded in 1962, Trinity Western University is a global Christian liberal arts university. We are dedicated to equipping students to discover meaningful connections between career, life, and the needs of the world. Drawing upon the riches of the Christian tradition, seeking to unite faith and reason through teaching and scholarship, Trinity Western University is a degree-granting research institution offering liberal arts and sciences as well as professional schools in business, nursing, education, human kinetics, graduate studies, and arts, media, and culture. It has four locations in Canada: Langley, Richmond-Lansdowne, Richmond-Minoru, and Ottawa. Learn more at www.twu.ca or follow us on Instagram @trinitywestern, Twitter @TrinityWestern, on Facebook and LinkedIn.
For media inquiries, please contact: media@twu.ca.