Wear Red Canada on February 13 is a day highlighting the importance of heart and vascular health while promoting a healthy lifestyle.

Dr. Anita Coté, TWU associate professor in the School of Human Kinetics who holds the Canada Research Chair in Cardiovascular Adaptation to Exercise, is using the month of February to bring awareness to women's heart health through initiatives at the Langley campus.
Join Dr. Anita Coté and her research team to bring awareness to this issue. Participate in activities to learn about heart health by swinging by the David E. Enarson Gymnasium on Feb. 13 from 11 a.m. to 1 p.m.
Activities happening on Feb. 13 at the Enarson Gymnasium include cookie decoration, a "pin the pulmonary valve on the heart" game, puzzles, and other educational engagement.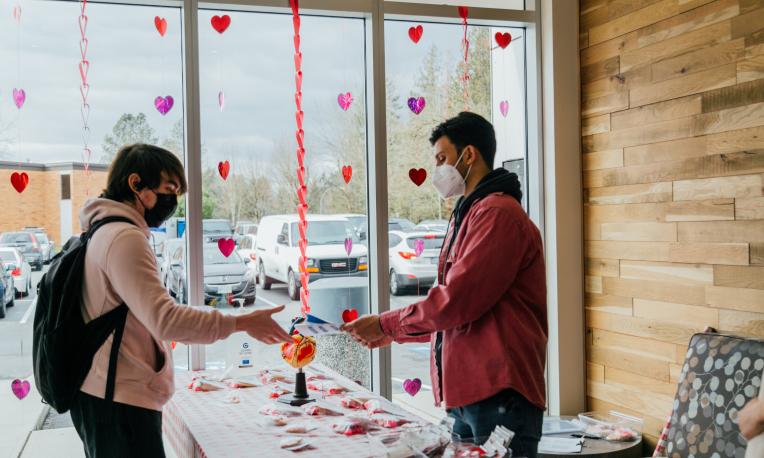 Look out for other initiatives going on throughout February, including:
Join a fitness class at TWU's campus. Entrance fees to fitness classes will be waived during the month of February (limit of five free classes per person). 
 
Join Natalie Szakun, TWU research assistant with Dr. Anita Coté's Integrative Cardiovascular Physiology Laboratory, as she attends and volunteers at "Ask the Expert," a panel discussion with experts in women's heart and brain health hosted by Wear Red Canada. This public event is taking place on Feb. 13 in person in downtown Vancouver and online through Facebook live.
 
Visit TWU's fitness centre, which will be offering special incentives for staff, faculty, students, and alumni to engage in physical activity—including prizes for the top fitness centre users during the month of February. The top three student/employee fitness centre users will win a hoodie or a t-shirt, while the top three users from among alumni and the community will win a free fitness centre 25-pass.
 
Attend a TWU Spartans "heart themed" home game during February and receive health-related educational resources.
 
Learn more about vascular health from HKIN faculty members who will be integrating women's heart health content within their course curriculum.
---
About the School of Human Kinetics (HKIN)
Known for its small class sizes, TWU's School of Human Kinetics is the largest faith-based program of its kind in Canada. Our professors are active members in their specialty communities and offer years of professional experience. Learn more at the School of Human Kinetics.
---
About Trinity Western University
Founded in 1962, Trinity Western University is a global Christian liberal arts university. We are dedicated to equipping students to discover meaningful connections between career, life, and the needs of the world. Drawing upon the riches of the Christian tradition, seeking to unite faith and reason through teaching and scholarship, Trinity Western University is a degree-granting research institution offering liberal arts and sciences as well as professional schools in business, nursing, education, human kinetics, graduate studies, and arts, media, and culture. It has four locations in Canada: Langley, Richmond-Lansdowne, Richmond-Minoru, and Ottawa. Learn more at www.twu.ca or follow us on Instagram @trinitywestern, Twitter @TrinityWestern, on Facebook and LinkedIn.
For media inquiries, please contact: media@twu.ca.