On a Friday afternoon, there was pizza and laughter inside the Neufeld Centre computer lab at TWU as high school students presented their final coding projects.
For the third time since 2020, TWU invited high school students to take the course CMPT 113 Computational Thinking and Information Systems and get a preview into university-level studies in Computing Science.
In addition to gaining hands-on experience in coding, a broad introductory understanding of information systems, and mentorship from instructors, students also receive university academic credit—providing them a head start on their future post-secondary studies. Some past participants of the program have later chosen to continue their education at TWU.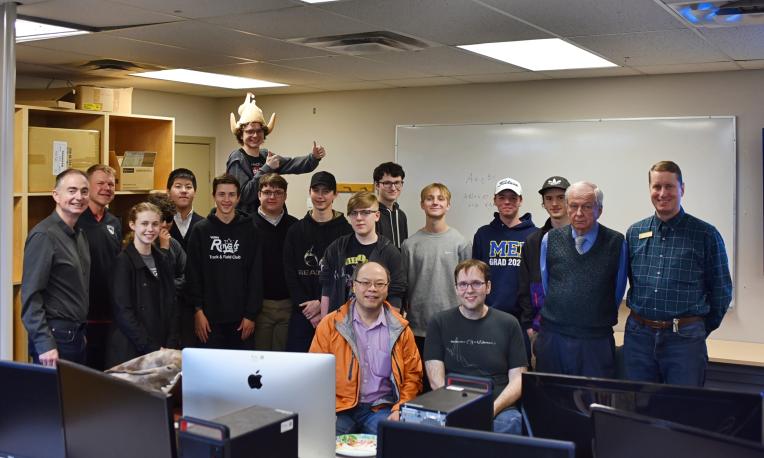 This spring semester, 14 students from across the province joined the program. They included students from MEI (Abbotsford, B.C.), Highroad Academy (Chilliwack, B.C.), Cedars Christian School (Prince George, B.C.), and Maple Ridge Christian School (Maple Ridge, B.C.). Dr. Ryan McBride and Dr. Herbert Tsang from TWU taught the course, in partnership with Dean Weiss of MEI. Dale Lutz, Co-Founder of Safe Software and a member of the TWU Computing Science Advisory Council, supported the students as well.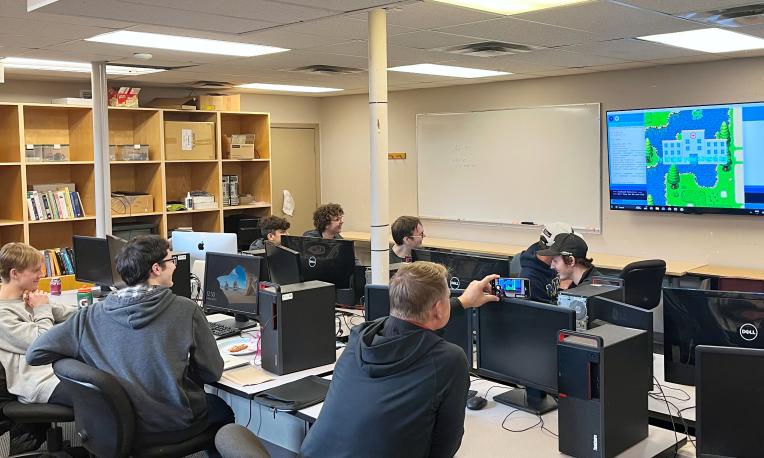 On April 21, the students who participated came to TWU to celebrate the completion of their course and to present their final group projects. In teams of two, students had been challenged to build an original computer game inspired by a biblical story or parable. Their creations were inventive and engaging, complete with characters, storylines, and multiple levels of difficulty.
The program is set to run again in the spring of 2024. Schools that are interested to participate can contact TWU's Computing Science department at cs@twu.ca.
---
About Computing Science at TWU
Trinity Western's Computing Science program prepares graduates to be technological leaders with a global perspective. In addition to studying fundamental computing science topics, our students choose from a variety of elective courses, including: artificial intelligence, software engineering, computer graphics, databases, programming languages, computer networking, and virtual reality. Learn more at Computing Science at TWU. 
---
About Trinity Western University
Founded in 1962, Trinity Western University is a global Christian liberal arts university. We are dedicated to equipping students to discover meaningful connections between career, life, and the needs of the world. Drawing upon the riches of the Christian tradition, seeking to unite faith and reason through teaching and scholarship, Trinity Western University is a degree-granting research institution offering liberal arts and sciences as well as professional schools in business, nursing, education, human kinetics, graduate studies, and arts, media, and culture. It has four locations in Canada: Langley, Richmond-Lansdowne, Richmond-Minoru, and Ottawa. Learn more at www.twu.ca or follow us on Instagram @trinitywestern, Twitter @TrinityWestern, on Facebook and LinkedIn.