Nursing instructor and Indigenous consultant Kathleen Lounsbury is helping to transform the curriculum and teaching practices at TWU to better integrate Indigenous ways of knowing.
"There's so much that we can do, many different areas to implement traditional curriculum," said Lounsbury, who is from Kwakwaka'wakw First Nation.
As a nurse who is completing her PhD in Nursing at TWU, Lounsbury expresses her excitement to continue her work in helping TWU Indigenize its curriculum and preparing graduates for their future service within Canadian healthcare systems.
---
---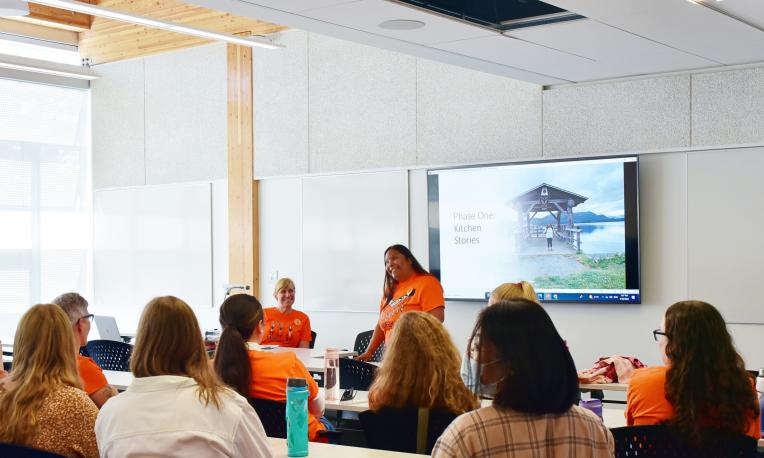 Nursing students engage Indigenous history
Lounsbury works to expand nursing students' knowledge of Indigenous history and culture, in order to better prepare them for their future service within Canadian healthcare systems.
She teaches Indigenous historical perspectives, the history of colonization, Canada's response to colonization, and the shift towards Indigenous self-governance.
As well, she teaches the importance of trauma-informed care and cultural awareness.
---
---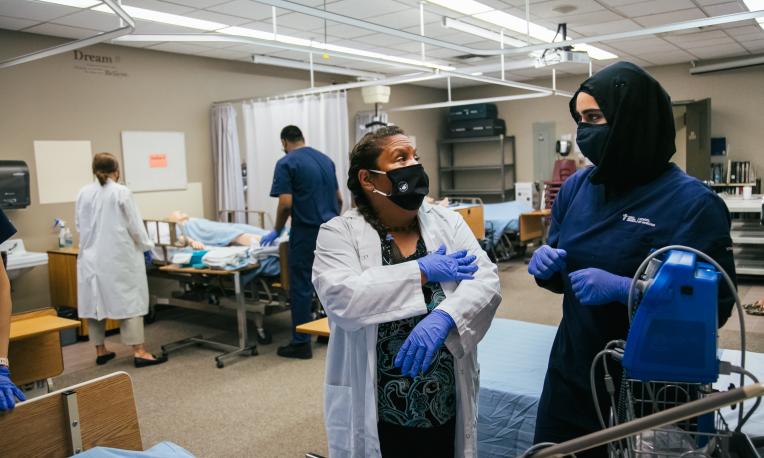 Indigenous knowledge informs healthcare
Lounsbury teaches ways to implement Indigenous knowledge into healthcare, including the knowledge of medicinal plants and holistic healing practices. She introduces students to the medicine wheel, as well as to ways of translating that into nursing practice. 
Her work expands nursing students' knowledge base, providing them a broad perspective of global health and of diverse healthcare models and practices.
"By the time they graduate, they will have a firm grasp on what it means to be a nurse and to care for the Indigenous population," she said.
Lounsbury notes that her classes are sometimes the first time for many students to encounter Canada's Indigenous history. For Lounsbury, this underscores the significance of her work.
---
---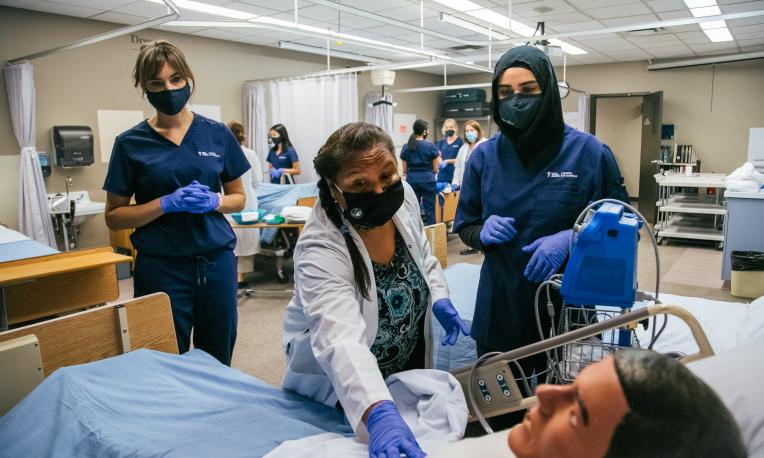 Creative and hands-on approaches to nursing education
When it comes to teaching, Lounsbury uses many creative and hands-on approaches. She runs an Indigenous clinical with students and invites guest speakers, including Indigenous elders who have survived residential schools. Students have opportunities to speak with Indigenous leaders and ask questions.
---
Lounsbury uses many creative and hands-on approaches. She runs an Indigenous clinical with students and invites guest speakers, including Indigenous elders who have survived residential schools. Students have opportunities to speak with Indigenous leaders and ask questions.
---
Using teaching tools to show experiences of Indigenous communities
The blanket exercise is an important teaching tool that Lounsbury uses to portray the experiences of Indigenous communities throughout Canada's history and up until the Truth and Reconciliation Commission's process and conclusion. The blanket exercise provides a memorable object lesson that visually demonstrates how Indigenous people lost their land.
Another object lesson Lounsbury uses is the black rope exercise, with the rope signifying Canada's oil and gas industry. "I have everybody hold onto [the rope] because we are all a part of that," she explains. As the students handle the rope together, Lounsbury uses this activity as a discussion starter on how the oil and gas industry has affected Indigenous communities.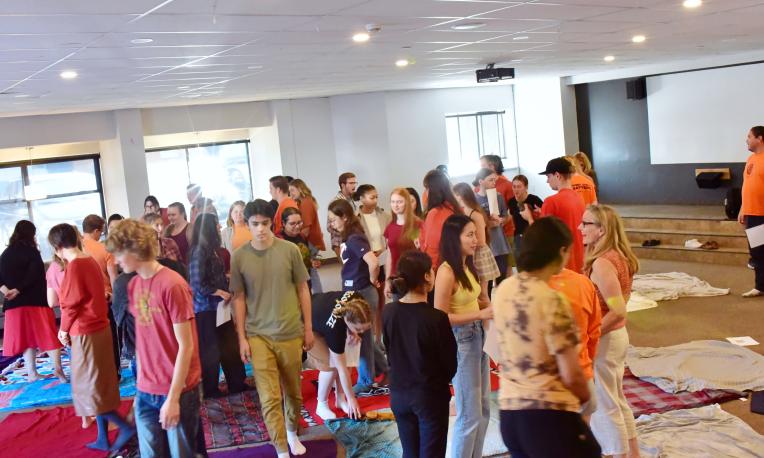 Employing the use of arts and media, Lounsbury leads groups of students to view the film, When We Were Children, and then guides them in follow-up discussions. She and her students reflect on the history and impact of residential schools.
These activities help future nurses develop a growing awareness of Indigenous communities and their strengths, as well as the particular needs and concerns of Indigenous peoples.
September 30 National Day for Truth and Reconciliation
For the past two years, on September 30, Trinity Western University has hosted a university-wide Day of Learning. On this day, Lounsbury and others led the TWU community in commemorating the National Day for Truth and Reconciliation.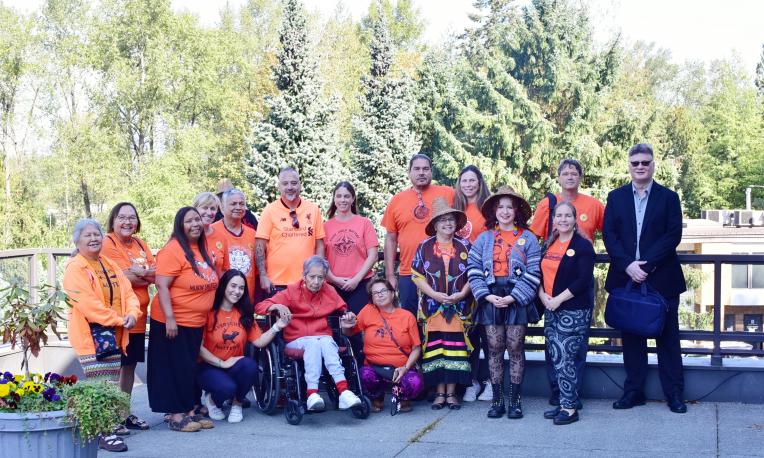 The campus-wide Day of Learning aims to foster greater knowledge and understanding of Indigenous history and cultures, and to reflect on the history and legacy of residential schools.
Last September, Indigenous elder Adeline Brown from Haida Gwaii was a special speaker at TWU's Day of Learning. Brown and her husband Rev. Bruce Brown are both survivors of residential schools, and they have spent many years ministering among First Nations peoples. 
Lounsbury and her colleague Dr. Kendra Rieger from the School of Nursing conducted a workshop on "Kitchen Stories," a research project to explore Kwakwa̱k'wakw women's traditional practices with pregnancy, birthing, and post-birth, and the important ceremonies, practices, language, and rituals during this time. 
Other Day of Learning events included hearing the stories and experiences from many Indigenous elders, and appreciating the work by artist Bon Graham [b.wyse] of Stó:lō and Snunéymuxw ancestry.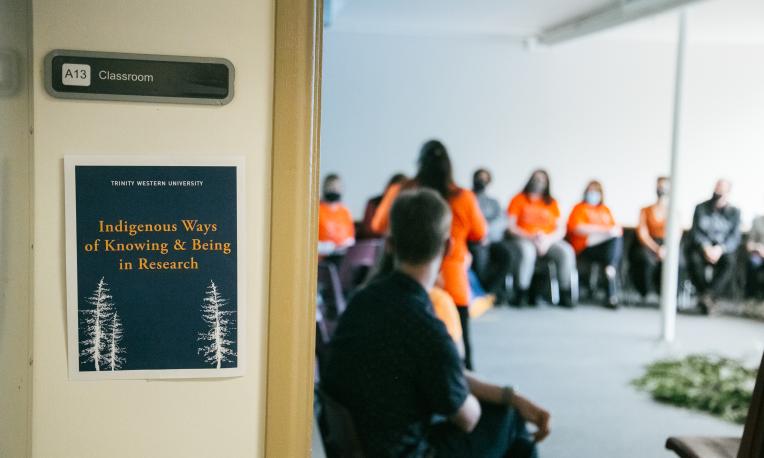 University-wide learning and engagement
Year-round, the Trinity Western community participates in learning and engaging Indigenous perspectives.
The campus community has supported the Moose Hide Campaign to end violence against Indigenous women and Orange Shirt Day in remembrance of residential school survivors. The University has also hosted a series of prayer vigils in response to the discovery of children's remains at former residential schools. As well, the campus has hosted Red Dress ceremonies and group walks to remember missing and murdered Indigenous women and girls.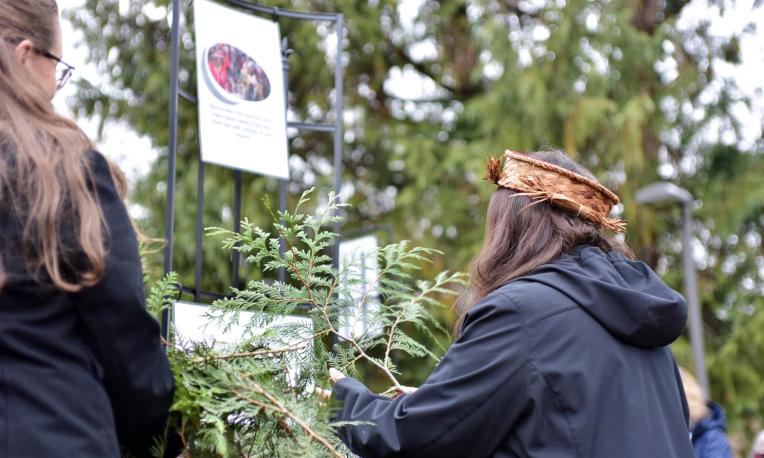 TWU Nursing students complete practicums in Indigenous communities
Over the years, Trinity Western has had many partnerships with Indigenous communities, in which nursing students can pursue their practicums within Indigenous reserves. Lounsbury herself completed her nursing practicum at Seabird Island First Nation during her bachelor of nursing studies. Following graduation, Lounsbury remained at Seabird Island to work as a community nurse. She later worked in community healthcare at Cheam First Nation, and in communities within the Burrard Inlet. She has also served within the City of Surrey, with a high-risk pregnancy centre, helping to provide care to urban Indigenous populations. She taught at the Native Education College in Vancouver, teaching their Health Care Assistant program and practicum.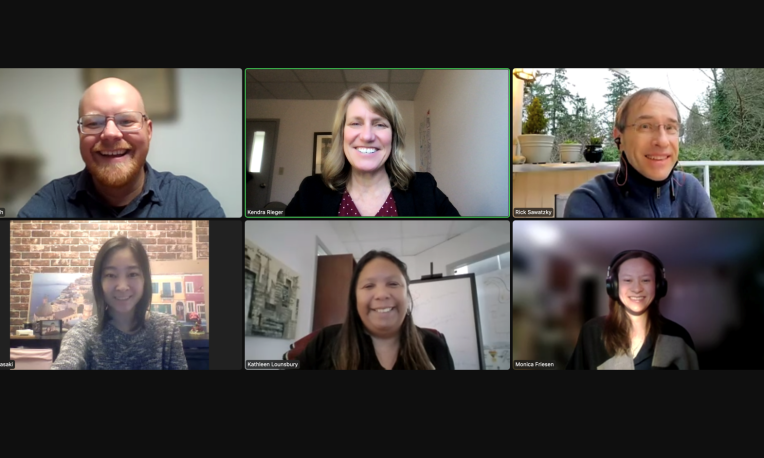 Advancing in higher education
Following her work in the nursing field, Lounsbury returned to TWU to pursue a master's degree and to research nursing leadership within community healthcare. She explored how nursing leaders adapted to systems change, with a particular emphasis on analyzing the healthcare models of both First Nations Health Authority and Health Canada.
As part of her graduate research, Lounsbury spoke with nurses and leaders who had experience with both First Nations Health Authority and Health Canada models, to see what kind of leadership modalities worked for them, and how they adapted to systems change. As these nurses were moving from a First Nations system focused on valuing cultural identity and Indigenous ways of knowing, Lounsbury sought to understand which leadership skills were challenged, and what these nurses saw as positive and negative aspects of each system. Some of Lounsbury's research participants expressed their desire to see system changes for the benefit of First Nations communities.
Currently, Lounsbury is completing a PhD in Nursing at TWU while continuing to teach and pursue research.
---
See also: TWU researchers incorporate Indigenous knowledge into healthcare technology 
---
About Indigenous Initiatives at TWU
As a global Christian university, TWU continues to foster greater knowledge and understanding of Indigenous cultures, worldview, and history among students, staff, and faculty. We do this by providing educational opportunities, engaging in community partnerships, and through caring for and supporting Indigenous students. Learn more about Indigenous Initiatives at TWU.
---
About Trinity Western University
Founded in 1962, Trinity Western University is Canada's premier Christian liberal arts university dedicated to equipping students to establish meaningful connections between career, life, and the needs of the world. It is a fully accredited research institution offering liberal arts and sciences, as well as professional schools in business, nursing, education, human kinetics, graduate studies, and arts, media, and culture. It has four campuses and locations: Langley, Richmond-Lansdowne, Richmond-Minoru, and Ottawa. TWU emphasizes academic excellence, research, and student engagement in a vital faith community committed to forming leaders to have a transformational impact on culture. Learn more at www.twu.ca or follow us on Twitter @TrinityWestern, on Facebook and LinkedIn.
For media inquiries, please contact: media@twu.ca

This article includes a prior interview with Kathleen Lounsbury first published Sep. 27, 2021.