At Trinity Western University's branch campus in Richmond, BC, students practice leading others, managing teams, and developing solutions to complex problems.
Home to two locations — Minoru and Lansdowne — TWU's Richmond campus offers programs in BA Leadership and MA Leadership, among other graduate and professional programs.
Every year, roughly 1,000 students study at one or both Richmond sites.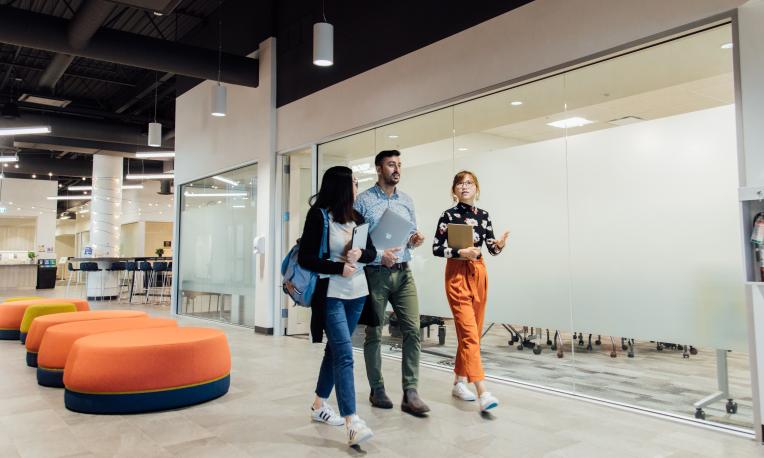 On Nov. 4, TWU Richmond's Lansdowne location is hosting a celebratory open house to showcase its programs and facilities, and to honour the people who have helped to foster a great campus community, including TWU's students, staff, faculty, leadership, city representatives, and educational partners.
---
---
Graduates prepared for the workplaces of tomorrow
Trinity Western seeks to prepare students well for their lives and chosen career paths. According to the World Economic Forum's The Future of Jobs Report, the skillsets that make graduates more competitive in the marketplace include critical thinking and analysis, creativity and initiative, emotional intelligence, and leadership and social influence.
TWU's Leadership programs are designed to equip students in these very capacities, through coursework and group learning labs.
Professor Mark Halvorson highlights some of the distinctives of TWU's Leadership programs:
"We give students real opportunities to learn how to build positive relationships and work successfully with others. In learning how to develop community and friendships, students can connect these experiences to their courses and draw practical lessons for their careers."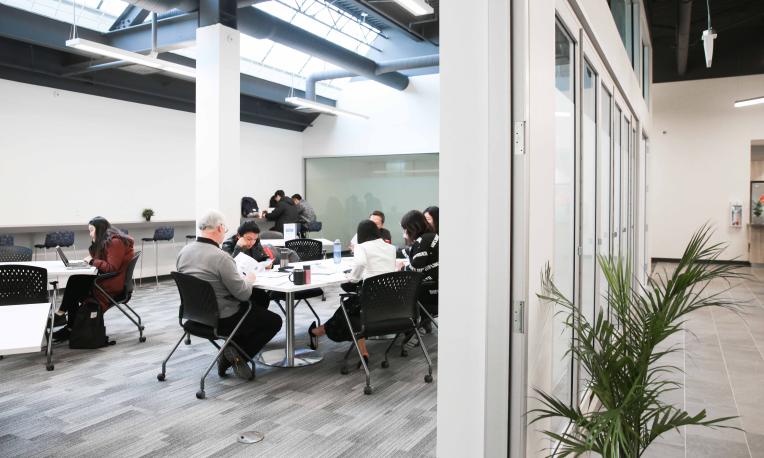 Learning in community
"We are adopting a new perspective on what a great university education can be," Halvorson continues. "The past two years of pandemic-era learning has forced us to have that beginner's mindset and to look closely at what we're teaching." A key part of this curricular review was listening to students' input.
In fact, listening to students helped TWU faculty design and implement a program that enables students to take up leadership—within a learning lab.
---
---
Building upon the idea of the classroom as an organization, students are given responsibilities to plan, organize, and lead others within a classroom setting. The learning is focused on several skills: helping students lead great group conversations, challenging teams to grow and solve problems, and cultivating meaningful community.
Within a learning lab that simulates an organizational setting, students practice establishing a meeting agenda, engaging with others in friendly conversation, determining roles within the group, and setting the expectations for various roles. By actively participating, students gain greater confidence and awareness of self and others.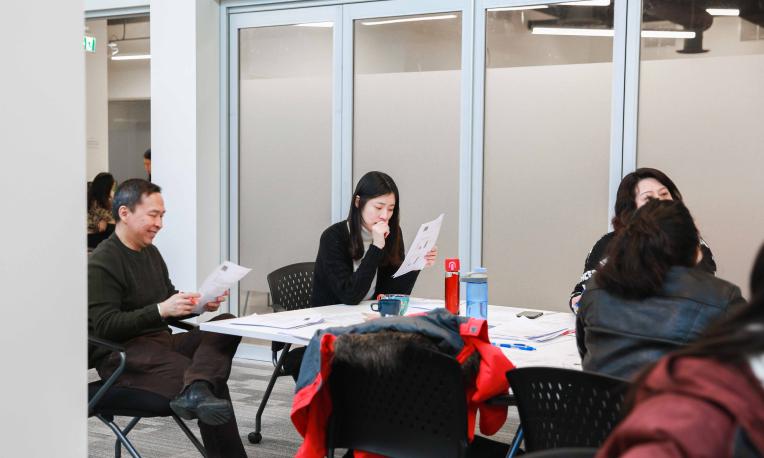 The vision is to provide a place for social connection and professional development where students can develop as leaders. As Halvorson emphasizes, "Our desire is to help students grow in confidence, experience meaningful community, and generate hope for the future."
"We believe that teaching is not just about content delivery—there's much more," he continues. "There's also social learning, and as a Christian university, there's also an important spiritual component." Indeed, TWU's Leadership programs facilitate learning in these holistic dimensions that are beyond traditional classroom learning.
---
---
'Leadership is about taking initiative'
The feedback from students reflects the program's success. Students have expressed that the program has helped them embrace their own identity as a leader, and to practice leadership in a group context.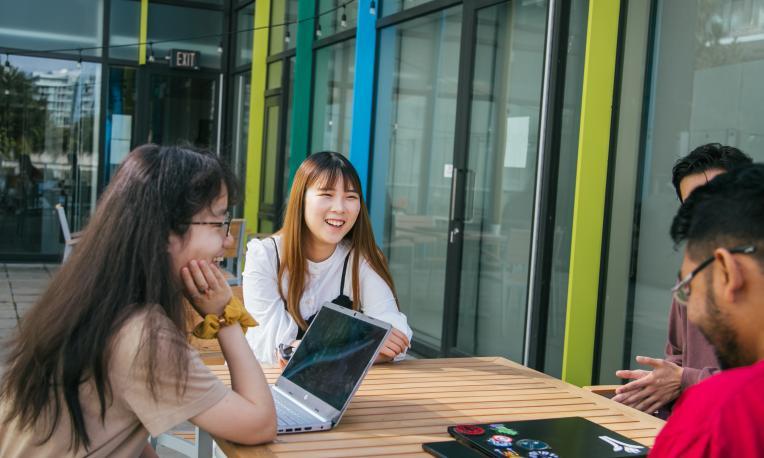 "The program is helping students to realize they can be leaders in everyday contexts, and leadership isn't just about being a CEO or boss," Halvorson notes, "Leadership is about taking initiative and contributing to your community, workplace, or school. That's what being a leader is about."
Indeed, students have found great value in the opportunity to practice being leaders within a supportive, facilitated environment. It even surprised Halvorson and other faculty members to see the degree of the students' eagerness to participate in the learning labs.
Another surprising success was the students' engagement with appreciative inquiry. A popular model for organizational change, appreciative inquiry encourages people to seek positive ways to solve complex issues.
---
---
Appreciative inquiry leads to positive solutions
As a method of change management, appreciative inquiry leads students ask reflective questions like, "What are people's strengths? Where is there progress? How are people working to solve problems?" Students rely on momentum generated from their inquiry to foster ideas and create plans that allow them to make meaningful changes to everyday problems.
Examples of problems students chose to tackle include choosing university courses, improving upon living arrangements, and navigating immigration processes. Within a learning lab, students would bring those questions to their teams and take advantage of the collective wisdom of their peers. In this way, students gained the skills to solve problems in a positive, team-based manner.
---
---
Telling the story of skills learned
Professor Halvorson finds great encouragement in seeing students progress, as they come to recognize themselves as leaders, gain confidence, and develop and exercise leadership skills.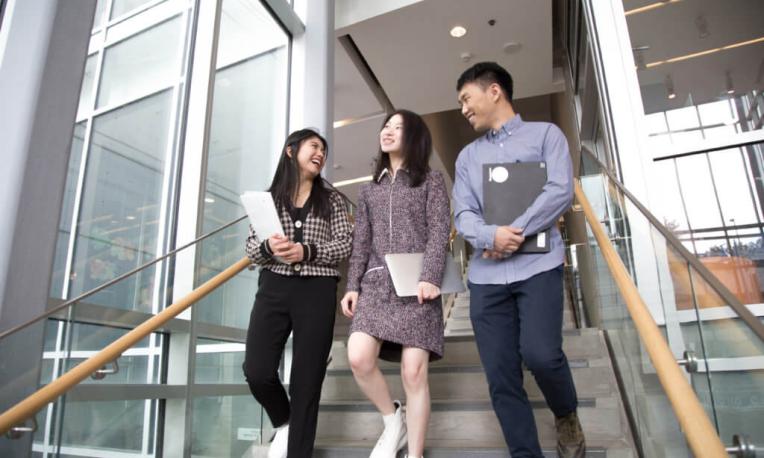 This progress is especially evident when students begin to tell the story of the skills they have learned.
Prior to graduation, students learn how to showcase their capabilities in an interview process, like ones that they would encounter as they enter the workforce.
Facilitators host interview simulations and present students with typical workplace interview questions. Students are guided to connect the skills that they have acquired and to frame those as stories that would demonstrate their competence and character.
The result is that students feel more prepared to pursue the beginnings of their careers, know how to present themselves well, and are more confident in speaking up.
TWU welcomes a global community of learners. Our faculty and staff foster an environment where students' unique perspectives are valued. As Halvorson highlights about TWU's Leadership programs, "We support students to participate in the classroom with a sense of confidence, with the realization that they each have something insightful to offer."
---
About TWU Richmond
Located in the heart of the city, TWU Richmond provides programs tailored to the urban and international audience in Richmond and Metro Vancouver. The expansive, modern spaces are designed for students to engage in TWU bachelor's degree and master's degree programs. Learn more about the programs offered at TWU Richmond.
---
About Trinity Western University
Founded in 1962, Trinity Western University is a global Christian liberal arts university. We are dedicated to equipping students to discover meaningful connections between career, life, and the needs of the world. Drawing upon the riches of the Christian tradition, seeking to unite faith and reason through teaching and scholarship, Trinity Western University is a degree-granting research institution offering liberal arts and sciences as well as professional schools in business, nursing, education, human kinetics, graduate studies, and arts, media, and culture. It has four locations in Canada: Langley, Richmond-Lansdowne, Richmond-Minoru, and Ottawa. Learn more at www.twu.ca or follow us on Instagram @trinitywestern, Twitter @TrinityWestern, on Facebook and LinkedIn.