History major Cedric Iyumva's investigation into the lesser-known history of the 1972 Burundi genocide is recently published in UC Berkeley's undergraduate history journal, Clio's Scroll.
Cedric shows how looking at this story from a relational standpoint introduces a new dimension for peace.
---
Very few have heard about the Burundi genocide of 1972 in relation to the more widely studied Rwandan genocide of 1994. The two, however, are closely linked.
"I wanted to show the world a story and history that they hadn't properly been told or understood, a genocide that got lost again and again," said history major Cedric Iyumva, whose investigation into the lesser-known history of the 1972 Burundi genocide is recently published in UC Berkeley's undergraduate history journal, Clio's Scroll.
"My research examined how historical blindness towards the Burundian Hutus and Burundi genocide of 1972 occurred, and reproduces itself," he explains. "I show how the pain and suffering—the story of the Burundian Hutus—was continuously silenced and delegitimized.  And how scholars continued to leave their story behind, re-creating a blindness in history."

Cedric shows how looking at this story from a relational standpoint introduces a new dimension for peace.
---
---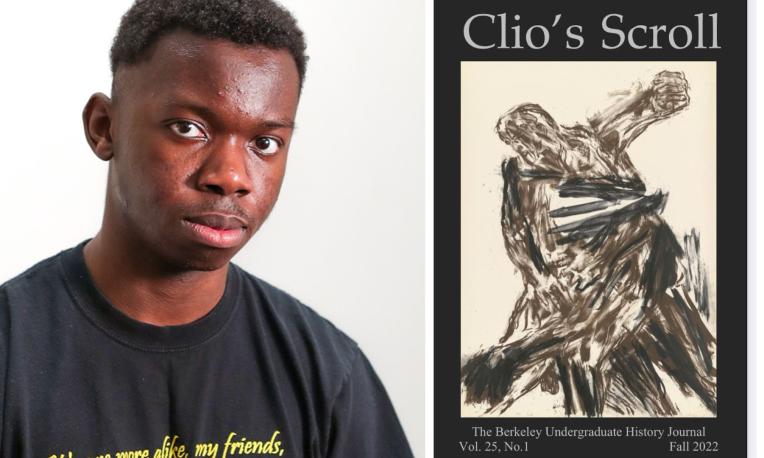 His research journey began three years ago in the spring of 2020, when he thought to himself, "why not learn about my parents' upbringing and my roots in Burundi?"
Guided by both personal and academic curiosity, Cedric asked:
"I wondered why Burundian people were portrayed so poorly in the media, and why conflict seemed to be so re-occurring in the country." 
In his search for answers, he stumbled upon a master's thesis that analyzed the Nixon-era White House audio tape recordings, revealing the U.S. response in 1972 as violence unfolded in Burundi.
"As a person who had learnt about genocide in Rwanda during my time studying history in the International Baccalaureate programme, I was both appalled and confused at how nobody talked about this genocide with any relative recognition, even though both were connected."
This enigma further fueled his search for truth. Cedric describes, "As I read books and papers from scholars on Rwanda, I saw that almost none of them mentioned Burundi or acknowledged the Burundi genocide of 1972 that put my parents in refugee camps [when they were] growing up, and shaped ethnic perceptions in Rwanda during the 1994 genocide in Rwanda."
"I was appalled."
Searching deeper for answers
During this time, Cedric enrolled in a world history course with Dr. Robynne Healey, as he sought to verify if his findings were "legitimate or imaginary." 
After handing in his work and receiving his graded paper back, Cedric recalls, "Dr. Healey told me that I was 'operating at a very high level' that exceeds the expectations she would have and invited me to take a senior-level seminar where the expectations and level of work would challenge me more." With this feedback, Cedric felt affirmed.
"So, my hunch was correct."
Encouraged to dig deeper, Cedric then took the initiative to email almost every scholar cited in his work, politely asking if they would provide feedback on his research. 
"Thankfully, almost all of them graciously responded and provided me with harsh feedback (some writing multiple, singled-spaced pages) or encouragement. But I got to see what each of these scholars doubt or disagree with in my work, which was an incredible process that allowed me to better shape my work."
Persisting through to publication
Although it was not a straightforward journey to publication, Cedric persisted. His research was first rejected by an undergraduate journal at Columbia University, before reaching the final round of selection at Yale University. Then, more than two years later, his work received acceptance by an undergraduate/postgraduate journal at Oxford University, and by UC Berkeley's undergraduate history journal.
Now that his paper has been published, Cedric wishes to thank the many scholars who provided feedback on his work. He also credits his closest supporters. "This publication would not have been possible without the help of my family. I was fortunate to hear their stories and our shared history, and find the interconnectedness between their past and today." 
As well, Cedric is grateful to the writing coaches at TWU's Writing Centre to the TWU Library staff, and to "my many friends who supported, encouraged, read and provided me feedback throughout the last three years—thank you."
'I hope you hear my outcry for the left behind'
Finally, Cedric offers a note of encouragement to readers of his research:
"In reading this work, I hope you bear witness or want to learn about the effects of colonial rule on conflict in Burundi and the importance of history and how we tell it, on people. I hope you will hear my voice and what my heart is speaking for. I hope you hear my outcry for 'the left behind,' the ones who cannot move, and those who become immobilized because the light no longer shines on them."
---
---
"My hope is that future historians from all over the world reading about this story somewhere someplace near or far, can learn, understand and maybe be inspired to do further research into this topic; that we may all see one another as humans made in the image of God."
Currently, Cedric aspires to pursue a career in the medical field, but he is also passionate about historical research.
He feels compelled to use his writing and analytical ability to "tell stories of those who aren't heard," referencing the biblical exhortations, "to speak truth as Ephesians 4:25 calls us, and to act justly and to love mercy as Micah 6:8 calls us, in a non-hostile and loving way." 
---
Read Cedric Iyumva's paper, "Left Behind: The Burundian Hutus and Continuity of Historical Blindness," in Clio's Scroll, the Berkeley Undergraduate History Journal (Vol. 25, No.1).
---
About History at TWU

A degree in history from TWU trains graduates to be knowledgeable, thoughtful, and effective leaders. As a history student at TWU, you'll become aware of the processes of change and the development of peoples, institutions, environments, and ideas over time. Learn more at History at TWU.
---
About the Faculty of Humanities and Social Sciences at TWU
TWU's Faculty of Humanities and Social Sciences equips you to analyze, understand, and engage meaningfully with today's world. Through its many and diverse areas of study, the Faculty of Humanities and Social Sciences provides multiple perspectives on the question, "What does it mean to be human?" Learn more at the Faculty of Humanities and Social Sciences at TWU.
---
About Trinity Western University
Founded in 1962, Trinity Western University is a global Christian liberal arts university. We are dedicated to equipping students to discover meaningful connections between career, life, and the needs of the world. Drawing upon the riches of the Christian tradition, seeking to unite faith and reason through teaching and scholarship, Trinity Western University is a degree-granting research institution offering liberal arts and sciences as well as professional schools in business, nursing, education, human kinetics, graduate studies, and arts, media, and culture. It has four locations in Canada: Langley, Richmond-Lansdowne, Richmond-Minoru, and Ottawa. Learn more at www.twu.ca or follow us on Instagram @trinitywestern, Twitter @TrinityWestern, on Facebook and LinkedIn.
For media inquiries, please contact: media@twu.ca.

With words by Cedric Iyumva