As the audience settled comfortably into their seats, the evening opened with a guided meditation by English major Sadie McDonald, titled, "A Rosebush."
It was the occasion of TWU's annual literary reading night, Vignettes, where student-authors from professor Loranne Brown's MCOM 369 Adventures in Narrative Nonfiction performed a reading of their original works.
For some students, taking the course Adventures in Narrative Nonfiction is the first time they are challenged to look at their own lives as raw materials for literary compositions like memoirs, travel writing, and personal essays.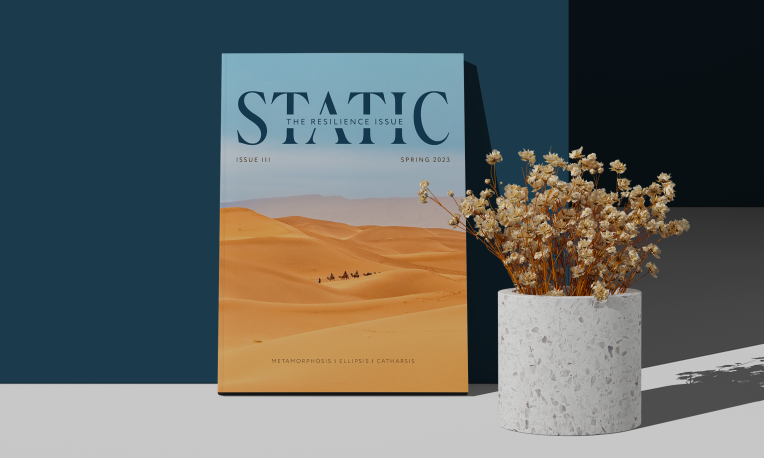 This year, together with peers taking MCOM 453 Editing for Newspapers and Magazines, student authors and editors combined forces to produce a 100-page print publication, the third issue of STATIC magazine.
STATIC is the product of collaborative efforts, as students took on the roles of writing, editing, project coordinating, proofreading, and graphic design.
---
---
Vignettes 2023, held on April 13, provided an evening to listen to student authors read their non-fiction works—and to celebrate the newest issue of STATIC.
Professor Brown asked student editors who worked on STATIC to share what they learned about narrative non-fiction while working on the publication. Their responses were reflective and diverse, just like the articles in STATIC.
Media + Communications major Yi Jing (Eve) Tan was delighted to learn how "There are so many stylistic approaches you can use for narrative non-fiction, ways to make the piece stand out and appear more vibrant."
---
---
"Everyone has a story to tell," says Caitlyn Charlebois, a Business major who served as editor in chief, "Giving a class a list of a few prompts tied under the same overarching theme, I was shocked at how many different directions writers could go, all with a unique perspective."
Echoing this sentiment, Candace Genesis, a Media + Communications major and graphic designer, reflects, "We live such unique, diverse and unpredictable lives, yet somehow, someone out there has personally experienced a glimpse of your story and put into words the things you struggle to describe or express yourself."
"Story telling is a way of life," English major and editor Neelam Dewji adds, "…What could be better than basking in people's real-life stories?"
Throughout the evening of Vignettes, writers read their thoughtful and moving reflections on overcoming challenges, memories of youth, coming of age, family history, faith, and identity formation.
Students also proudly unveiled the fruits of their collaborative labour and year of learning: fresh-off-the-press copies of STATIC. Titled "The Resilience Issue," this newest issue of STATIC features narrative non-fiction divided into the themes of "Metamorphosis," "Ellipsis," and "Catharsis."

Print and digital versions of STATIC magazine can be ordered from the print-on-demand publisher.
Dr. Scott Macklin, dean of TWU's School of the Arts, Media, and Culture (SAMC), congratulates the students on a year of learning and creativity, and affirms the ethos of the community:

"SAMC is a place for faith-fueled creativity to flourish, where we are called to create responsibly and redemptively, opening ourselves up to the reality and the presence of grace beyond ourselves...inch by inch, step by step, line by line, frame by frame, note by note, stage by stage, beat by beat and shine by shine." 
---
About TWU's Media + Communication program
TWU's Media + Communication program empowers leaders and communicators to critique, speak into, and transform our culture in a powerful way. As a student of Media + Communication, you will have the opportunity to specialize in Media Studies, Professional Writing, or Leadership Communication, with minors available in Film Studies and Professional Writing. Learn more at TWU's Media + Communication program.
---
About TWU's School of the Arts, Media, and Culture

Immerse yourself in what you love best, whether it's visual or performing arts, media, or communication. Grow with others who are just as passionate and exceptional as you. That's the beauty of learning in community. You'll find your people here. Learn more at School of the Arts, Media, and Culture.
---
About Trinity Western University
Founded in 1962, Trinity Western University is a global Christian liberal arts university. We are dedicated to equipping students to discover meaningful connections between career, life, and the needs of the world. Drawing upon the riches of the Christian tradition, seeking to unite faith and reason through teaching and scholarship, Trinity Western University is a degree-granting research institution offering liberal arts and sciences as well as professional schools in business, nursing, education, human kinetics, graduate studies, and arts, media, and culture. It has four locations in Canada: Langley, Richmond-Lansdowne, Richmond-Minoru, and Ottawa. Learn more at www.twu.ca or follow us on Instagram @trinitywestern, Twitter @TrinityWestern, on Facebook and LinkedIn.