Trinity Western's SAMC Theatre opens the 2022/23 season with a new production, The Miracle Worker, based on the life of Helen Keller. Written by William Gibson and directed by Kate Muchmore Woo, the show runs Oct. 25 - Nov. 5, 2022. 
As a historic figure, Helen Keller (1880–1968) lost her sense of sight and hearing due to childhood illness. Through the help of her teacher, Anne Sullivan, who is herself partially blind, Helen overcame her challenges and lived to become an author, educator, and advocate of disability rights.
The play, The Miracle Worker, captures the breakthrough first month of Anne Sullivan's time with Helen.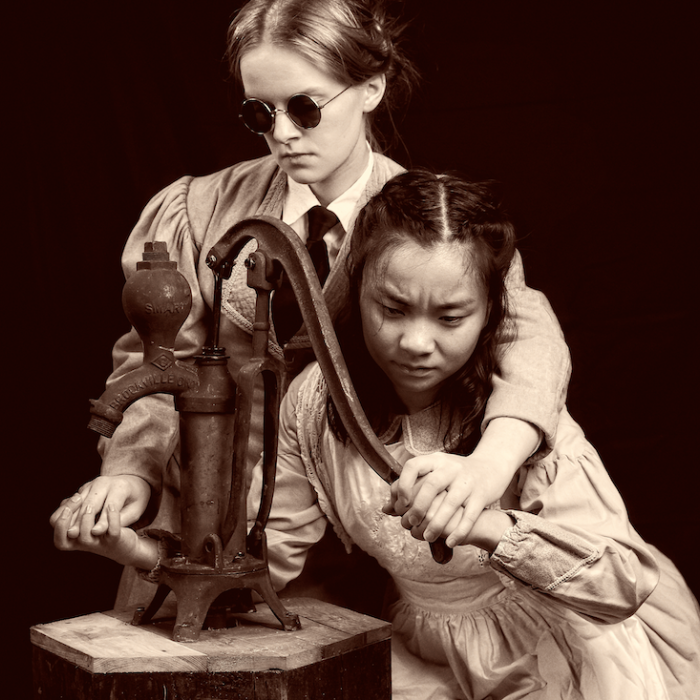 'Filled with heartache and love'
Director Kate Muchmore Woo describes the play as "raw, visceral, and filled with heartache and love."
She notes that while Helen's family often gets overlooked in historical accounts, this play captures the family's struggles and disconnection, thus "giving voice to the families of those with disabilities."
Theatre major Sen Longkumer, from Nagaland, India, plays Helen Keller. She considers the task of playing a deaf and blind child "both exciting and daunting." She appreciates how the play reveals humanity's "innate need for communication" and the desire "to understand and be understood."

"It tells a story of frustration and hope, of perseverance and breakthrough," Sen summarized.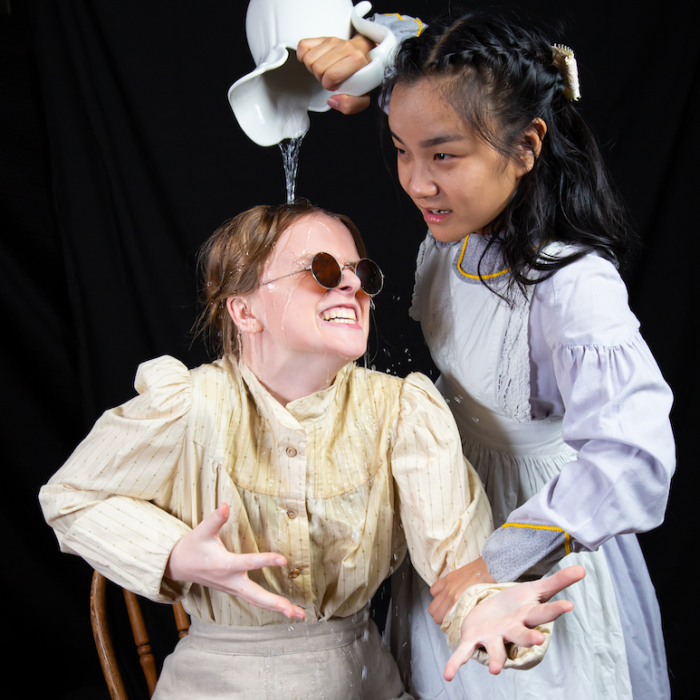 Overcoming obstacles
Grace Moore, theatre major from Olympia, Washington, plays Anne Sullivan. She resonates with the emotions behind the story's characters. "Their history, achievement, and suffering has made me more interested in how gaps in communication, like those in the play, are still around to this day," Grace commented.

"Meeting people where they are, engaging with them, and finding love for people are all present in this play, and they should be present in our daily lives," she said.
Bailey Froese, education major from Abbotsford, plays Aunt Ev, a member of the Keller household. Bailey sees the play as being about "two disabled individuals overcoming their hatred for themselves and the world by learning to love each other and accept who they are."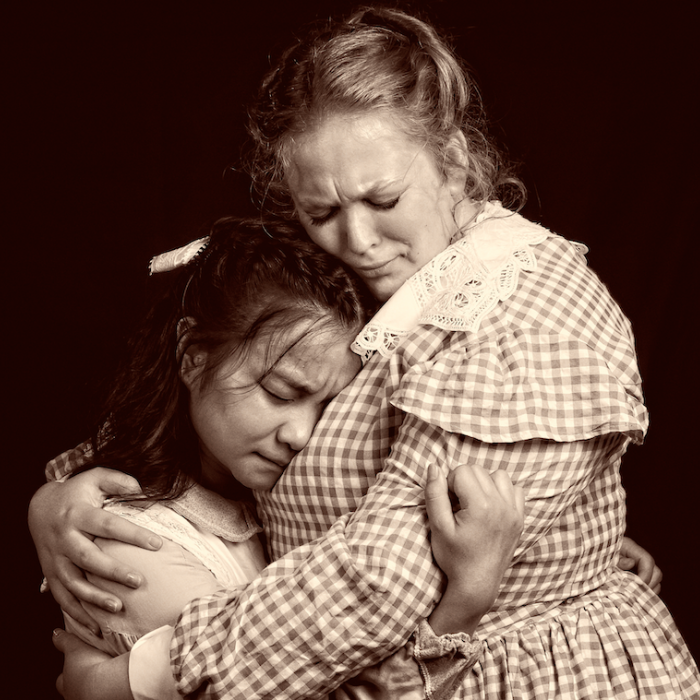 Coming out of silence and darkness
Leighton Hoffman, acting major from North Delta who plays James Keller, describes the story as "an intense journey from a prison of silence and darkness to the wonderful gift of communication and connection." The play inspires him to "continue loving and treating others with care, knowing anyone can be healed."
Valerie Mihelic, acting major from North Delta who plays Captain Keller, is impressed with "just how human" the story is. "Everyone is flawed and has moments of weakness and frailty to differing degrees, but they're all complicated and full," she said of the play's characters.
Seeing through the eyes of another
As the play's director, Woo enjoys watching students grow in their confidence and compassion as they learn to experience life from another's point of view.
"These stories are ones our students have been challenged to grapple with, as they learn to walk in the shoes of those who have had and are having these experiences," she said.
The play reminds Woo of Romans 5, which points readers to the hope of the glory of God, "We also glory in our sufferings, because we know that suffering produces perseverance; perseverance, character; and character, hope."

She notes how the passage reflects Anne Sullivan's journey in The Miracle Worker, where, through experiences of suffering, Anne learns to persevere through many trials, and matures in character and hope. Through these attributes, Anne is able to connect and persevere with Helen, believing and hoping for great things.
---
Show description

Tuscumbia, Alabama, 1880. After a mysterious illness leaves nineteen month-old Helen Keller deaf and blind, she is left to grow up in a world of silence and darkness. Fighting to be free from this dense fog, her increasingly wild behaviour leaves her family desperate and helpless. With no help or answers from doctors about how to reach her, their last hope is a doctor in Boston, who sends young Annie Sullivan, herself visually impaired and haunted by her past, to teach Helen.
---
Cast
Director: Kate Muchmore Woo
Featuring: Bailey Froese, Mara Hanley, Nathanael Hanley, Tatiana Hanley, Leighton Hoffman, Sentimongla Longkumer, Kiara Louw, Valerie Mihelic, Grace Moore, Aagaaz Sandhu, Madison Willoughby, and Tahlia Wine
Stage Management: Alex Walker, Lorin Scaiano, and Kiara Louw
Set Design: Andrew Potts
Costume Design: Kerri Norris
Lighting Design: Keagan Elrick
Promo photo credits: Jef Gibbons
 
---
About TWU's School of the Arts, Media + Culture (SAMC)

Immerse yourself in what you love best, whether it's visual or performing arts, media, or communication. Grow with others who are just as passionate and exceptional as you. That's the beauty of learning in community. Learn more at TWU's School of the Arts, Media + Culture.
---
About Trinity Western University
Founded in 1962, Trinity Western University is a global Christian liberal arts university. We are dedicated to equipping students to discover meaningful connections between career, life, and the needs of the world. Drawing upon the riches of the Christian tradition, seeking to unite faith and reason through teaching and scholarship, Trinity Western University is a degree-granting research institution offering liberal arts and sciences as well as professional schools in business, nursing, education, human kinetics, graduate studies, and arts, media, and culture. It has four locations in Canada: Langley, Richmond-Lansdowne, Richmond-Minoru, and Ottawa. Learn more at www.twu.ca or follow us on Instagram @trinitywestern, Twitter @TrinityWestern, on Facebook and LinkedIn.