Access to education. Breaking barriers. Freedom and choice. These themes and more are part of TWU's upcoming production, Blue Stockings.
From Nov. 21 to Dec. 2, Blue Stockings by Jessica Swale is showing at SAMC Theatre's Freedom Hall. The show runs Tuesday thru Saturday at 7:30 p.m., with Saturday matinees at 2 p.m. 
About the play 
The future of education is at stake! It's 1896 and the women of Griton College are seeking the right to graduate from Cambridge. The students face daily challenges threatening to derail their quest for knowledge. First year Tess Moffat, has a more difficult choice: pick love and an unfulfilled education or fight for her place at school and commit to a lonely, difficult life. Times are changing but there's hope for the twentieth-century.
This ground-breaking work by Jessica Swale, who notably directed the first play by a women at Shakespeare's Globe, earned her an Evening Standard Most Promising Playwright nomination in 2013.
Students in the lead
TWU students create magic in this fall's production taking up all manner of leading roles both on-stage and behind the curtain. In addition to the 18 students, alumni, and faculty who are starring as the cast, their peers have helped to set the stage in areas of design, construction, scenic paint, lighting crew, and stage management.  
Starring as one of the Girton Girls is Cath de la Rambelje, a second-year student from Surrey with concentrations in theatre and film. She describes the play as "a journey of discovery, passion, and sacrifice," adding, "Blue Stockings portrays the transformative decisions we make in life…"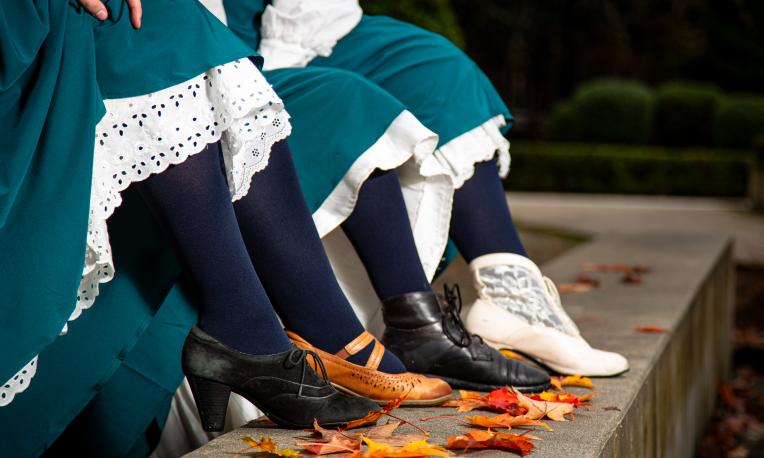 Fellow actor Sarah Grace Wiedenheft, who majors in English and theatre, believes the play is about "fighting to be recognized for your hard work and intelligence, standing up for what you believe, and what it means to choose both love and learning."
"The Girton Girls have such a fierce desire to learn about the world that God created," Wiedenheft remarks, "They are a reminder to me that everything we do should be for the glory of God and that learning and intellectual pursuit is worship just as much as anything else."
---