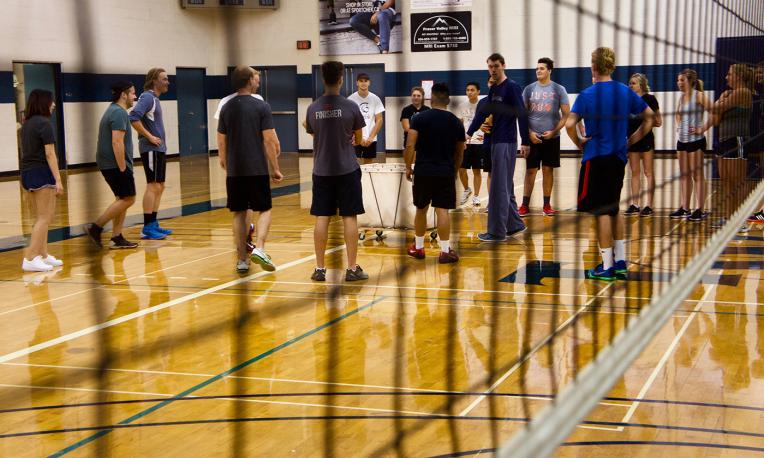 Enarson gymnasium's History
Trinity Western University constructed the David E. Enarson Gymnasium in 1969. It was a major undertaking, with a 100' by 110' span. At the time of construction, it was the largest auditorium in the Fraser Valley, capable of hosting basketball, volleyball, and badminton. The gym originally had a stage, trampoline area, locker rooms, and change rooms for referees, equipment rooms, offices, classrooms, a kitchen, an athletic therapy room, and a fitness centre. In 2001, the stage area was taken out and offices and classrooms added in its place. The gym floor, along with new lighting was replaced in 2002. The lower bleachers were replaced in 2006 and the upper bleachers were replaced in 2011. A bouldering wall was added to the mezzanine in 2010, along with a Spartan Athletics Strength and Conditioning space (Sparta). In 2016, Sparta was moved from the upper mezzanine into the old annex classroom, giving the varsity Spartan athletes their own training space. The new addition to the Fitness Centre was completed in 2015, adding over 3000 s.f. of space to the previous Fitness Centre, along with new equipment and new machines. In addition to the expanded Fitness Centre, a Fitness Studio was created on the second level.
---
Other Events & Functions
Today the gymnasium houses many university functions, such as convocations, baccalaureate services, banquets, concerts, career day, dramas, sports clinics, tournaments, a daily chapel service, as well as academic classes, recreation activities, varsity practices, and games. A set of doors can be closed off to allow a portion of the Fitness Centre to be used for HKIN weight lifting and fitness classes, while still allowing a portion of the space to remain open to the TWU community. The Fitness Studio is an amazing space that is used for various dance classes, fitness classes, rental groups, and much more.
---
Contact Jason.Vandyck@twu.ca for more information or for internal bookings. External groups can contact Ivonne.Sinclair@twu.ca.