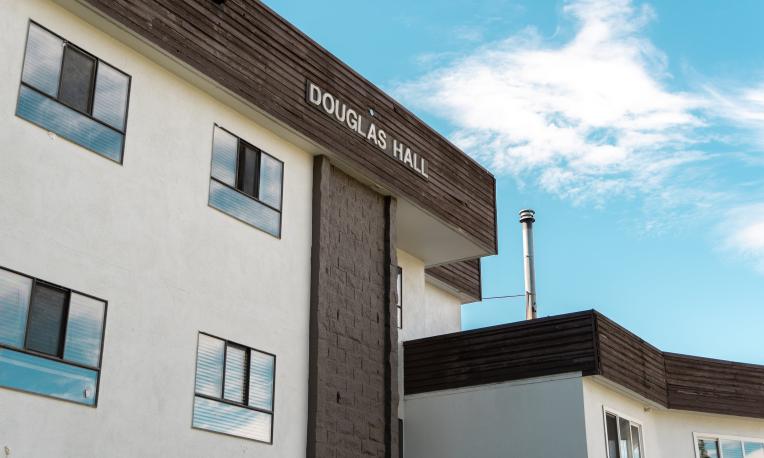 Douglas Hall sits in the middle of campus and is divided into four wings or sections, the largest of which is the three-story area unofficially known as "The Hilton" that houses male students. On all three levels students live in "suites" where each pair of rooms houses a collective four residents who share a connected washroom.  
Hallways from all four wings empty into two large, central common lounges. The Upper Lounge has a study room, a discipleship group meeting room, a big screen TV, a pool table, and a kitchen area with chairs and tables for late night snacks or studying. The Lower Lounge also offers pool and ping-pong tables, a big screen TV, and The Hub. The Hub is a station in which a Resident Assistant on duty can be found from 8 PM to Midnight. The RA on duty acts as a host in the lounge and builds community by planning events, playing music, and being available to students. 
The remaining three wings of Douglas house or Economy style housing. They are comprised of male and female dorms respectively. Each dorm is comprised of traditional housing in hallways of 16-24 students, living as pairs who share a common hallway washroom. Each residence area has a small lounge for hanging out as a small group, has a specific Resident Assistant and has its own unique traditions and history. 
---
---
Douglas Hall Amenities
Two large lounges fitted with big screen televisions, satellite, pool tables, and ping-pong tables (shared between all 280 Douglas residents)
Large community kitchen fitted with refrigerator, microwaves, and plenty of cupboard space (shared between all Douglas residents)
Wireless internet access
Large laundry room next to building; card or app-operated, large load-capacity washers and dryers
Two study rooms and a quiet prayer room 
Easy access to the Lower Café
---
Dorm Room Floor Plans