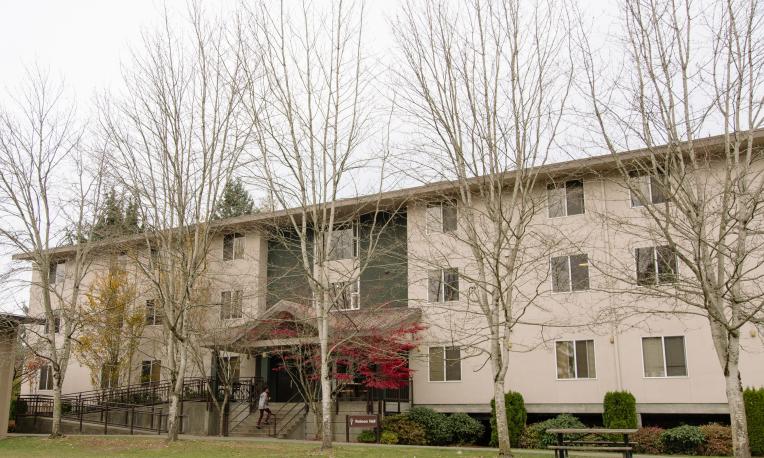 Robson is a Room and Board residence hall for our Graduate Students or Undergrads who are over 22 years of age. The dorms are a community living situation where there are two students per room. The rooms are placed around a communal kitchen that allows for the preparation of some meals. Bathroom shared between 4 residents.  
Note: Students living in Robson are required to have the BASE meal plan, with the option to upgrade. To view meal plan options/costs, please click here. 
---
Robson Hall Amenities 
Shared by all Residents
Elevator accessible
Underground parking available
Wireless internet access
Aerobics room/lounge on first floor
Laundry room on parking level; card or app-operated, large-load-capacity washers and dryers
Individual Hall Amenities (Shared by approx. 16 Residents):
Living room lounge area with couches and coffee table
4 tables and chairs for eating meals
4 ovens, stoves, cupboard areas, 2 double sinks, 2 dishwashers, and 2 extra fridges
2 microwaves
1 large storage room
16 lockable pantry spaces
1 large chest freezer 
Individual Room Amenities (Shared by 2 Residents):
1 fridge
1 sink and mirror area
2 beds
2 wardrobes
2 desk/shelf areas
Shared bathroom and shower with neighboring room
Residents need to bring their own kitchen supplies, small appliances, dishes, etc.
---
Dorm Room Floor Plans