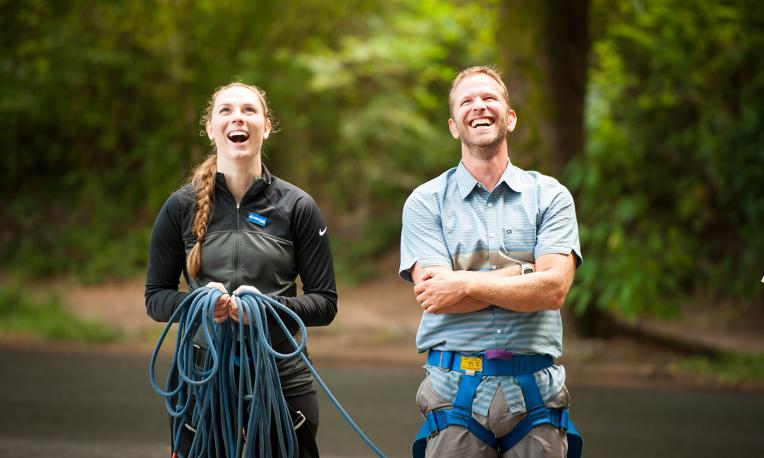 Revitalizing Teams and Equipping Leaders
Our Goals, Our Tools
Teambuilding is the backbone of our operation and the lens with which we view the world. Experiential education teaches innovative thinking as a part of leadership, this is an opportunity for your team to unleash their potential.
We fine-tune our host of programs to give the specific tools that will aid you in achieving your goals. These tools are concrete lessons that can lead to long lasting change, such as new communication skills and an awareness of individual impact within a group setting.
The winning team is just that, a team. We stress the importance of a having a shared vision while working collaboratively to achieve goals. Through our hands-on activities we give participants the opportunity to implement and understand the importance of having a shared vision.
Based at Trinity Western University, our programs employ a dynamic learning approach based on the principles of experiential learning. During our programs your team will learn through hands-on experience. It is our goal to help teams identify strengths and weaknesses and turn them into tools for maximizing potential.
Accomplished Professionals
Our facilitators are dynamic and come from a wide range of professional backgrounds from life-coaches to experiential educators. It is through our variety that we are able to glean and create a distinctive teambuilding program that can connect with the business world, education world, sporting world and more. Most importantly our facilitators have extensive training, experience and a passion for applying top concepts on teambuilding and leadership.
The Importance of Facilitation
Facilitation is the encouragement of the learning process within your group. We have worked with groups from International corporations such as Creo Products and McDonalds to local businesses such as community centers and the Royal Bank. The list is expansive and continues to grow!
---
The Name
Greek for "team," the name "Omada" captures our core focus: transforming a group of individuals into an effective team that utilizes each person's skills and strengths to the highest potential. Omada is about fostering group unity through shared experiences and subsequent reflection.
The full name for Omada is "Omada Teambuilding," and it consists of four branches: Omada Education, Omada Coorporate, Omada athletic, and Omada non-profit. Each section of the program tailors the experience for its specific type of clients.
---
The Logo
Why the cairn symbol?
(kârn) Originating in both Gaelic and Inuit traditions, a cairn is a stack of stones used as a landmark or navigational guide, often in rugged terrain or uncertain paths, or placed as a commemoration or memorial of major life events. The cairn symbol integrates the following elements:
1. Building Together
The cairn symbolizes the construction process, where the team builds a communal identity and thus creates a common experience. The mismatched stones symbolize unique individuals fitting together to create a unified structure.
2. Setting and Reaching Goals
A cairn represents the attainment of a goal. Cairns atop mountain peaks demonstrate hikers' achievements and stand as a monument to the completion of a difficult task. In the same way, Omada participants are prompted to set and meet goals as individuals and as a team throughout a variety of activities.
3. Reflection and Remembrance
The cairn is created in a moment of reflection and stands as a continual reminder of a specific experience. Omada offers a time of group reflection, completing the circular process of experiential learning. Just as the cairn leaves a legacy that lasts beyond the moment of its creation, so also participants are encouraged to remember creative lessons and important moments from their experience with Omada Teambuilding.