Students in Grade 10 to 12 are invited to experience game-making at Trinity Western University's weekend-long Game Jam, November 4—6.
A game jam is when groups of people get together over a short, intense time period and create wild, wacky, experimental video games.

The challenge is to make a video game in just 48 hours.
"We're looking for students who are excited about art, programming, composition, or game design, to work as a small team on an intense, fun, experimental project," said Dr. Kevin Schut, who founded TWU's Game Development program in June 2019.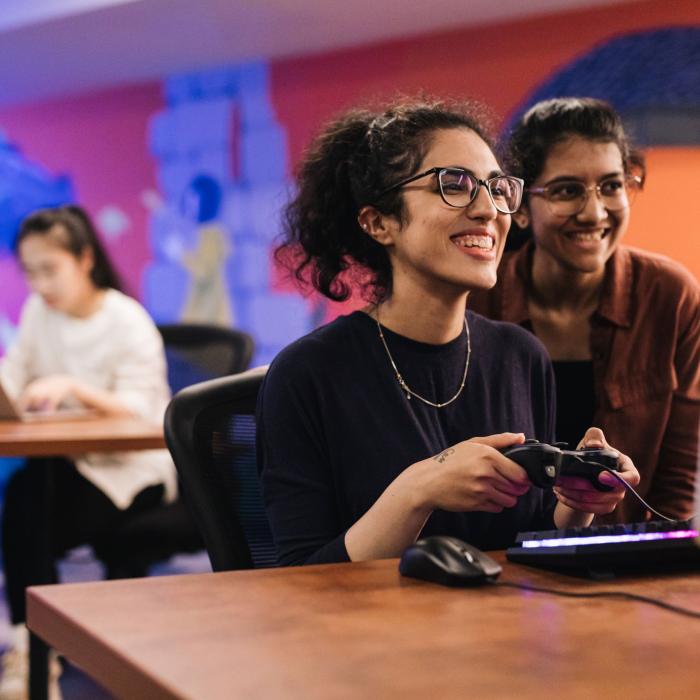 No previous game-making experience is required. Dr. Schut adds, "You don't need to have all the skills—our students and faculty will be around to help."
The Canadian video game industry has grown 23% since 2019, according to a 2021 report by the Entertainment Software Association of Canada.
TWU's Game Development program offers four distinct streams catering to students with different passions. The Game Design stream suits those who are creative, narrative artists, who enjoy building story structure and writing narrative and dialogue. The Game Art stream is for designers who want to craft amazing, memorable-looking game worlds, while the Music + Sound Design stream is for musicians who want to compose and create sound environments and soundtracks. The Software Development stream lets students learn to program and design video game software.
TWU's Game Jam is open to all Grade 10 to 12 students. The event will be held at Trinity Western University's Langley campus (22500 University Dr., Langley). Gam Jam kicks off Friday evening Nov. 4 and ends Sunday evening Nov. 6 with an awards ceremony and pizza dinner.
Space is limited—register today at https://go.twu.ca/gamejam2022. Questions? Reach out to gamedevelopment@twu.ca.
---
About TWU's Game Development program
TWU's Game Development program equips graduates with technical skills that programmers need to develop video games and knowledge about the entrepreneurial aspects of the business. Students in the program build their professional portfolio by creating and marketing video games. They learn to drive the projects from concept stage to promotion—designing business models and monitoring costs and revenues. Learn more at TWU's Game Development program.
---
About Trinity Western University
Founded in 1962, Trinity Western University is a global Christian liberal arts university. We are dedicated to equipping students to discover meaningful connections between career, life, and the needs of the world. Drawing upon the riches of the Christian tradition, seeking to unite faith and reason through teaching and scholarship, Trinity Western University is a degree-granting research institution offering liberal arts and sciences as well as professional schools in business, nursing, education, human kinetics, graduate studies, and arts, media, and culture. It has four locations in Canada: Langley, Richmond-Lansdowne, Richmond-Minoru, and Ottawa. Learn more at www.twu.ca or follow us on Instagram @trinitywestern, Twitter @TrinityWestern, on Facebook and LinkedIn.
For media inquiries, please contact: media@twu.ca.