New Art + Design student exhibition Claiming our Essence is showing Nov. 24 – Jan. 22 in the Jacobson Hall Emerging Artist Gallery at the Langley campus. Through a "diverse and rich collection of portraits paired with meaningful objects" each student artist shares their own story with the world.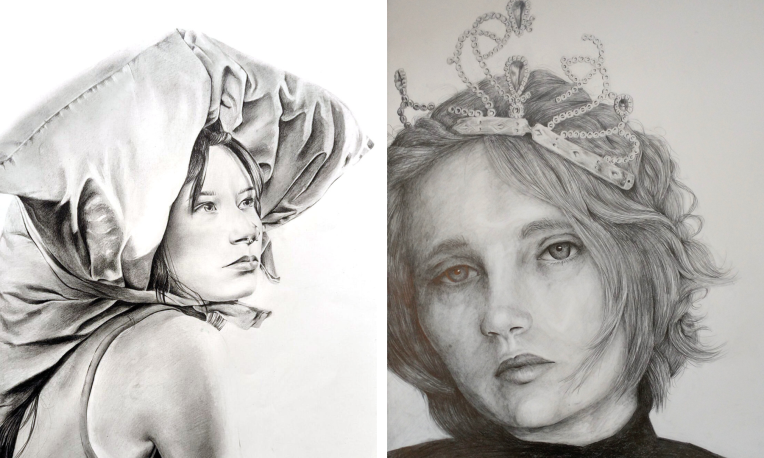 Words by Sofia del Castillo, Gallery Assistant, Art + Design major
Claiming our Essence is a selection of self-portraits created by students in the ART 211: Life Drawing course. In these drawings, students portray their likenesses while also reflecting on their own uniqueness, both internal and external. The sculptural headpieces that each of the artists wear in their portraits connect to various topics that students felt compelled to explore through their work, such as mental health, growing up, and exhaustion.
---
These drawings portray what we understand as Imago Dei, the idea that we are created in God's image. Each person bears the image of the Creator in a unique way, making their depiction unrepeatable. The headpieces articulate themes that have impacted the artists' identities. As students found their voice to communicate that which is hard to express through language, each student contributed their different themes to the conversations.
---
---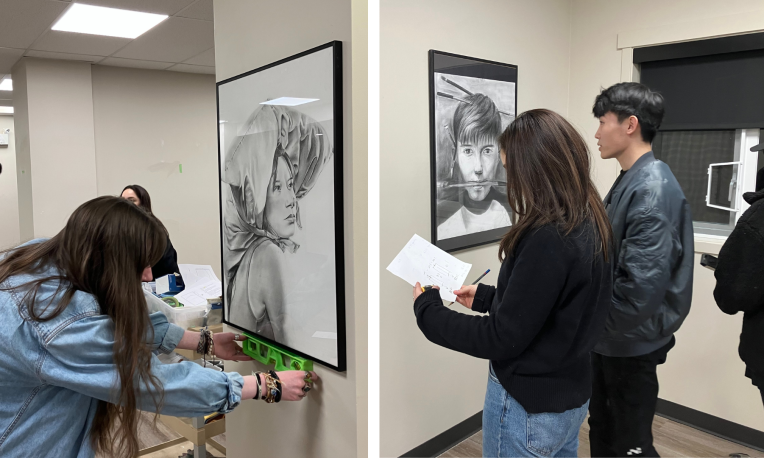 Through these drawings, students aimed to accurately render facial anatomy without any stereotypical characteristics and to portray their identities in an authentic way. Identity is something that constantly changes. In her introduction to identity in The Body of Art, Jennifer Blessing states that, "The artistic expression of identity—be that of another or the artist's identity—is as fluid and permeable as individuality itself" (Blessing, 2015, p. 67). As Blessing explains, the way in which one can portray identity is as singular as oneself. In these drawings, students were able to stop time and capture their ever-evolving identity at a particular moment.
As each student examines their individuality, the result is a diverse and rich collection of portraits paired with meaningful objects which capture each student's essence.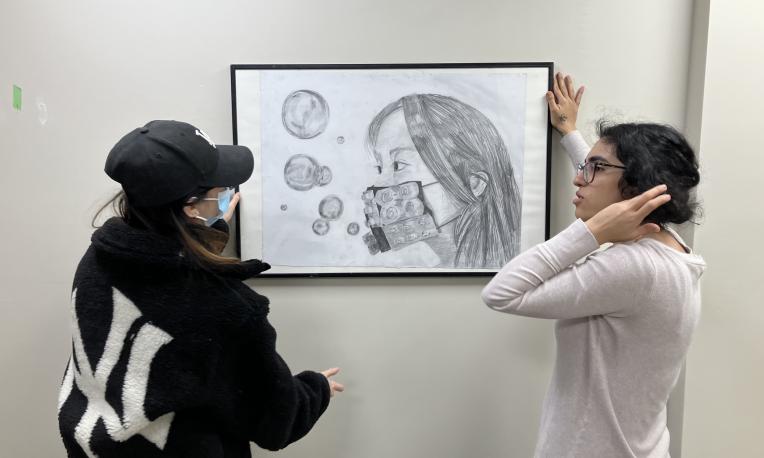 ---
About Art + Design at Trinity Western University
We are a community of professional artists, designers, scholars, and students who look at visual ways of creating. Within a variety of interdisciplinary historical, critical, and theoretical contexts, we explore how visual art and design practices can be used to create and critique culture. Our program empowers students to become creative leaders who are able to adapt and innovate in our rapidly changing world. Learn more at Art + Design.
---
About Trinity Western University
Founded in 1962, Trinity Western University is a global Christian liberal arts university. We are dedicated to equipping students to discover meaningful connections between career, life, and the needs of the world. Drawing upon the riches of the Christian tradition, seeking to unite faith and reason through teaching and scholarship, Trinity Western University is a degree-granting research institution offering liberal arts and sciences as well as professional schools in business, nursing, education, human kinetics, graduate studies, and arts, media, and culture. It has four locations in Canada: Langley, Richmond-Lansdowne, Richmond-Minoru, and Ottawa. Learn more at www.twu.ca or follow us on Instagram @trinitywestern, Twitter @TrinityWestern, on Facebook and LinkedIn.

For media inquiries, please contact: media@twu.ca.