Famous for its natural beauty, rich biodiversity, and paradisical beaches, Hawai'i is also known as "the endangered species capital of the world." While many people appreciate the tropical island's allure, fewer may recognize that its environmental systems are being threatened.
Behind the attraction of its beaches, Hawai'i is home to complex systems of interactions among humans, agricultural lands, and native and non-native animal species. The spread of non-native animal species—particularly hoofed mammals or ungulates—is causing damage to crops, destruction of native vegetation, and soil erosion.
The consequences are disruptions throughout Hawai'i's food chains.
---
Professor Karen Steensma, who teaches biology at Trinity Western University, is part of a project recently funded by the US Department of Agriculture (USDA), specifically the Western Sustainable Agriculture Research and Education (WSARE) fund. The title of the project is "Wildlife Impacts on Agroecosystems and Culture: Achieving Integrated Pest Management of Invasive Ungulates in Hawai'i," and the amount of the grant is $350,000 USD over 3 years (2022­­–2024). As co-principal investigator, Prof. Steensma is joined by the project's principal investigator, Dr. Melissa Price of University of Hawaii (UH), along with other collaborators from UH and from the National Wildlife Research Center in Colorado.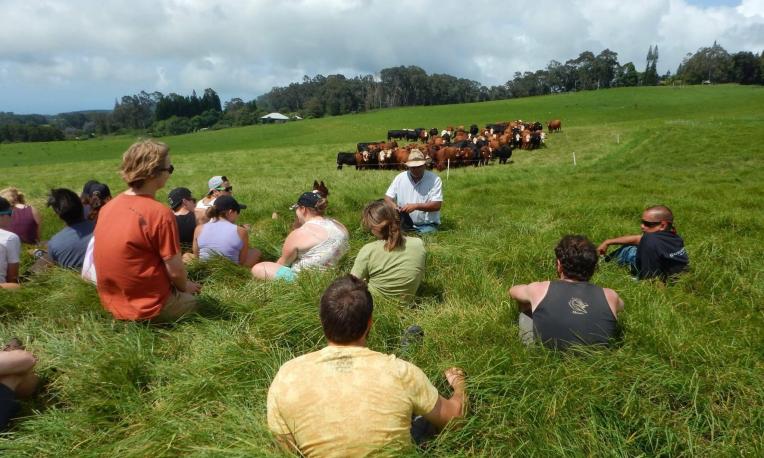 Today, Hawai'i imports most of its food supply (85-90%) from the U.S. mainland; but this dependence on food imports has not always been part of the island's practice. Prof. Steensma explains that traditionally, Hawai'i's indigenous peoples were farmers, subsistence hunters, and fishers. Pigs were introduced by Polynesians when they first settled the islands. Other ungulates, or hoofed mammals, were later brought to the islands to provide ongoing hunting opportunities. Agriculture has changed dramatically over the years, but a cultural group known as the paniolo, or Hawaiian cowboys, have continued a tradition of beef cattle ranching that has provided meat for the islands and beyond. Thousands of acres across the island chain have been managed for beef cattle grazing in harmony with native forest restoration, fisheries, and other resource management.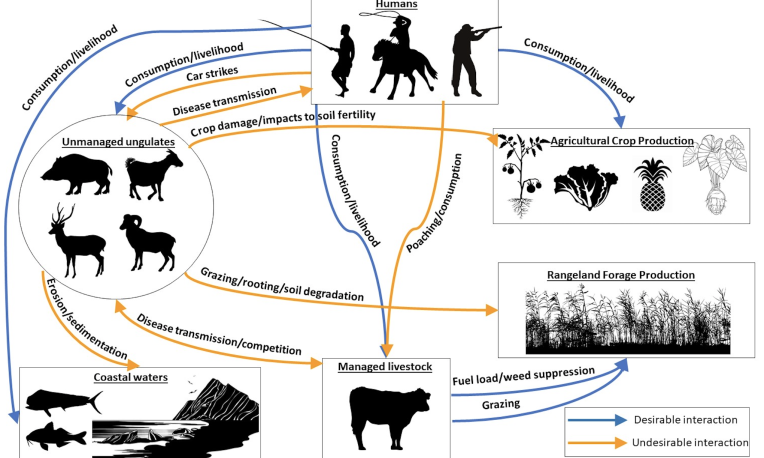 However, in the recent decades hunting pressure from subsistence hunters has not been able to keep up with an explosion in population of the wild, non-native ungulates. Feral pigs, sheep, goats, and deer have wreaked havoc on both agriculture and other natural resources, causing loss of crops, destruction of native vegetation, and soil erosion. This includes soil running off onto coral reefs and ruining fisheries there. 
Prof. Steensma notes that managing these ungulates is an extremely challenging task as it has to do with fencing, hunting, and culturally sensitive discussions. Drought exacerbated by climate change also plays a role. Food security­—or the ability of the islands to re-build capacity to grow more of their own food rather than importing by air or sea­—is part of the issue.
This fall, as Prof. Steensma and her colleagues carry out their research, they are surveying ranchers and farmers to learn detailed economic impacts of the invasive ungulates. In the coming year, they will conduct field work to quantify losses to forage crops and other crops. The researchers' findings will be used to create a decision tool, which will assist ranchers and farmers in identifying the most cost-effective techniques suited for their particular situations in managing ungulates.
The goal, Prof. Steensma summarizes, is to aid all three food sectors­—ranchers/farmers, hunters, and fishers—in balancing needs and increasing the food security of the Hawaiian Islands.
---
About Trinity Western University
Founded in 1962, Trinity Western University is a global Christian liberal arts university. We are dedicated to equipping students to discover meaningful connections between career, life, and the needs of the world. Drawing upon the riches of the Christian tradition, seeking to unite faith and reason through teaching and scholarship, Trinity Western University is a degree-granting research institution offering liberal arts and sciences as well as professional schools in business, nursing, education, human kinetics, graduate studies, and arts, media, and culture. It has four locations in Canada: Langley, Richmond-Lansdowne, Richmond-Minoru, and Ottawa. Learn more at www.twu.ca or follow us on Instagram @trinitywestern, Twitter @TrinityWestern, on Facebook and LinkedIn.
For media inquiries, please contact: media@twu.ca.