Imagine going into a cool pond after a long, difficult journey. That's how one participant described taking part in a cancer support group that combined mindfulness practices with expressive art. 
Now these participants are sharing their journeys with the world through an art exhibit.

Showing at Trinity Western University's SAMC Gallery on Oct. 11–15, the exhibit "I'm Still Here": Healing Through Art After Cancer features artwork and quotes from the 32 participant-artists. Each art piece reflects a unique journey, and yet one common concern weaves through many of their pieces: "I'm still here — how do I now live?"
See the exhibit at TWU

Dates:       Oct. 11–15, 2022 
Location:   SAMC Gallery 

SAMC Gallery is located in the Norma Marion Alloway library building at the Trinity Western University Langley Campus (22500 University Drive, Langley, BC). For more information on visiting the gallery, please see the SAMC Gallery.
Studying the impact of using art to share research


Dr. Kendra Rieger, Associate Professor of Nursing and Michael Smith Health Research BC Scholar, leads the interdisciplinary research team who facilitated the art exhibit. Together, the research team explored how patients processed their cancer experiences through using mindfulness-based expressive art.
"Participants described how mindfulness enabled them to let go of their ruminations and calm their minds so they could fully engage in expressive arts activities," Dr. Rieger observed.
She noted that participants also found inspiration for artistic expressions while meditating, which led them to express themselves in new ways in their artwork. "This process became a powerful way of discovering and processing hidden thoughts and emotions," Dr. Rieger commented. "Although it was challenging work, it created a unique healing space for numerous meaning-making processes and fostered a transformative group experience for many."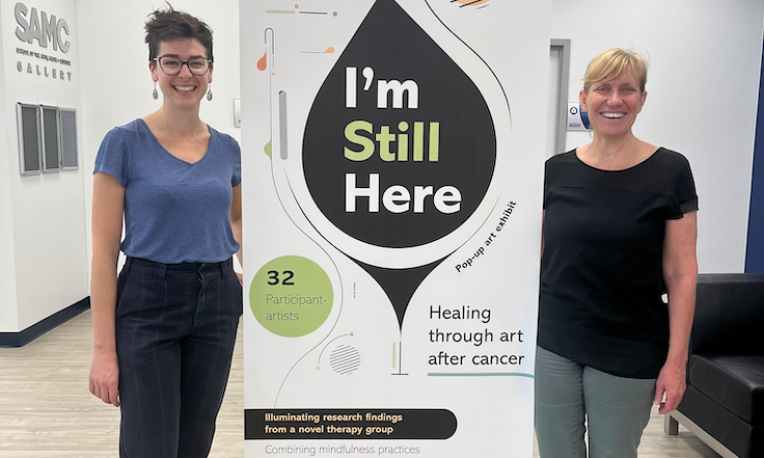 Collaboration across TWU disciplines
Students and faculty from across disciplines collaborated to bring this art exhibit to life. Alysha Creighton, Sessional Assistant Professor of Art + Design, curated and designed the exhibit. Art + Design graduate Hyeon Jeong Choi produced an online version of the exhibit, while Zaeya Winter, Art + Design major, created the digital collages. Cathy AJ Hardy narrated the exhibit's audio guide. Staff from George & Fay Yee Centre for Healthcare Innovation, and audiovisual staff from TWU's GLOBAL and online learning teams have also provided generous support.
The research team especially acknowledges and thanks the 32 participant-artists who generously shared their time, experiences, and artwork.
Nursing Networking Café engages "I'm Still Here": Healing Through Art After Cancer
The upcoming Nursing Networking Café is hosting a visit to "I'm Still Here": Healing Through Art After Cancer. The event is on  - 
See the event Nursing Networking Café
---
About Trinity Western University
Founded in 1962, Trinity Western University is Canada's premier global Christian liberal arts university. We are dedicated to equipping students to discover meaningful connections between career, life, and the needs of the world. Drawing upon the riches of the Christian tradition, seeking to unite faith and reason through teaching and scholarship, Trinity Western University is a degree-granting research institution offering liberal arts and sciences as well as professional schools in business, nursing, education, human kinetics, graduate studies, and arts, media, and culture. It has four locations in Canada: Langley, Richmond-Lansdowne, Richmond-Minoru, and Ottawa. Learn more at www.twu.ca or follow us on Twitter @TrinityWestern, on Facebook and LinkedIn.