Trinity Fellows are paired with University executive leaders and receive mentorship as they engage in meaningful projects suited to their personal gifts. Each year, several of Trinity Western's most promising recent graduates are selected to become Trinity Fellows.

We are delighted to introduce the 2023-24 Trinity Fellows: Amy Bebawi, Precious Tusiime, Alex Walker, and Alketa Wollf.
---
Offered through the Office of the President with support from the M. J. Murdock Charitable Trust, the Trinity Fellows program provides graduates with opportunities to develop leadership skills while gaining meaningful work experience and mentorship.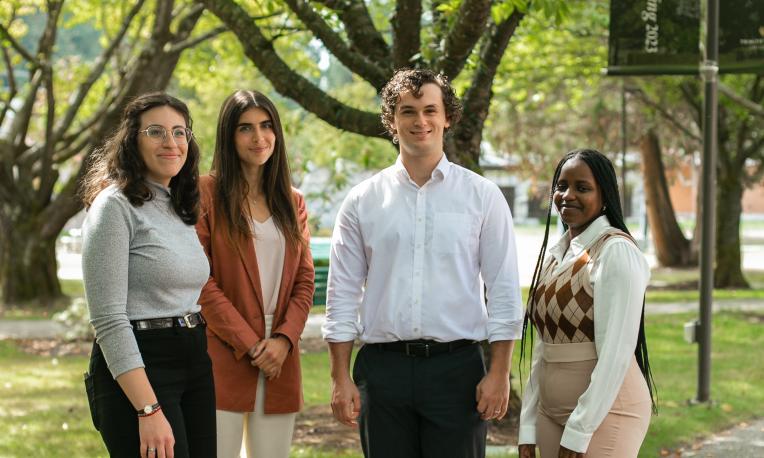 The program provides Trinity Fellows with a year-long paid internship working alongside a member of the University's executive leadership. As well, Trinity Fellows pursue graduate-level education by taking courses within TWU's Master of Arts in Leadership program. Both parts of the program collaborate to develop graduates' workplace capacities and formal understanding of leadership theory. 
We are proud to welcome our 2023-24 Trinity Fellows: Amy Bebawi, Precious Tusiime, Alex Walker, and Alketa Wollf.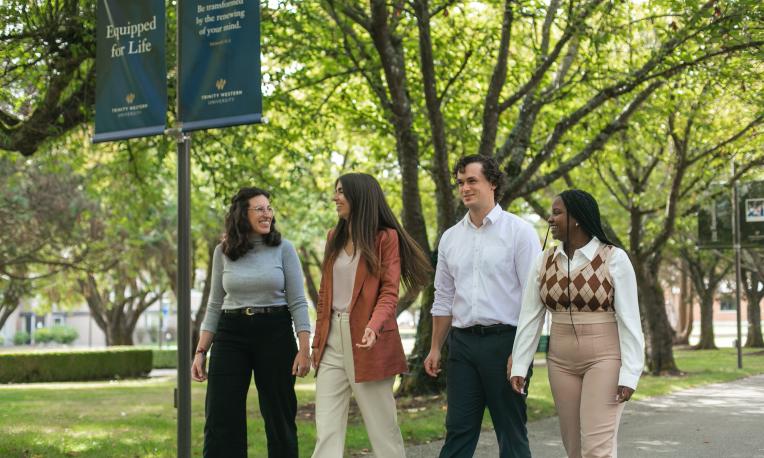 A closer look at leadership within a Christian university
Originally from Cairo, Egypt, Amy Bebawi graduated from TWU with a degree in international studies. She also completed a semester at TWU's Laurentian Leadership Centre in Ottawa, where she interned as a parliamentary assistant at the Parliament of Canada.
Reflecting on her time as an undergraduate student, Amy recounts student leadership opportunities as being very valuable. "One of the most formative student leadership experiences was working at the Trinity Commons," she recalls. "I learned how to take initiative in a leadership role, and what it takes to lead a team well."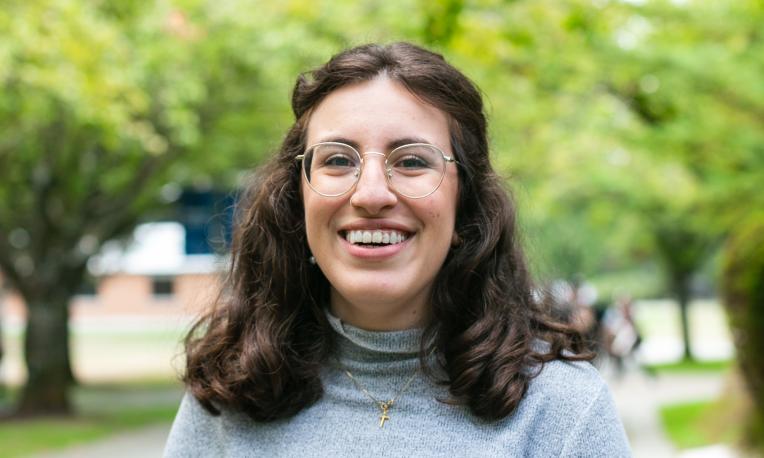 In addition to participating in leadership, Amy also benefitted from the teaching and mentorship of many TWU faculty members. She recounts, "I learned a lot from my professors. They didn't just teach me information, but also life lessons on what it means to be a Christian leader and an academic."
As a Trinity Fellow, Amy will be working with President Mark Husbands. She looks forward to working among experienced Christian leaders and gleaning wisdom from them, as well as gaining a deeper understanding of leadership within a Christian university.  
Seeking greater change and progress
Trinity Fellow Precious Tusiime is from Uganda. A business administration graduate who specialized in international business, Precious chose to attend TWU for its Christian environment, confident that it would be a place for her to foster spiritual as well as academic growth. She also appreciated the smaller classes that encouraged more engagement with professors.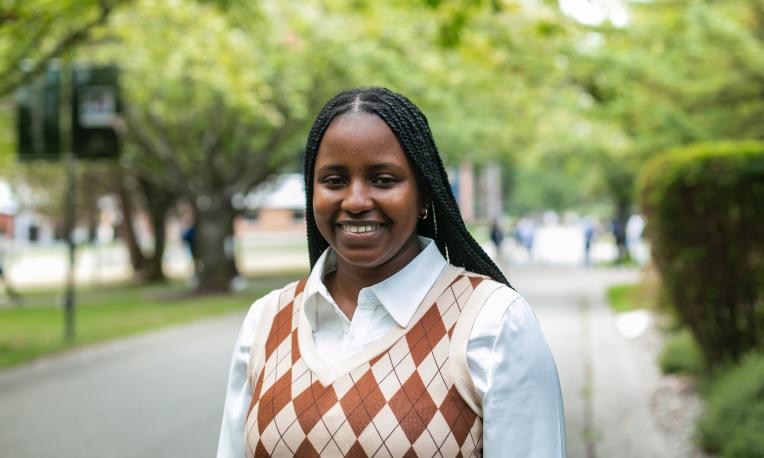 She recalls that among her best leadership learning experiences was being VP of Finance for the Afro-Caribbean Club at TWU. "I was able to be a part of those that created a space where the black student population can embrace and empower each other as well as engage in progress, change and awareness," she says.
As part of the Trinity Fellows program, Precious will be working with Dr. Jennifer Adkins, TWU's vice president of Inclusive Excellence. "I look forward to learning what it looks like or what it takes to implement equity and inclusion in a flourishing Christian institution," she says.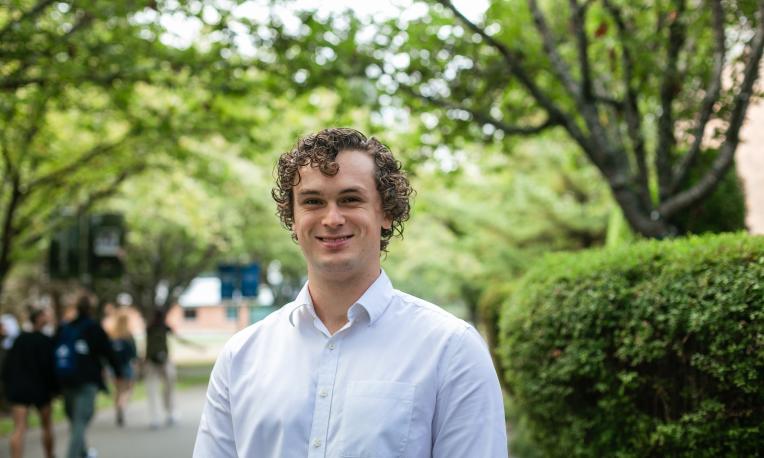 Blending religious thought and artistic creativity in leadership
A native of Somerville, New Brunswick, Alex Walker graduated with a degree in religious studies and theatre. Alex Walker recalls his time as a peer instructor, a discipleship group leader, a resident assistant, and an event coordinator for the 11:07 improv comedy on campus as some of his best leadership experiences at TWU. Outside of TWU, Alex has also worked as a program director at Tay Valley Bible Camp.
As a Trinity Fellow, Alex will be working with Provost Dr. Todd Martin, where he looks forward to learning about the varying aspects of being in a position of executive leadership as well as the day-to-day work of a university provost.
Applying servant leadership to societal needs
Alketa Wollf brings with her experiences as an intercultural programmer and a global outreach coordinator within the Global Engagement Office. "Throughout my time in these positions, I gained skills in intercultural communication, event facilitation, and servant leadership, in addition to creating lasting friendships with the people I worked with," she says.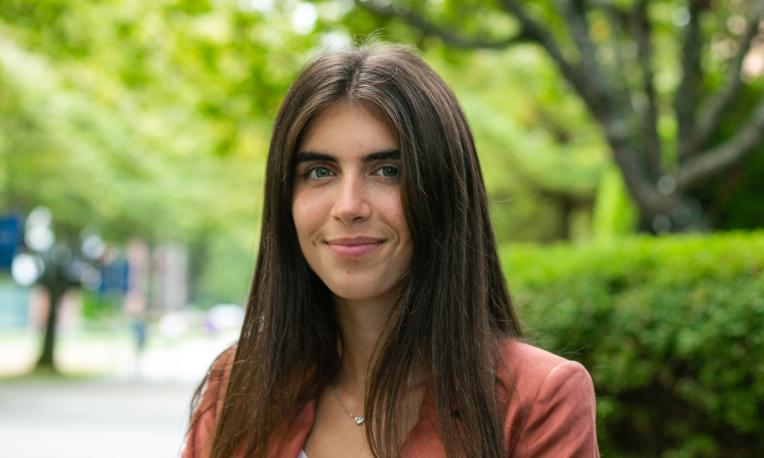 Having graduated with an honours degree in psychology and a certificate in human services, Alketa valued the experiences gained through various practicums, including working with Indigenous youth in East Vancouver, Hispanic immigrants in California, and women at a local addiction recovery centre.
"These experiences not only helped me grow and develop new leadership skills, but they also helped shape my life direction, as these practicums reignited my passion for developing solutions for social justice issues in the community," she says.
As a Trinity Fellow, Alketa joins Precious in working with Dr. Jennifer Adkins. "I am very excited to learn from Dr. Adkins' wisdom, experience, and Christian perspective of EDI (Equity, Diversity, and Inclusion), as well as work towards cultivating a place of belonging for all at TWU," she says.
"I am looking forward to working on various projects that focus on listening to the stories of students, staff, and faculty about their experiences at TWU and taking tangible steps towards fostering a climate of inclusivity. I hope that this year I will learn more about what it means to seek justice, love mercy, and walk humbly with God (Micah 6:8) as we pursue the development of a beloved community here at Trinity Western University."
---
See also: TWU Ottawa travel study students gain fresh insight into government 
---
About the Trinity Fellows program
The vision of the Trinity Fellows program is to assist recent graduates to consider their vocation direction while gaining meaningful work experience. Each year, several of Trinity Western's most promising recent graduates are selected to become Trinity fellows. Learn more at the Trinity Fellows program.
---
About Trinity Western University
Founded in 1962, Trinity Western University is a global Christian liberal arts university. We are dedicated to equipping students to discover meaningful connections between career, life, and the needs of the world. Drawing upon the riches of the Christian tradition, seeking to unite faith and reason through teaching and scholarship, Trinity Western University is a degree-granting research institution offering liberal arts and sciences as well as professional schools in business, nursing, education, human kinetics, graduate studies, and arts, media, and culture. It has four locations in Canada: Langley, Richmond-Lansdowne, Richmond-Minoru, and Ottawa. Learn more at www.twu.ca or follow us on Instagram @trinitywestern, Twitter @TrinityWestern, on Facebook and LinkedIn. For media inquiries, please contact: media@twu.ca.
Photos by Kayla Bock.