Nursing researcher Meghann Buyco is inspired by the resilience that she sees in persons with albinism and their siblings.
As a recent graduate of the Master's in Nursing program, Meghann has been dedicating her studies on persons with albinism in Africa and how their family relationships, particularly sibling relationships, help to strengthen their health and wellbeing.
Through her research focus, she seeks to advance the human rights of persons with albinism and advocate for better support for their families.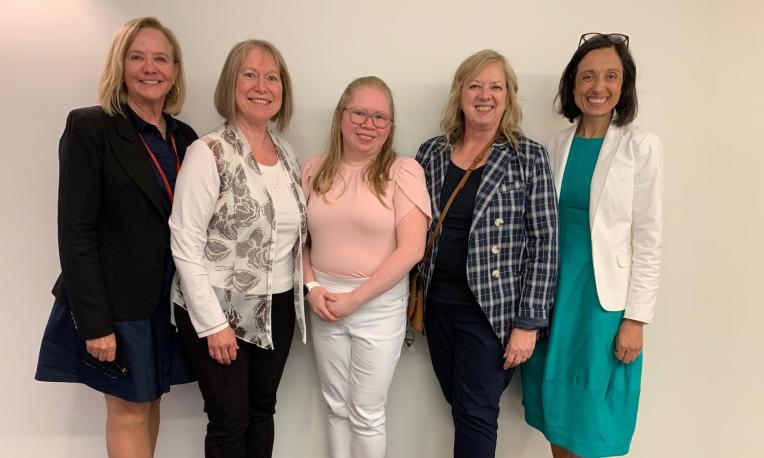 Advancing the human rights of persons with albinism
For her graduate work, Meghann interviewed persons with albinism together with their siblings. Thanks to the participation of fourteen interviewees living in five different African countries—Ghana, Nigeria, South Africa, Tanzania, and Zambia—Meghann gained insights into the experiences of siblings impacted by albinism.
Her findings show that living with albinism influences many aspects of a person's life. Beyond the health implications of the condition, persons with albinism may suffer stigma and discrimination. They may face safety and security risks, especially in communities where there false beliefs about albinism and related harmful practices persist to exist, such as the use of their body parts for ritual purposes. In fact, instances where persons with albinism have been targeted are well documented within news and academic literature.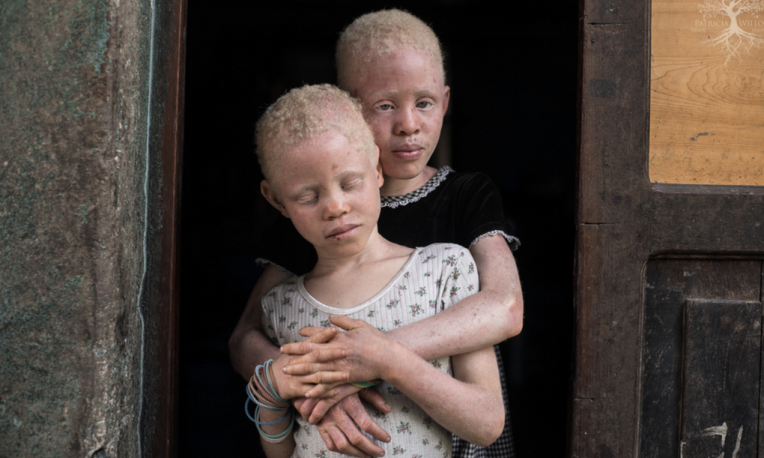 ---
---
Resilience and strength, through family support
Yet, even when faced with difficulties, persons with albinism are known to display incredible strength. Part of their strength comes from the support of family members, particularly siblings, who become their lifelong advocates and who fight for their rights and protections.
As Meghann describes, "Despite the challenges, persons with albinism and their families remain resilient and would defend others with the condition and mobilize awareness on albinism in their community as human rights defenders."
Meghann's study uncovered gaps in health education and support for families. Thus, she advocates for greater recognition of the needs of persons with albinism and their families, seeking to "raise awareness in the community about the genetic causes of albinism for persons with albinism to be accepted and live healthy and flourishing lives."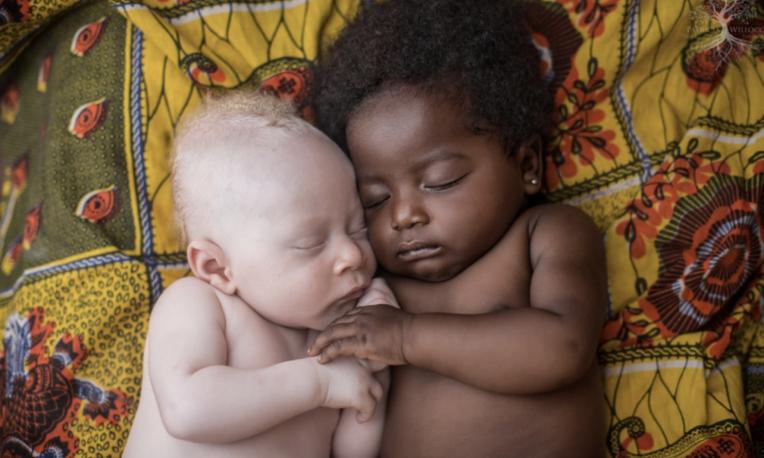 ---
---
'Passion and compassion'
Now that her thesis has been published, Meghann shares that among the greatest takeaways she has learned from listening to her research participants is the appreciation for their inner strength and the power of family bonds to build resilience.
"Persons with albinism and their siblings embodied strength and determination," Meghann writes in a reflection article. "They shared with me so many challenges due to having albinism in Africa, but they continued to have passion and compassion to contribute to positive social changes for persons with albinism."
She continues, "I also admired their dedication to their family. The unconditional love they described reverberated throughout the interviews. It was so heartwarming to hear how they supported one another."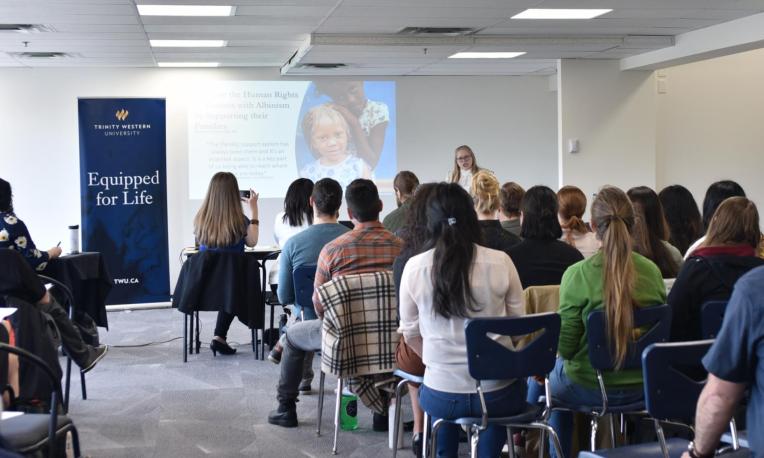 Ongoing work to advance human rights for persons with albinism
Together with Meghann, those who participated in the research are raising awareness for persons with albinism and their families. This work is critical, because, around the world, persons with albinism continue to face discrimination and be subject to harmful practices.

That is why, after completing her master's program this summer, Meghann is continuing to advance knowledge in this area. She is the project coordinator for Mothering and Albinism, an international research project at TWU's School of Nursing. The research team, led by Dean and Professor of Nursing Dr. Sheryl Reimer-Kirkham, is advancing the human rights of persons with albinism and their families through research, advising on policy, and engaging within global forums, including at the United Nations.
---
---
Pursuing a holistic education 
As a nursing graduate and project coordinator, Meghann values the blend of academic study, research, and work that positively impacts society.
Meghann's journey at TWU began seven years ago, when she first joined TWU's bachelor in nursing program. Meghann chose to study at TWU because she desired to integrate her Christian faith and nursing practice, "TWU provided the space for me to grow and develop as a Christian and deeply reflect and emphasize a holistic approach in everything I do," she says.
Moreover, TWU provides nursing students with opportunities to conduct research under the mentorship of nursing scholars and professors. Often, students can choose to pursue topics that are meaningful and relevant to them. Meghann, for example, grew up in the Philippines; she along with two of her siblings have albinism. She shares that "as a research assistant and a person with albinism, I was fortunate to be involved in a research project that I am so passionate about, a study on albinism and human rights."
Through her research work and academic study, Meghann learned to combine her personal values with her vocation in nursing. She recognizes the greater impact that nurses can effect in the world, "It was in this project that I learned the critical role nurses play and the unique position we have in advocating for health equity and better health outcomes, which spans more than our healthcare but also other health determinants that impact everyone's health, including culture, gender, and socioeconomic opportunities."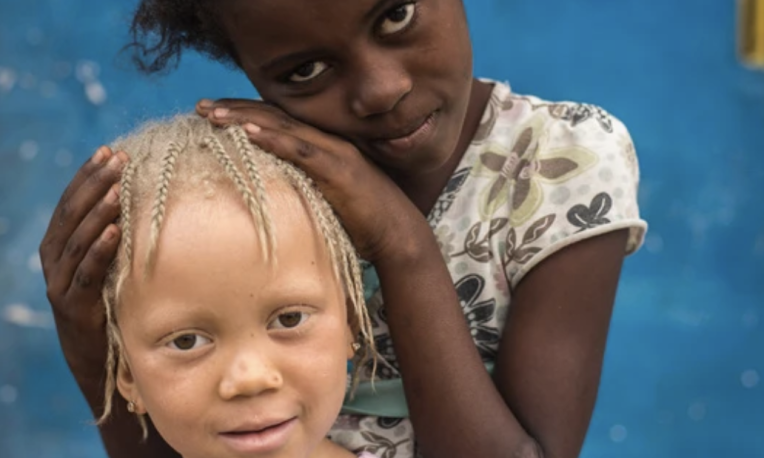 Combining knowledge and skills for the good of society
Academic study and research continue to motivate Meghann towards making a greater impact for the good of society, "Nurses have significant influence as health professionals to better our healthcare system and improve policy and be a part of international discussions, highlighting the need to support those who are most vulnerable and unheard."
Currently, Meghann looks forward to publishing her research on albinism and siblings, with guidance from faculty mentors, and she may look towards pursuing doctorate studies in the future. Furthermore, as she continues her work at a residential care and cancer centre, she is applying knowledge and skills learned at TWU in a local health care setting.
---
About TWU School of Nursing
Caring for the health and well-being of individuals, families, and communities is both motivating and rewarding. We give you the knowledge and skills necessary for a nursing career in hospitals and community-based settings and the practical experience required to be highly sought after when you graduate. Learn more at TWU School of Nursing.
---
About Trinity Western University
Founded in 1962, Trinity Western University is a global Christian liberal arts university. We are dedicated to equipping students to discover meaningful connections between career, life, and the needs of the world. Drawing upon the riches of the Christian tradition, seeking to unite faith and reason through teaching and scholarship, Trinity Western University is a degree-granting research institution offering liberal arts and sciences as well as professional schools in business, nursing, education, human kinetics, graduate studies, and arts, media, and culture. It has four locations in Canada: Langley, Richmond-Lansdowne, Richmond-Minoru, and Ottawa. Learn more at www.twu.ca or follow us on Instagram @trinitywestern, Twitter @TrinityWestern, on Facebook and LinkedIn.

For media inquiries, please contact: media@twu.ca.