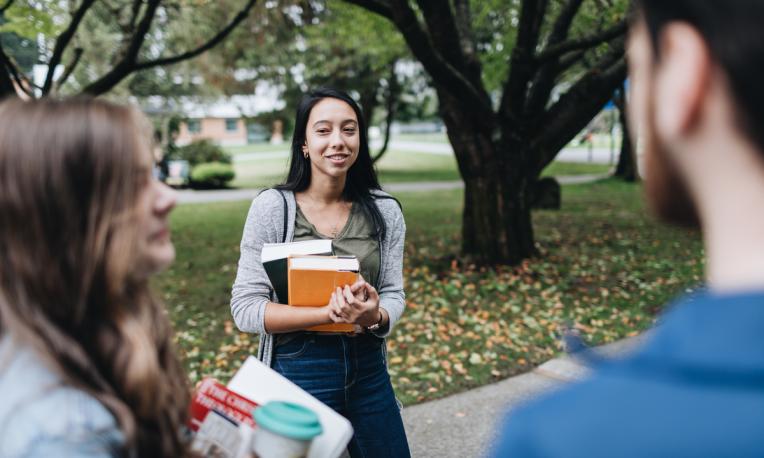 At Trinity Western University you can earn a degree in one of 47 academic programs while receiving a faithful Catholic formation at Catholic Pacific College, formation that cannot be rivaled anywhere in the Northwest.
TWU is a liberal arts university in which every student receives more than mere training in a particular career path. Their liberal arts core curriculum is aimed at forming well-rounded individuals by providing a dynamic range of subjects from art & culture to humanities and sciences. Imagine, then, attending this amazing university plus being formed in and by the Catholic intellectual tradition. At CPC, you can be. TWU students can take most of the core courses through Catholic Pacific College's new Catholic Formation Track (CFT) of the TWU Core.
The Catholic Formation Track is comprised of 11 fundamental courses in the areas of academic writing (2 courses), Catholic theology (3 courses), virtue ethics, Catholic Church history, liturgy and sacraments, Catholic social teaching, beauty and sacred art, and Latin. It is a formative track designed to expose students to the richness of the Catholic intellectual tradition. The CFT directly engages with fundamental questions that pertain to all aspects of life, enabling students to make informed choices about faith, relationships, vocation, and careers. Because of this strong Catholic formation, CPC is one of only two Catholic post-secondary institutions in Canada listed in The Newman Guide to Choosing a Catholic College.
---
Unique cpc courses
Consists of 11 unique CPC courses (totaling 33 credit hours)

The Coherence of Faith
Sacred Scripture
Doctrine and Disciplines
Liturgy and Sacraments
Beauty and the Sacred
Virtue Ethics
Vatican I to Today
The Catholic Church Past and Present
Fiction in a Catholic Context
Poetry and Drama in a Catholic Context
Latin
Courses are completed throughout the TWU four-year degree program
Courses are delivered by CPC professors and taught at Catholic Pacific College
Small classroom sizes
Catholic chaplain provides daily Mass on campus, Confession, and spiritual direction
Welcoming Catholic community that plans social events for students
---
Choosing the Catholic Formation Track
In order to receive this unique opportunity for solid Catholic formation, students need to be clear about their decision. Anyone interested in taking the Catholic Formation Track must either indicate on their application that they are interested or speak with the CPC Admissions Counsellor. It is important to understand that, once the Catholic Formation Track for the TWU Core is chosen, students cannot leave that track. They must complete all* of the indicated courses within that track to get credit for completing TWU's core requirements.
*Contact Academic Dean to coordinate your academic program with the CFT
---
Taking CFT Courses as Electives
These new courses are amazing, and we understand that students who have already begun their Core curriculum under the normal TWU core may want to take some of them. While they cannot take them and get credit as core courses, these students may still take the new courses as elective courses.
---