Opened in 2022, The Rev. Dr. Hans and Colleen Kouwenberg C.S. Lewis and Friends Collection at the Norma Marion Alloway Library was gifted to Trinity Western University to support Christian teaching and scholarship. The special reading room houses a collection of works by scholar and author C.S. Lewis, including rare and first edition copies.
This spring, the reading room has a new exhibit, entitled "The Apologetics of C.S. Lewis" that showcases Lewis' classic work on Christian apologetics, Mere Christianity.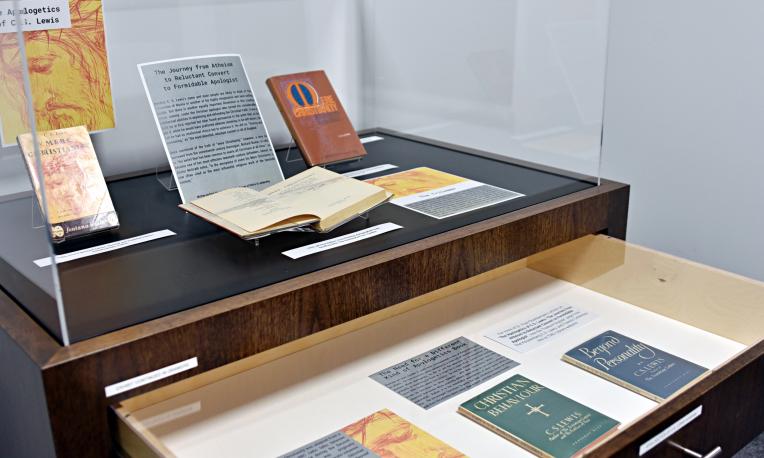 The exhibit's feature essay was written by Dr. Paul Chamberlain, Christian apologist, author, and professor of Ethics and Leadership at TWU. In it, Dr. Chamberlain writes: 
"In contrast to the way apologetics is sometimes done today, Lewis employed an astonishingly low-pressure approach. He simply set out mere Christianity which, as he put it, 'is what it is and was what it was long before I was born and whether I like it or not,' and invited his audiences to make their own choices concerning it (Lewis, Mere, p. 46), all while keeping the focus on what he took to be the most important question of all, 'What are we to make of Jesus Christ?'" (Lewis, Mere, p. 47).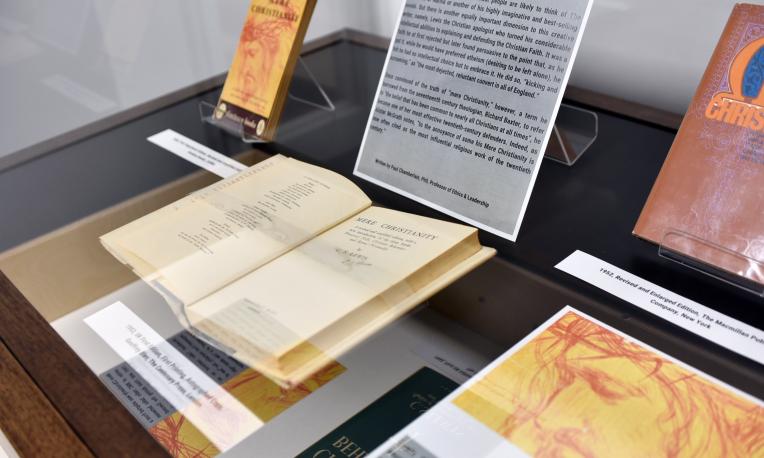 "We would be remiss," Dr. Chamberlain adds, "if we did not comment on how surprising some of Lewis' answers must have been when explaining certain teachings of Christian faith. A factory worker in 1944 asked him which of the world's religions gives the greatest happiness.
Lewis responded that the worship of oneself was the best for that and told of an older gentleman he knew who had lived a life of total self-service and self-worship. Regrettably, said Lewis, this man was one of the happiest people he knew. He then added that if you were looking for a religion to make you happy or comfortable, he would not recommend Christianity. A bottle of Port would do that. [1]
To be clear, Lewis taught elsewhere that Christianity did promise happiness but it is a far different kind from what most people think of today and comes only through a relationship with our Creator in which we surrender our entire beings to him.[2]"
To read Dr. Chamberlain's full essay, and to see more of Lewis' work on Christian apologetics, please visit the exhibit "The Apologetics of C.S. Lewis". 
The exhibit "The Apologetics of C.S. Lewis" will run until the end of summer and can be viewed online or in-person at the Alloway Library.
---
See also — Trinity Western University unveils special reading room featuring rare and autographed copies of books by C.S. Lewis and Inklings authors
---
About the Rev. Dr. Hans and Colleen Kouwenberg C.S. Lewis and Friends Collection
The Rev. Dr. Hans and Colleen Kouwenberg C.S. Lewis and Friends Collection was donated to Trinity Western University in the spring of 2019. Envisioned as a teaching resource to support scholarship, in particular the Inklings Institute of Canada, and enrich the broader Christian community, the donation consists predominately of the work of C.S. Lewis although it includes other Inklings' members and fiction influencers: Owen Barfield, J.A.W. Bennett, Roger Lancelyn Green, Dorothy L. Sayers, J.R.R. Tolkien, Charles Williams, and George MacDonald. Visit the collection online or in-person.
---
About Trinity Western University
Founded in 1962, Trinity Western University is a global Christian liberal arts university. We are dedicated to equipping students to discover meaningful connections between career, life, and the needs of the world. Drawing upon the riches of the Christian tradition, seeking to unite faith and reason through teaching and scholarship, Trinity Western University is a degree-granting research institution offering liberal arts and sciences as well as professional schools in business, nursing, education, human kinetics, graduate studies, and arts, media, and culture. It has four locations in Canada: Langley, Richmond-Lansdowne, Richmond-Minoru, and Ottawa. Learn more at www.twu.ca or follow us on Instagram @trinitywestern, Twitter @TrinityWestern, on Facebook and LinkedIn.
For media inquiries, please contact: media@twu.ca.
---
[1] Lewis, "Answers to Questions on Christianity" in God in the Dock, 58.
[2] Lewis, C. S. "The Weight of Glory." The Weight of Glory and Other Addresses. Ed. W. Hooper. New York: Simon and Schuster, 1996, p. 25-26.