Join TWU for our annual Sustainability Week. Learn from students as they introduce the biodiversity of the Langley campus Ecosystem Study Area, and from faculty members as they present on their research related to climate change and global health.
---
As part of TWU's Sustainability Week (April 3–6, 2023), students will be hosting a ConVersing/ConServing "Back-40" Trail Walk, complete with stations where visitors can learn about biodiversity and gain a greater appreciation for TWU's natural habitats.
Trail walk with Conservation Biology students 

Karen Steensma, Professor of Biology and Co-Chair, Department of Geography & Environment, oversees several research studies and teaches the students who will be hosting the trail walk in the Ecosystem Study Area.

"We hope all visitors will gain increased awareness and joy in discovering our local biodiversity," she said of the upcoming Sustainability Week activities.
---
---
The ConVersing/ConServing research team (led by the Department of English and Creative Writing) reached out to Steensma, who helped design an interdisciplinary learning experience from which creative nature writing might be inspired. The idea grew into a semester-long project that culminates in the outreach of Tuesday's walk:

"This has been a great opportunity for our 400-level Conservation Biology students to study in depth the various plots throughout the Ecosystem Study Areas, write journal entries about their plots through winter and early spring, map the plots, and then connect to their peers and the TWU community regarding the ecological values found right here on our own campus!"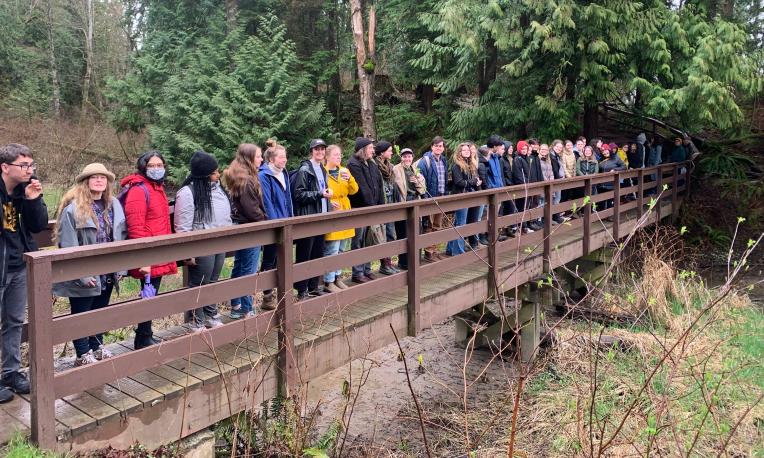 Encouraging dialogue between faith and science
Many of this week's events are sponsored by a three-year Supporting Structures $230,000 grant awarded to the Faculty of Natural and Applied Sciences (FNAS) by Scholarship and Christianity in Oxford (SCIO). TWU is one of a number of North American institutions awarded the grant encouraging dialogue between faith and science, but "our particular Supporting Structures grant" says Dr. David Clements, Assistant Dean of FNAS, "is the only grant awarded that focuses on the ethics of sustainability, the belief that Christianity provides powerful motivation for us to pursue a healthier planet." 
The trail walk is just one of many events happening throughout Sustainability Week.
Multidisciplinary ways of engaging planetary health
Tuesday night, Dr. Barbara Astle, a TWU School of Nursing faculty member who works nationally and internationally in the field of Planetary Health will expound on this, along with TWU Supporting Structures research fellows, Dr. Shane Durbach and Dr. Laura Onyango.
Nature lovers will enjoy the evening bat walk and morning bird walk led by TWU faculty and student experts.
Wednesday night, as part of the Supporting Structures grant, TWU hosts the travelling play, Fire from Heaven, written by Murray Watts, one of the best-known Christian playwrights and screenwriters in the UK. Watts will be there for the play and also take part in a panel discussion afterwards. 
Thursday's Swap and Shop event with a raffle draw, organized by the Trinity Western Environmental Club, brings the week to a lively, communal close.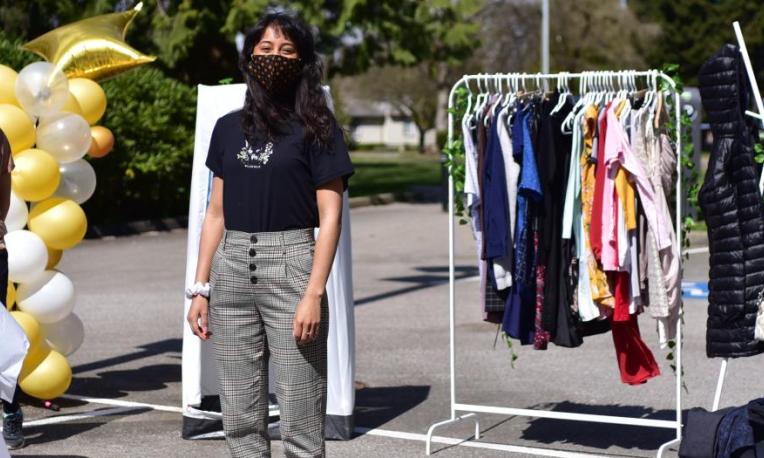 Sustainability Week has a long history at TWU. The annual event grew out of the efforts of the student-run Trinity Western Environmental Club (TWEC), which regularly hosts activities to promote environmental responsibility. In addition, a co-sponsor of Sustainability Week, the Canadian Scientific and Christian Association (CSCA) "promotes a robust dialogue between faith and science," which, says Dr. Clements, "is invaluable for taking on the current environmental crisis in a way that respects both faith and science."

See the full schedule of Sustainability Week events below:
---
Monday, April 3
Video interview with Dr. Erica Grimm on Upstream/Down-river: Walking the stɑl̓əw̓ Watershed
8 a.m. | Reimer Student Center, Main Cafeteria
Upstream/Downriver Walking the stɑl̓əw̓ Watershed is a collaborative research-creation project that addresses climate change at the local, granular scale of the lower Fraser River watershed. Artist and professor Dr. Erica Grimm will talk about this project, and introduce the project's Salmon River installation that is showcased inside the Langley campus' Main Cafeteria.
---
Monday, April 3
Bat Walk & Talk with Bennet Imbeau
8–9 p.m. | Meet by the greenhouses behind Neufeld Science Center
Join us for an educational Bat Walk with Bennet Imbeau, TWU Environmental Studies major and bat enthusiast. Learn about the bat species living within Langley's ecosystems. 
---
Tuesday, April 4
ConVersing/ConServing: TWU Ecosystem Study Area "Back 40" Trail Walk
12–3 p.m. | TWU Ecosystem Study Area (Begin at McMillan Lake) 
Take an adventure through the TWU Ecosystem Study Area. Fill in your "passport" as you move through stations on the trail where Conservation Biology students await to converse with you about fascinating aspects of TWU's natural habitats.
---
Tuesday, April 4
Planetary Health Lecture: Plastic Pollution & the Microbiome Menace
7–9 p.m. | Neufeld Science Centre, Block Hall
You're invited to a special lecture by Drs. Barbara J. Astle, Shane Durbach, and Laura A. Onyango on "Planetary Health: Impacts from plastic pollution and the microbiome menace." Come hear about the emerging field of planetary health that encompasses many facets of planetary well-being, including human health, biodiversity and all that is needed to sustain God's good earth.
---
Wednesday, April 5
Morning Bird Walk with Dr. David Clements
8–9 a.m. | Meet by the greenhouses behind Neufeld Science Center
Join us for a morning Bird Walk in TWU's Ecosystem Study Area with biology professor and nature photographer Dr. David Clements. Learn about the bird species living within Langley's ecosystems. 
---
Wednesday, April 5
Fire From Heaven: Michael Faraday and the Dawn of the Electrical Age
7–9 p.m. | Robert N. Thompson Centre, SAMC Theatre (Freedom Hall)
Fire From Heaven: Michael Faraday and the Dawn of the Electrical Age is a play about the struggles and triumphs of pioneering scientist Michael Faraday.
---
Thursday, April 6
Swap and Shop
7 p.m. | Parking lot behind Music Building
Re-use, recycle, and minimize waste. Come to the student-led "Swap and Shop" event to find gently-used items or to share your items with others. 
---
April 3–6
Sustainability Week Prize Draw
Select events
Keep an eye out for raffle tickets that will be given out at some of the Sustainability Week events. The prize is a sustainable-themed gift basket filled with gardening tools and sustainable items. 
The winner will be announced after the Swap and Shop event, and online at @twec.twu on Instagram. 
---
About ConVersing/ConServing

Led by English professors Drs. Katharine Bubel, Holly Faith Nelson, Laura Van Dyke, and Jessica Walters, the ConVersing/ConServing project imaginatively combines environmental science and creative writing to bring together various parts of the natural world into conversation. Learn more about ConVersing/ConServing.
---
About TWU's Faculty of Natural & Applied Sciences
The Faculty of Natural and Applied Sciences offers exceptional and rigorous educational experiences, both in the classroom and the lab. Your science education will be delivered by capable, committed Christian educators who are not only experts in their fields but scholars who continually advance their disciplines through research. Learn more at the Faculty of Natural & Applied Sciences.
---
About Trinity Western University
Founded in 1962, Trinity Western University is a global Christian liberal arts university. We are dedicated to equipping students to discover meaningful connections between career, life, and the needs of the world. Drawing upon the riches of the Christian tradition, seeking to unite faith and reason through teaching and scholarship, Trinity Western University is a degree-granting research institution offering liberal arts and sciences as well as professional schools in business, nursing, education, human kinetics, graduate studies, and arts, media, and culture. It has four locations in Canada: Langley, Richmond-Lansdowne, Richmond-Minoru, and Ottawa. Learn more at www.twu.ca or follow us on Instagram @trinitywestern, Twitter @TrinityWestern, on Facebook and LinkedIn.
For media inquiries, please contact: media@twu.ca.

Photo credit: Daisy Chen