On reviewing the overall level of interest in the BFA in Acting, Trinity Western University has decided it will no longer be accepting new applications into this program.
However, several of the outcomes of the program can be met through the BA in Media + Communication, the BA in English, and the BA in Game Development programs, and we encourage you to explore these options.
Though these programs are not a perfect replacement, they offer courses in writing, film, story, communication, and several other forms of creative expression in English. These programs will provide you with the knowledge and skills to progress in further studies or a career within various related fields.

Learn more about Program Closures
Follow your passion in a vibrant, inspiring community that will help you become a collaborative creator and confident performer. 
We believe all Christian artists are called to be culture-shapers. At SAMC Theatre, you will be encouraged to engage essential issues of faith and art in every class, because we're interested in your character first and your talent second. Your professors will invest in you from day one—mentoring, nurturing, helping you develop your creative voice. It's OK to take risks and to fail here. That's how you grow as a person and an artist. Push the boundaries, challenge yourself, and fill your resume with diverse productions from Shakespeare and musicals to original, collaboratively created works. The Bachelor of Fine Arts (BFA) in Acting is designed to train professional actors. Even more than that, theatre training is great training for life. It informs your relationships, makes you an engaging public speaker, teaches teamwork, and invites you to discover yourself and your story. Be prepared to love every minute of your degree. And be prepared to work. Our small class sizes maximize your performance opportunities. You can expect intensive training, and immersion in the Vancouver theatre community even before you graduate.
Degrees
Bachelor of Fine Arts (BFA)
Our theatre productions are a favourite "must do" on campus, featuring collaborative work by students across all disciplines in the university. We mount four productions in our theatre season, including a musical and a Shakespeare play in alternating years.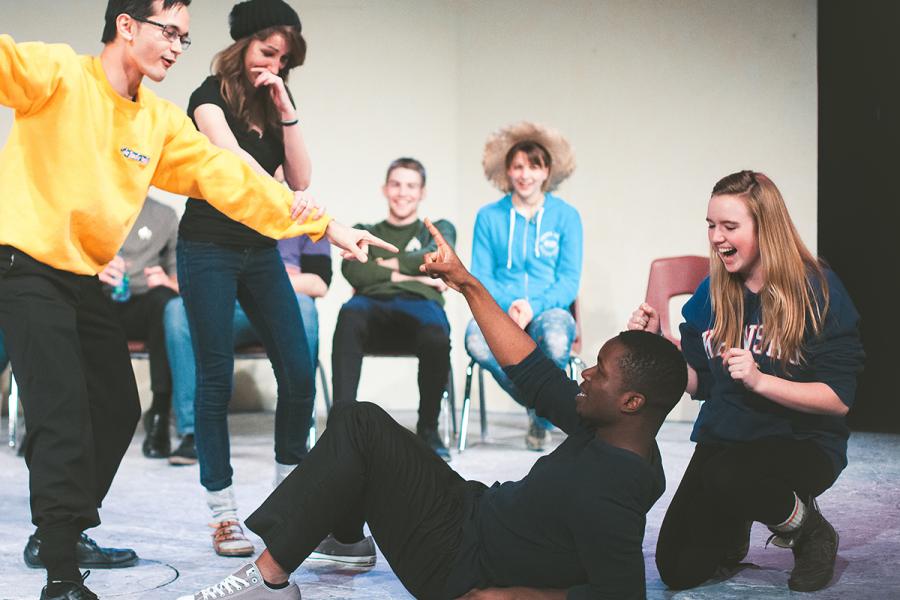 SAMC Theatre hosts a late-night, bi-weekly improv comedy show called 11:07, alternate Friday nights at...you guessed it...11:07. Tickets are $3 and available at the door. Check the SAMC Events Calendar for dates.
Feast on the arts and their rich history in two global epicentres. Shakespeare's Globe, London's West End, the Louvre, Notre Dame Cathedral…you'll earn course credit while making memories to last a lifetime.
Careers in Acting
Film and theatre production
Playwrights