On reviewing the overall level of interest in the BA in Theatre, Trinity Western University has decided it will no longer be accepting new applications into this program.

However, several of the outcomes of the program can be met through the BA in Media + Communication, the BA in English, and the BA in Game Development programs, and we encourage you to explore these options.

Though these programs are not a perfect replacement, they offer courses in writing, film, story, communication, and several other forms of creative expression in English. These programs will provide you with the knowledge and skills to progress in further studies or a career within various related fields.

Learn more about Program Closures
We believe Christian artists are called to be culture-shapers. As a part of TWU's theatre program, you will critically engage with issues of faith and art in every class. Our graduates have a well-rounded theatre education and a broad knowledge of the liberal arts. Previous alumni have established careers as actors, directors, producers, designers, stage managers, playwrights, teachers, and arts administrators.
---
ALUMNI PERSPECTIVE:
"The teaching and mentoring I received at TWU was a fantastic preparation for my professional career. Not only do the professors train you in all aspects of the complex craft of theatre, they challenge you to risk and to think critically, while deeply caring about your personal development and character."
KAYLEE HARWOOD, 2008
Jessie Award, Vancouver's Most Promising Newcomer, 2010
Guenevere in Camelot, Stratford Shakespeare Festival, 2011
Jesus Christ Superstar on Broadway, 2012
---
PROGRAM HIGHLIGHTS
Canada's only BFA in Acting at a Christian university
Major, minor and concentration options that allow for flexibility and specialization
Performance and production opportunities in classics, contemporary plays, new works, student-directed productions, musical theatre, and comedy improv
One-on-one mentorship from instructors who are working professionals and committed Christians
Regular attendance at professional theatres in Vancouver and opportunities to connect directly with the artists
Specific scholarships for SAMC Theatre majors
---
COURSE HIGHLIGHTS
Acting
- Eight courses including Auditioning, Acting Shakespeare, and From Stage to Screen, as well as four years of voice and movement training.
Dramatic Literatur
e - Complete two from ten choices of dramatic literature courses from all periods across the globe.
Playwriting and Directing
- Courses that help you learn the craft and offer the opportunity to produce your own work.
Technical Theatre and Production
- Practical opportunities that involve all aspects of creating a theatre production.
---
AFTER GRADUATION
Our students have been successful in the professional theatre industries across Canada and in the US as actors, designers, and technicians. Many students have also become highly qualified theatre educators in high schools through the completion of BC's one year PDP program. Other students have gone on to achieve distinction in a variety of other professions, including law, marketing, non-profit human rights organizations, and entrepreneurial endeavors.
Degrees
Bachelor of Arts (BA), Minor, Concentration
Our theatre productions are a favourite "must do" on campus, featuring collaborative work by students across all disciplines in the university. We mount four productions in our theatre season, including a musical and a Shakespeare play in alternating years.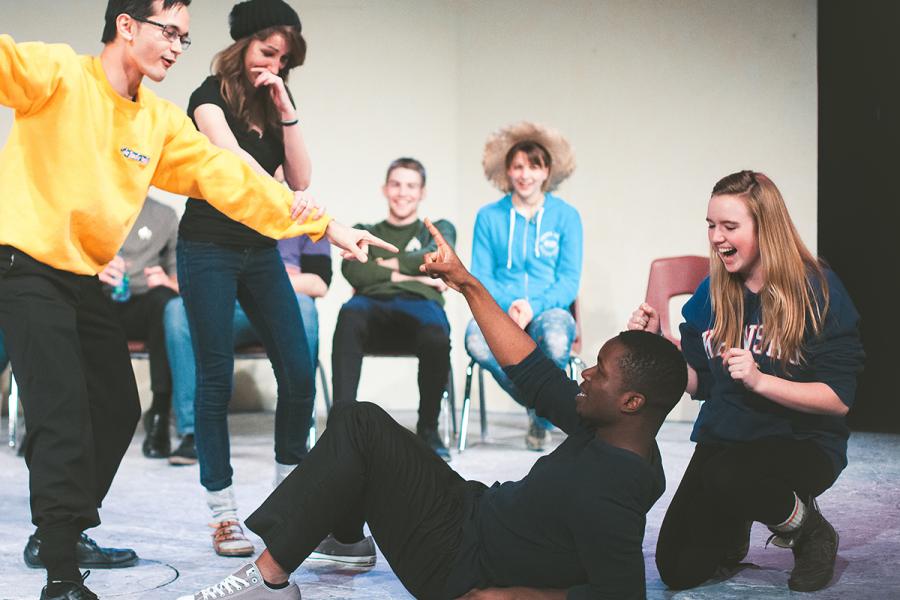 SAMC Theatre hosts a late-night, bi-weekly improv comedy show called 11:07, alternate Friday nights at...you guessed it...11:07. Tickets are $3 and available at the door.
Feast on the arts and their rich history in two global epicentres. Shakespeare's Globe, London's West End, the Louvre, Notre Dame Cathedral…you'll earn course credit while making memories to last a lifetime
Careers in Theatre
Opportunities include careers in:
professional theatre
film
television
church/missionary drama ministry
as well as various careers in public relations, sales, marketing, and other fields that require professionals with honed interpersonal and presentation skills.